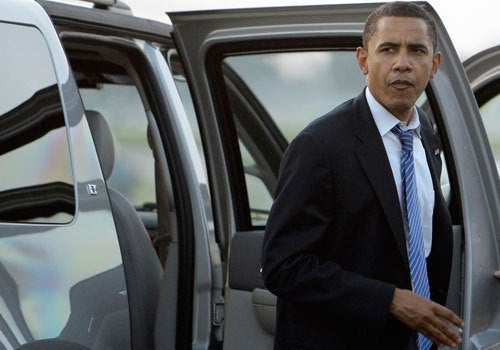 The false rumor that Barack Obama is a Muslim spread quickly and widely throughout the internet. Obama has launched a website, FightTheSmears.com, to help combat this falsehood, along with others that crop up on the internet. The Washington Post today has an extensive article detailing how the rumor first appeared. An Obama supporter and scholar, Danielle Allen, received an email calling Obama a Muslim, and having met the Senator while working as a dean at the University of Chicago, and knowing the claim to be baseless, she was determined to discover how it started and how one could stop it.
The e-mail landed in Danielle Allen's queue one winter morning as she was studying in her office at the Institute for Advanced Study, the renowned haven for some of the nation's most brilliant minds. The missive began: "THIS DEFINITELY WARRANTS LOOKING INTO."

Laid out before Allen, a razor-sharp, 36-year-old political theorist, was what purported to be a biographical sketch of Barack Obama that has become one of the most effective -- and baseless -- Internet attacks of the 2008 presidential season. The anonymous chain e-mail makes the false claim that Obama is concealing a radical Islamic background. By the time it reached Allen on Jan. 11, 2008, it had spread with viral efficiency for more than a year...

...As an Obama supporter -- she had met the senator while she worked as a dean at the University of Chicago -- it made her angry. And curious.

"I started thinking, 'How does one stop it?' "
The man Allen found who takes credit for the first posting of an article falsely asserting Obama is a Muslim is a man named Andy Martin.
Martin, a former political opponent of Obama's, is the publisher of an Internet newspaper who sends e-mails to his mailing list almost daily. He said in an interview that he first began questioning Obama's religious background after hearing his famous keynote speech at the 2004 Democratic National Convention. In an Aug. 10, 2004, article, which he posted on Web sites and e-mailed to bloggers, he said that Obama had concealed his Muslim heritage. "I feel sad having to expose Barack Obama," Martin wrote in an accompanying press release, "but the man is a complete fraud. The truth is going to surprise, and disappoint, and outrage many people who were drawn to him. He has lied to the American people, and he has sought to misrepresent his own heritage." Martin's article did not suggest an association between Obama and radical Islam.

Martin was trying to launch a Senate bid against Obama when he says he first ran the Democrat's name by a contact in London. "They said he must be a Muslim. That was interesting to me because it was an angle that nobody had covered. We started looking. As a candidate you learn how to harness the Internet. You end up really learning how to work the street. I sort of picked this story up as a sideline." Martin said the primary basis for his belief was simple -- Obama's father was a Muslim. In a defamation lawsuit he filed against the New York Times and others several months ago, Martin says that Obama "eventually became a Christian" but that "as a matter of Islamic law began life as a Muslim" due to his father's religion.
Calling all HuffPost superfans!
Sign up for membership to become a founding member and help shape HuffPost's next chapter