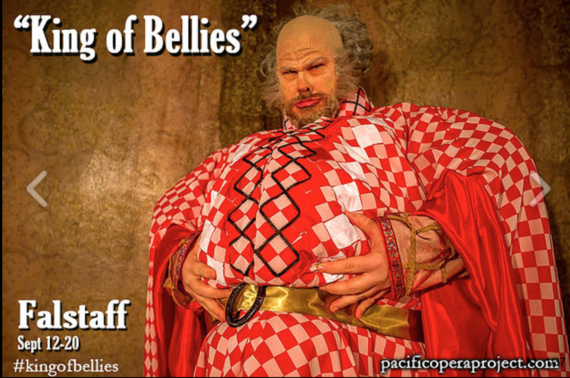 Some of the absolute biggest stars in Hollywood got to hear the latest Pacific Opera Project production, Fallstaff, in one of the most unique venues with the most sweeping views of Southern California. Now these stars, Elizabeth Taylor, Clark Gable, Spencer Tracy, Carol Lombard and so many more were only there in spirit -- literally -- because the venue for this particular production was high atop Forrest Lawn Glendale outside of their museum.
Anyone that lives in the area would know of the enormous cross that is illuminated and can be seen for miles atop this, the first Forrest Lawn opening in 1896 and the final resting place to some of the biggest Hollywood stars in the world.
But it was the new stars on the opera scene, Pacific Opera Project's (POP) Josh Shaw and Stephen Karr and their bevy of professional opera singers who were livening up things among the tombstones and views with their very lively production of Verdi's last opera, Falstaff.
POP's style is, well, the Truvago guy of opera. When Truvago guy hit, it was because he wasn't polished, perfect, slick; he was a little rough, disheveled, approachable. That's his appeal, and it's POP's. Since Shaw and Karr incepted it the goal of making opera more fun, accessible and relevant has been realized in larger and larger productions with more adventurous staging and settings; no two the same.
This time we were high above Glendale, the lights of Los Angeles in one direction, the Valley in the other. We were seated under and grand tree, which would later be the scene of the most energetic part of the opera, but for now provided blessed shade. A $60 table for two comes with appetizer platter, water and a bottle of wine; taking someone to an iMax and snack bar could well cost $60 so this is quite a deal.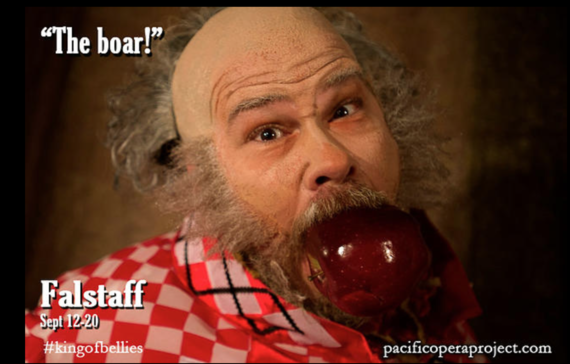 Falstaff is a comedy about a fat, really, really fat -- did I mention fat?-- soldier who wants to woo the wives of two separate men for their husband's fortunes so he can pay his debts and continue his gluttonous lifestyle. The wives find out, plan to trick him back, add in a jealous husband that doesn't know of the prank while planning one of his own and you have a farce that at times played more like a Marx Bros. comedy than an opera. But that's the point.
The play rests on Zeffin Quinn Hollis and his portrayal of the lead. He is not enormous like the character, so he's in full body suit, beard, fully immersed. This may make it hard to connect for some but Hollis endears his Falstaff to us almost immediately.
There's always young lovers and Annie Sherman plays Nannette to Nadav Hart's Fenton.
"She's very good," my friend Steve Cabral turned to me and said after one of her duets with Hart. Cabral had never been to an opera, this was his first. He was enjoying it, even if he didn't feel like reading the supertitles that much.
He's right, she is, very, very good. In fact everyone in the cast and chorus from Rebecca Sjöwall (Alice Ford) to Jessica Mirshak (Meg), who both are playing the prank on our lead and must fend him off while plotting. Daniel Scofield's handsome Ford was powerful and yet playful The cast was round out by Sharmay Musacchio (Mistress Quickly), Kyle Patterson (Bardolfo), Phil Meyer (Pistola) and Clay Hilley (Caius) as well as a full ensemble chorus. They're in your face, singing their faces off, and great fun.
Now, the hilltop swallowed up the sound, and there was nothing POP's Karr could do as conductor. The staging really came together when the cast was supposed to be outside, in the forest under a tree because, well, we were. Other times, because of space requirements, it seemed a little cramped for the actors.
POP is continuing to be the place young singers can build a great resumé, established singers can come to stay polished and try very new things and enthusiastic young people can be part of the chorus and start down their paths in theatre as well. And while being a win for the artists, it's a win for someone looking for something else to do in Los Angeles, something unusual, fun, unique, new yet ancient. It's a fresh look at old works in fun settings at accessible prices (which Shaw compliments through donors and sponsors).
The play finishes this weekend and tickets are going fast. To find out more about POP simply go their website. And when you go, remember you are driving through some of the biggest names in Hollywood, where they rest, still at the center of attention again, music and theatre filling the air atop their resting place.
Isn't that how they'd want it? I would.
Calling all HuffPost superfans!
Sign up for membership to become a founding member and help shape HuffPost's next chapter