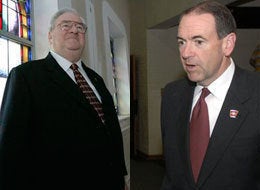 Before, during, and even following his time as governor of Arkansas, Mike Huckabee enjoyed the strong support of the controversial Christian conservative Jerry Falwell. The two knew each other through religious work in the 1970s. And when Huckabee ventured into elected office, the relationship evolved.
A year into Huckabee's gubernatorial administration, Falwell helped him net $144,000 for an in-state charity. Afterwards, the Moral Majority founder declared: "If we had 50 governors and 535 members of Congress ... living by the same code [as Huckabee], we would solve all the problems we have overnight."
Three years later Huckabee repaid the favor. Days after Falwell was labeled an "agent of intolerance" by Sen. John McCain, R-AZ, the Arkansan shot back. McCain, he said, was the "John Rocker of Republican politics," a reference to the former Atlanta Braves pitcher known for racist and homophobic remarks.
But the Huckabee-Falwell relationship was more than just a mutually beneficial partnership. It was a shared political ethos. Both men saw a dominant role for faith in government. And while Falwell passed away this past spring (he was, Huckabee claimed "one of Christendom's great leaders") Huckabee has continued working to that end. Indeed, not since Pat Robertson sought the GOP nomination in 1988 has someone so emphatically religious been so close to the White House.
But while religion may be a foundation for Huckabee's political career, it has also frequently proved controversial. In Arkansas, Huckabee pursued several policies and made many statements that observers decried as inappropriate and, on occasion, unconstitutional.
"With most things Huckabee, the mixing of politics and religion was a bit of [good and bad]," Jay Barth, political scientist at Arkansas' Hendrix College, told the Huffington Post. "As he moved out of his South Baptist convention roots into a full-fledged politician, he really depended on religious conservatives. Those first few years he did make some of his most, what are now contentious moves."
Indeed, a taste for how Huckabee would intertwine faith and state came early into his foray in government. When asked why he chose to move from his position as pastor of Arkansas' 490,000-person Southern Baptist church into a life of politics, he said he did so at the behest of a higher power. "I hope we answer the alarm clock and take this nation back for Christ."
Early in his time in office he refused to sign off on disaster relief legislation that would have prevented insurance companies from weaseling out of their claims, because catastrophic weather events were referred to as "acts of God." It wasn't the prerogative of lawmakers, Huckabee claimed, to "issue some kind of comment for the few who died and blame [God] for that and let that be the only time at which we offer His name in some kind of public setting."
Huckabee even had a penchant for invoking religion in familial affairs. In 1998 he signed a statement urging wives to "graciously submit to their husband's sacrificial leadership." His own wife, Janet, said she supported the idea. "He's the leader of our household," she said, "both spiritually and financially. And he protects me, and I like that."
But for Huckabee religion wasn't just personal. It was policy.
While in office, he pushed a strong anti-abortion agenda, worked for a major expansion of children's health insurance, and undertook public education reform, all of which were driven, in part, by personal faith. He hired church groups to run welfare and youth programs. When the Arkansas' divorce rate skyrocketed, Huckabee turned to his Baptist roots, instituting "covenant marriages," which encouraged training on healthy relationships and made it harder for people to divorce. Even the cars in Arkansas bore Huckabee's religious fingerprint. In March 2003, he approved, as several other governors had, specialty license plates with a "Choose Life" message on them.
"He was true to his religion," Dennis Milligan, state chairman of the Arkansas Republican Party, told the Huffington Post. "He didn't compromise. He didn't stick his finger in his mouth and put it in the sky to see which way the wind was blowing. He stood by his convictions in often-difficult circumstances."
But on several occasions these religiously-influenced policies flopped. The covenant marriage law, for one, was all but ignored in Arkansas except when Huckabee and his wife renewed their vows for a Valentine's Day publicity stunt.
"You had a Baptist preacher using his bully pulpit like a preachers pulpit," said Roby Brock, an independent Arkansas journalist who has clashed with Huckabee. "There was discussion among some of the legislators wondering why their marriage was not deemed as strong as a covenant marriage."
In the late 90s, Huckabee placed a close associate and church-lady named Diane O'Connell in charge of the state's Children and Family Services. Twenty months later the agency found itself facing a $7 million shortfall and cutting services for needy children. An investigation by the Arkansas Democrat-Gazette concluded that O'Connell's hiring played a contributing role. As the columnist John Brummett noted, O'Connell "brought a devoted Christian's passion, compassion and noble intent to the assignment," but "she didn't bring experience running anything of that size or nature."
Some of Huckabee's education philosophies, meanwhile, were denounced as unlawfully bridging church and state. In October 2001, he told a Arkansas radio audience that he was going to remind all 310 school district superintendents that students had a constitutional right to engage in "personal or group prayer." Three years prior, at a rally for a group called Put God Back in Public School, he was videotaped offering his support for the idea of a "public Christian school." Huckabee said the comment was taken out of context. But civil libertarians were not pleased.
"We had no problem with people making policy decisions based on their religious beliefs," Rita Sklar, the executive director of Arkansas' ACLU, told the Huffington Post. "That is not unconstitutional and that is not what people should be afraid of. What people should be concerned with is whether their actions do anything to undermine the rights of others."
Huckabee's presidential campaign did not return a request to elaborate on this or any other of the aforementioned policies.
Often Huckabee's claim of faith-inspired politics created obvious inconsistencies. On the eve of a triple execution in 1997, he cited Old and New Testament passages "supporting" capital punishment and offered that "Jesus on the cross" didn't complain about the death penalty. But around the same time, when he was defending his decision to push for the parole of Wayne Dumond, a convicted rapist who upon release from jail went on to murder two other women, Huckabee claimed that it was his religious belief in the power of rehabilitation that led him to support Dumond's release.
And despite Huckabee's opposition to legislation that credited God for natural disasters, he himself claimed, following a tornado in 1999, that God had mitigated the storm's effects. "People were providentially spared," he said upon touring the damage, which included seven fatalities.
There were other exceptions. Huckabee signed off on legislation to significantly expand gambling at Arkansas' historic racetracks, despite obvious religious objections. Without the measure the sites would have gone under, and jobs and revenue would have been lost. Huckabee, even his supporters admit, simply chose pragmatism over faith.
"I would say he just agreed to disagree and just let it be and go ahead and create the revenue that it could," said Milligan. "At the end of the day, in that particular situation, he realized this was a place that was part of Arkansas history."
By that point in time, however, Huckabee had already firmly established himself as one of the country's fastest rising religious conservatives. Legislative inconsistencies were no match to his constant invocation of faith. In his 2001 book, "Living Beyond Your Lifetime," Huckabee cited Scripture 44 times, made more than 100 references to God, 20 mentions of Jesus, and six remarks on the Ten Commandments in a scant 210 pages.
The book's premise was that one's faith and character were the basis for future success. And not surprisingly, such a treatise has rolled over to Huckabee's current run for the White House. Asked to explain his recent rise in the polls, he once again resorted to the providential. "There's only one explanation for it," Huckabee proclaimed, "and it's not a human one."
Popular in the Community