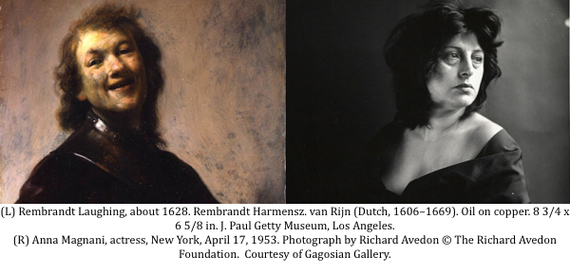 He looks rather ordinary, but he's young and obviously happy -why else would he be laughing so freely? He is a newcomer to LA, having arrived only a few weeks ago, but already he is a celebrity. Why, you ask? It's obvious: almost $25 million was reportedly spent to bring him here and -trust me -the man is worth every single penny.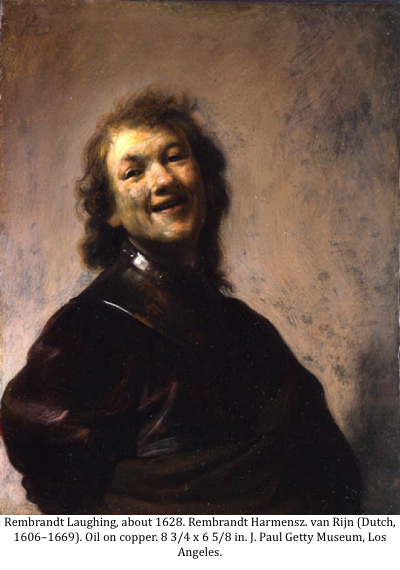 Yes, I am talking about the extremely rare self-portrait of young Rembrandt (1606 - 1669) -probably in his early twenties. The portrait, painted on a small copper plate, was recently acquired by The Getty Museum and it was put on display last week.
With the exception of Van Gogh, no other artist produced as many self-portraits as Rembrandt. One of the reasons we love and cherish these artists so much is not only because of their great talent, but because we feel we know them on a deeply personal level. Every time I have the chance to see their self-portraits, I feel I am having a deep, profound conversation with these artists, as if they are my old-time friends.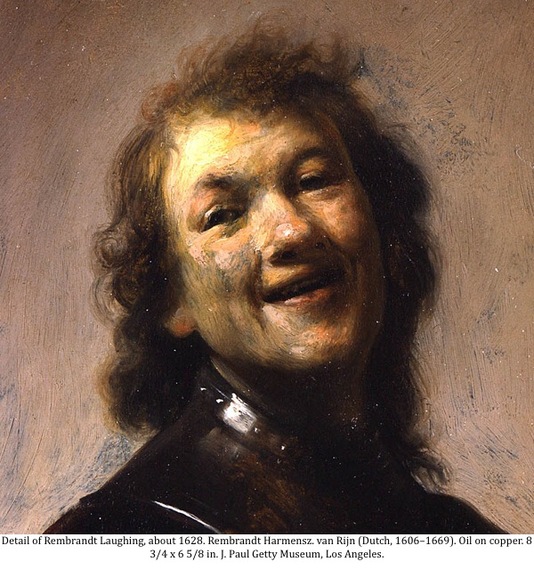 Here, in this portrait, with its devil-may-care, astonishingly open and free brushstrokes, Rembrandt shares with us his enthusiasm about leaving his native Leiden for Amsterdam, the most prosperous European city of the period. In a few short years, he will become one of the most popular portraitists for the city's wealthy merchants. He will marry Saskia, who came from a wealthy family and brought with her a substantial dowry. They lived in a beautiful house in a wealthy neighborhood, but the happiness did not last very long. Saskia died soon after giving birth to Titus, their only child who survived to adulthood.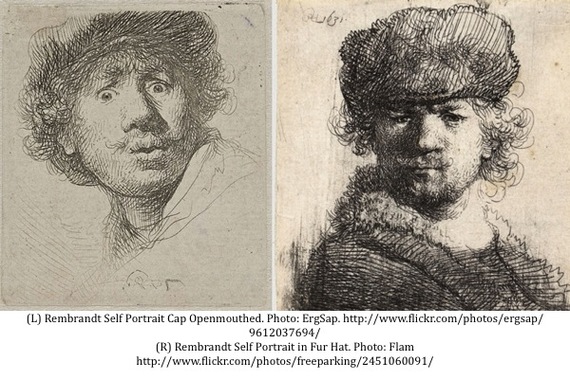 We know all of that and more about his years of triumph, followed by years when his art matured, and became more philosophical but less appealing to the rich and famous. Rembrandt lost his fortune, ended up moving to the poor neighborhood, and died in poverty -virtually forgotten. Wouldn't it be a dream come true to see an exhibition consisting of all Rembrandt's existing self-portraits? I would travel to the ends of the earth to see that.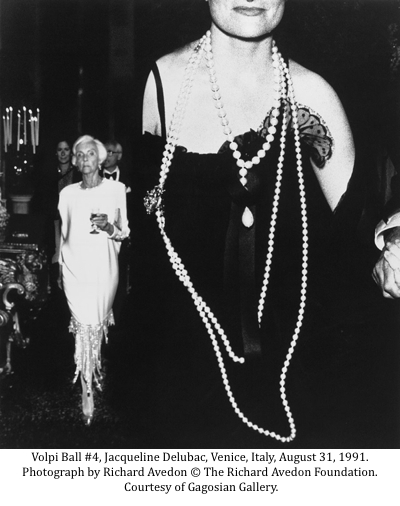 Now, let's shift gears and jump forward 300 years to the 20th century. Here is an artist with an illustrious career, whose portraits for many decades have been the embodiment of glamour and fashion. Of course, we are talking about Richard Avedon (1923 - 2004), whose brilliant photography brought unheard of sophistication to the world of fashion.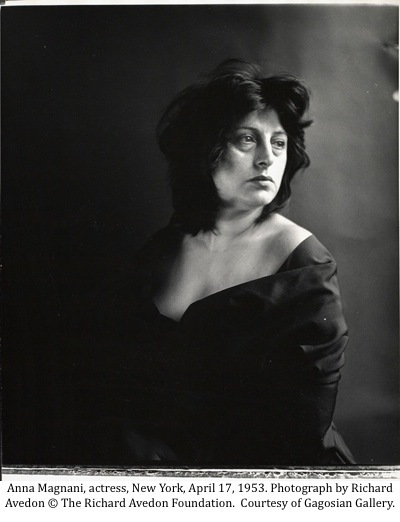 The fascinating exhibition of more than 300 of his photographs, focusing exclusively on women, opened last week at Gagosian Gallery, here in Beverly Hills. Dramatically installed and ranging in scale from huge to tiny, Avedon's portraits give us unique access to such divas as Ella Fitzgerald and Elizabeth Taylor, Anna Magnani and Anjelica Huston, along with goddesses of fashion Veruschka, Gisele Bundchen and Lauren Hutton, just to name a few.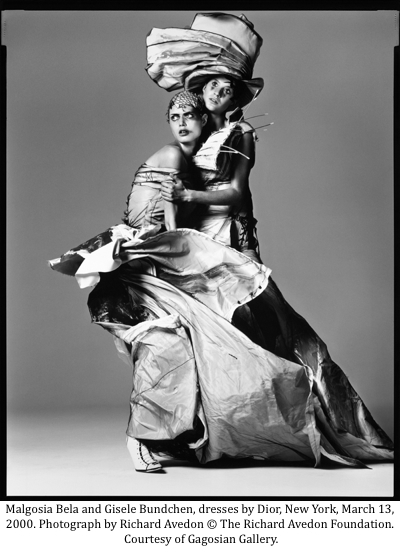 What's amazing about his glamorous fashion photos is that the beautiful clothing does not simply dance around the beautiful bodies; instead, what we observe is an artistic happening between two equally important partners -gorgeous model and fabulous clothing - each with big personalities, each with stories to tell.
Like Rembrandt, Avedon was eager to venture beyond mere commercial success, and throughout his long career, he shot a number of challenging, disturbing and deeply memorable images of everyday people, giving them a rare iconic presence.
My friendly suggestion to you would be not only to see Avedon's exhibition at the Gagosian Gallery, but getting a copy of his 1993 autobiography, which is filled with hundreds of his black and white photos. In its entirety, these photographs read as a profound collective portrait of the 20th century. And that's why I have a good feeling that Richard Avedon and his art will be remembered and appreciated for centuries to come.
Edward Goldman is an art critic and the host of Art Talk, a program on art and culture for NPR affiliate KCRW 89.9 FM. To listen to the complete show and hear Edward's charming Russian accent, click here.
Calling all HuffPost superfans!
Sign up for membership to become a founding member and help shape HuffPost's next chapter