"Fame Control," a new extension for Google's Chrome browser, focuses on one specific issue: blocking the names and faces of suspected or convicted mass shooters. The app's creators worry about the media attention placed on killers and believe that limiting the spread of information about them might help reduce instances of copycat events.
Once you've installed it, the software scans your Facebook and Twitter feeds for mentions or images of shooters or suspects and replaces them with a graphic like the one below.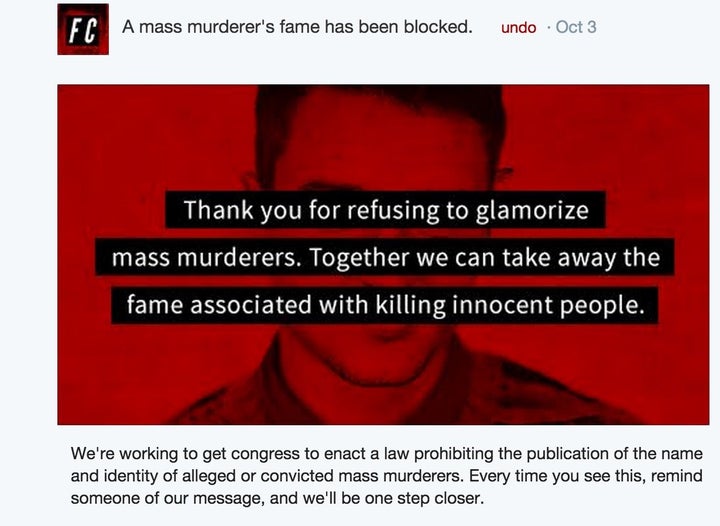 "The great thing about the Chrome extension is that it's a way of taking a personal stand about this issue today," co-creator Jake P. Reilly told The Huffington Post. A 26-year-old advertising copywriter at BarrettSF in San Francisco, Reilly built Fame Control with developer Chris Baker.
"With most other things, regular citizens don't have the power to do much but complain," he said. "This lets you not give these killers what a lot of them are looking for."
There have now been 45 shootings at schools in 2015 alone. Research suggests that the dissemination of news stories about these events might also play a role in inspiring new mass shootings. Denying killers media attention might have the opposite effect. 
Following that hypothesis, University of North Carolina sociology professor Zeynep Tufekci in a 2012 Atlantic article suggested several recommendations for media and government to more responsibly cover these kinds of tragedies: holding back the names of killers and details of their crimes, for instance, or working with social media platforms and web hosts to immediately suspend the accounts of killers. Features like Fame Control could contribute to that goal.
The Fame Control extension is based upon open-source software adapted from the Chrome extension Rather, which Baker co-created. Rather enables people to filter their Twitter and Facebook feeds and replace the keywords of your choice  -- say, #GameOfThrones #spoilers -- with other terms. The Fame Control extension, however, relies upon a list of keywords that Reilly manually maintains on a spreadsheet. 
"We pre-seeded it with every name and specific words like 'Aurora shooter' or 'Batman shooter' that media have used to allude to past killers or killing. When we saw the news happening in Oregon, we had to add a couple new keywords," said Reilly, referring to the Oct. 1 incident where a 26 year-old student shot and killed nine people at Umpqua Community College in Oregon.
Reilly has also built a companion website, NoMoreFameForMassMurder.com with Byron Wages, an art director and designer at BarrettSF. Along with a link to download Fame Control, the site encourages people to sign a petition to get the Centers for Disease Control and Prevention to release guidelines on how to responsibly report on mass shootings. 
Whether government public health researchers are able to develop or publish such recommendations will be contentious. It might even be illegal. The Congressional ban preventing the CDC from doing research on gun violence remains in place, although the Congressman who authored the 1996 amendment that brought the ban into force now regrets it. 
For now, Reilly acknowledges that if his new extension becomes popular, he'll still have to add new terms to the tool -- and the task will require careful judgement.
"We're not trying to say that if there's a case where if someone is at large or dangerous, there are some circumstances where it's necessary to use names and identities," he said. "For the most part, I think we will and we have waited long enough to confirm and feel comfortable that this is the type of thing that people who have downloaded the extension are trying to avoid seeing."
REAL LIFE. REAL NEWS. REAL VOICES.
Help us tell more of the stories that matter from voices that too often remain unheard.