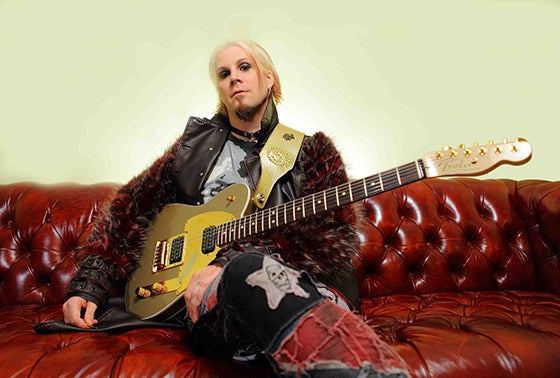 Anytime you see John 5 around, you'll will probably see a guitar not to far away, probably in his hands. The famed guitarist has written records for a who's who in the world of rock and pop music and was formerly a member of Marilyn Manson's band. Currently, John 5 has most notably enjoyed a long time home as the lead guitarist and collaborator for Rob Zombie. As much as his collaborations have varied, his own solo material runs the gamut even more displaying influences of everything from heavy metal and hard rock all the way to country and bluegrass.
Recently, John 5 released his solo project Season of the Witch, an album he rolled out in an interesting fashion by releasing music videos first before any of the actual music. I got to chat with John 5 recently about growing up in Michigan, why he took that route releasing his music, and the differences in making his own music compared writing for others.
I heard you grew up in the Detroit area. Where about?
I came from the really bad part of town called Grosse Pointe. I was so pampered. It was ridiculous. Now being older and all that stuff, its kind of like something you would see in a movie. It was strange because it was such close knit, very upper-class community. It was very strange now looking back at it. It was wonderful.
When did you get that itch to become a musician?
Being a kid, I would just sit myself in front of the TV. That's what happened all the time. I guess TV really changed my life. We would watch Hee-Haw and we would watch The Monkeys. That's why I love guitars because there was a certain part of Hee-Haw where I saw this little boy playing banjo and he was amazing. I knew I liked the electric guitar. It really made a huge influence on me was that show, along with the girls too, the Hee-Haw Honey's. Everything comes from when you were a kid and that really affects you.
You took a different route releasing the music from this album, via music video. Why did you take that approach?
Because today, people listen to music, buy music, in a completely different way. I thought to myself, this is how music is being heard. This is how music is being watched. I did that. I put my first video on YouTube. The next month, I would do the next video/song. Most people just cherry-pick from this record you worked so hard at. People's attention spans are so minimal now that they really don't give it a chance, which is a shame. I gave them the choice to either they could watch it, listen to it, or not. Most of them listen to it and watched it. It really worked out well because in radio, I would have never gotten millions of spins on all of these songs. It really worked out.
Does having this regular gig with Rob Zombie give you much more freedom when it comes to your own projects?
Being in Rob's band is incredible. It's the greatest thing. I love that guy. I love the music. I always have. He'll be making movies and I'll have time on my hands. I'm always playing guitar. I'm playing guitar right now. I'm always working and recording. It's just what makes me happy. I'm thinking about it all the time. I'm playing all the time. It's a gift and I'm so happy for that gift. It's really engulfed my life in a good way. I make time. There's 24 hours in a day and I'm working most of them.
I know you've done a lot of written for other music artists throughout your career. Do you still do that?
The music business has changed so much where I used to make a very profitable living from doing it. I'm not doing it a lot anymore because its so much hard work. What I mean by hard work is the competition, not even the competition. I write with my friends and my friends are successful musicians, but its so difficult now. Let me explain this to you because its very interesting. In the publishing world, this is why record companies are in such dire straits is because they are spinning plates. They are trying to figure it out because they are dying out there. Everybody's just listening to music and streaming music and they're not getting paid. Now with publishing, lets say I write songs for Lynyrd Skynard, I write songs with Ace Frehley or whomever, and I'll turn this in the publishing company because they gave me an advance and I'm trying to pay that advance off so you have to write a certain amount of songs. This is how messed up the business is, they're saying 'well, we're not going to accept these songs because they are not on major labels.' In my eyes, they are major artists and its going to make you major money, which they took the money that I made them, but they didn't give me credit as the songs because the songs were not on major labels. That's how bad the business is right now. They are trying to do everything in their power to stay afloat. It's a mess. People on the outside really don't know how much of a mess it is because the way people listen to music and watch music and purchase music is so different nowadays. Me being myself, when's the last time you bought a CD, hard copy CD? I can't remember the last time. I sell them at shows and people buy them. I don't even put them into the stores because there's no stores to put them in.
Is it refreshing to work on something that is truly going to be yours?
I loved writing for people. That's so much fun. Of course, Rob Zombie. That's the best. We have a blast writing together. Writing with your friends. Writing music that people will enjoy. Doing it with your friends. Making music that's from the heart that people really love. That's what I love doing.
I've heard in interviews Rob Zombie talk about how frustrating it was to have a band for so long back in the day, but pretty much since having you around, its been a better experience for him. How do you feel about your time with Rob?
It's the greatest thing that's ever happened. I joined the band in 2005 and why it's turned out so well is that we understand our positions. I understand that this is Rob Zombie. He gives me more than enough spotlight. He gives me more than enough freedom. He puts me in pictures. I get paid really great. Most important, we're brothers. We're happy. I'll be in the band as long as he wants me in the band. I think that why people really break up in bands because this guys wants this or this guy wants more spotlight. We all understand our positions. It's the best. It will never change. If it was going to change, it would have changed a long time ago. Its all communication. I know it sounds cheesy. Everybody's happy.
There's a lot of different musical styles on this album. from straight up guitar virtuosity to little country elements, and all sorts of everything. How much fun was it for you to play around with all these elements for this album?
That's what I do. I sit on the couch. I play all these different styles of music that's interesting to me. Its like having different kinds of food. I'm such a fan of music. I appreciate and love music so much. This album is really who I am. Its what I enjoy. People latch onto that. They understand that. They understand when something is very real. That's what makes me happy.
I know you're big guitar collector. What are some of your favorite pieces?
I like the 50s, 60s, 70s Telly's. I have the 80s as well. My pride and joy is the Fender Broadcaster. They made 126 of them because they got sued by Broadkaster Drums by Gretsch. When they got sued, they had to take off the Broadcaster name. I have one of those 126 guitars. It's the first solid body electric guitar. It was the first electric guitar in 1950. I use it in the video for "Behind the Nut Love". Leo Fender was obsessed with TV and its called the Broadcaster because it looked really good on TV. It was a wood-grain. TV was black and white at the time so it looked really good on TV.
What do you like to do on your downtime?
I love to watch movies and play guitar. I like to sit quietly with a guitar in my hand and pick and watch TV. I think it's the comfort of home because that's what I did when I was a little kid. This is again what I liked to do when I was a kid, I loved buying Kiss toys, old Kiss merchandise from the 70s. It's so much fun for me. It really is a blast. That's what I loved when I was a kid. Anything that makes me comfortable without hurting anyone or anybody is okay.
John 5's new album "Season of the Witch" is available now. For more information, visit john-5.com.
REAL LIFE. REAL NEWS. REAL VOICES.
Help us tell more of the stories that matter from voices that too often remain unheard.
This post was published on the now-closed HuffPost Contributor platform. Contributors control their own work and posted freely to our site. If you need to flag this entry as abusive,
send us an email
.