When the University of Wisconsin won its first and only NCAA basketball championship in 1941, the U.S. had yet to enter World War II, my parents were early in their courting phase, and only eight collegiate teams competed for the title. Nine games were played in two venues (Madison, Wisconsin and Kansas City, Missouri) that March, and total attendance for the entire tournament (nine games) was less than 50,000.
I thought about that when I stood inside the mammoth AT&T Stadium in Arlington, Texas last Saturday night to watch UW compete for its second national title (it had only been back to the Final Four once since that 1941 championship).
There were 79,444 fans in the building to watch two semifinal collegiate basketball games -- the largest crowd in NCAA history! Badger Red was fairly resplendent, and our hopes were sky high.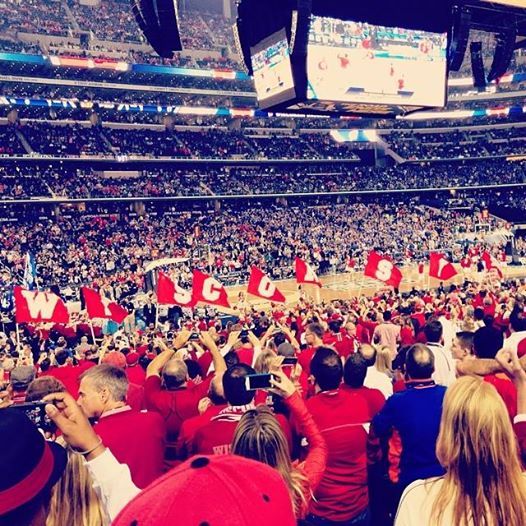 Those hopes for a second NCAA championship were dashed a couple hours later as the UW's chance for a miracle finish evaporated. Beyond the disappointment and heartbreak -- my heart went out to the UW players who had come oh so close to a national title -- I kept wondering if all this "hoopla" was primarily about money and entertainment, or if there was something more, something better, at the heart of this collegiate competition.
My answer came quickly, as I reflected on how I began the tournament in late March at the Bradley Center in Milwaukee, accompanied by my Arizona brother and two other good friends from Pittsburgh. To be sharing basketball moments with one's brother at the ripe old ages of 71 and 66, respectively, is a special thing.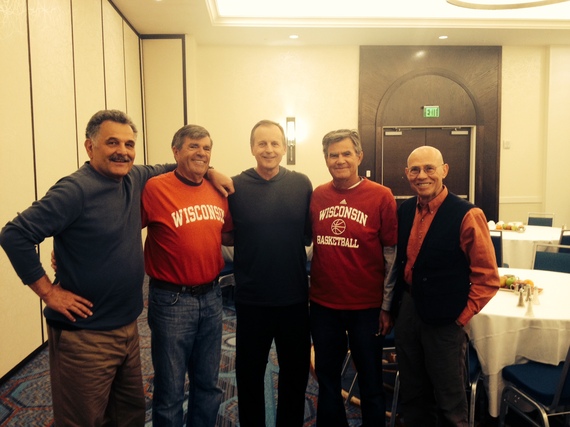 And I thought, too, of my dear friend Dick Vander Woude, a huge UW basketball fan who'd died unexpectedly just prior to the tournament. Dick and his wife had traveled to Canada with the team and families last summer when the Wisconsin men's basketball team played five exhibition games during an eight-day August trip to Ottawa and Toronto. When he returned to Madison, Dick didn't just give us scouting reports on the team and individual players; he talked about how much he liked the players' parents and how exceptional the team chemistry was. That's how you win 30 games, I reminded myself, and get to within one game of the National Championship.
Later that night, back in the hotel as the prospect of an arduous 15-hour drive back to Madison loomed, I thought about Dick and how much of his spirit was in the building that night. And I took extra comfort in the company of a my son Ian, a UW-Madison alumnus (Class of 2008) who'd made the trip over to Dallas from Phoenix to cheer on his beloved Badgers.

When I couldn't' sleep, I listened to his breathing, my heart rising and falling with his, much as it had when he was a baby in my arms in 1985. That sound meant more to me than all the cheers that filled AT&T Stadium earlier that evening.
Tournaments and teams come and go and while the spectacle of college sport increases, the little things at the heart of life -- kinship, friendship, and love -- remain constant. That was probably the same back in 1941, about the time my family became a family. My folks were wed on September 19 later that year. And my dad would end up in the U. S. Army at a Truax Field in Madison a couple years later, not far from where I now live.
But that's another story...
REAL LIFE. REAL NEWS. REAL VOICES.
Help us tell more of the stories that matter from voices that too often remain unheard.