WASHINGTON ― Vice President Mike Pence on Wednesday will be in the heart of official Cairo, meeting with Egyptian President Abdel Fattah al-Sisi to affirm the U.S. commitment to his government and using the historic city as a platform for remarks to the Muslim-majority world on the new American policy of recognizing Jerusalem as the capital of Israel.
Nearly 20 U.S. citizens have become used to a different kind of Egyptian hospitality. One is a 52-year-old father who only receives his diabetes medication at random intervals, during the odd visit when prison guards decide relatives including his wife and two daughters can hand it to him. He has spent more than four years in detention without an official verdict or sentence. Another is 27 years old and desperate to complete the degree he was working on when security officers arrested him for being in the vicinity of a political protest. He had gone to the area to help his grandfather catch a bus.
The two men, Mustafa Kassem and Ahmed Etiwy, and others who have yet to be publicly identified are caught up in what rights groups call the worst wave of repression in modern Egyptian history. Advocates for them and other detainees with ties to the U.S., like a pair of green card holders with multiple family members in America, see Pence's trip as a vital moment. It's the last chance this year for President Donald Trump's "America First" administration ― which loudly celebrated its role in helping one detained U.S. citizen out of Egyptian custody earlier this year ― to make a real difference on the issue.
Demands that Sisi release the jailed Americans "need not dominate the meetings nor distract from other important issues, yet can and do achieve big results," said Praveen Madhiraju, a pro bono attorney for Kassem and Etiwy at the nonprofit Pretrial Rights International.
Madhiraju sent a memo to Pence's office last Monday, and other advocates told HuffPost they have been raising the cases in meetings with the State Department and influential lawmakers. On Friday, a Pence aide told HuffPost the vice president has been briefed on the issue as part of preparations for his trip.
The efforts to spotlight the cases of Kassem, Etiwy and the other detainees comes after months of silence on the matter from the Trump administration. Madhiraju and another pro bono lawyer for Kassem, Fred Crombie at the firm Coblentz Patch Duffy & Bass, have reached out to the National Security Council at the White House seven times and have not received responses, according to emails shared with HuffPost. Mohamed Soltan, a Virginia resident and former Egyptian detainee himself, said he had contacted the NSC four times to no avail.
Family members have had no luck either. One of Madhiraju's emails to the NSC, in September, included an appeal from Etiwy's mother. She wrote of entreaties she had made to White House officials that she had "not heard any news from them and fear that they are willing to just let Ahmed stay in jail for another year or more. I want to know that President Trump is trying to get Ahmed early release or pardon immediately. I have been too patient and Ahmed also."
A spokesman for the NSC did not respond to HuffPost's inquiry about the messages.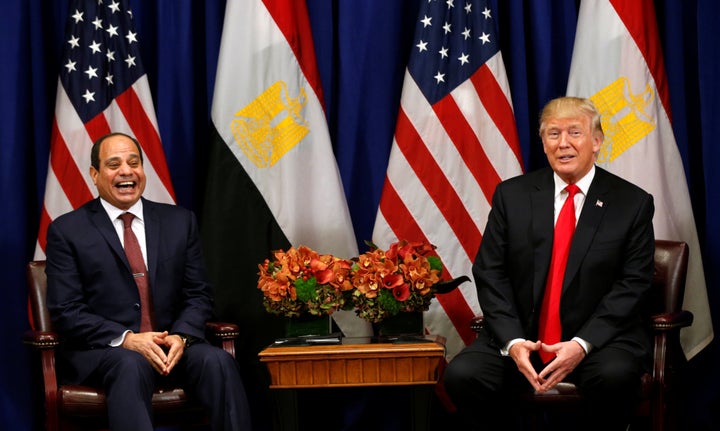 Nor has the White House publicly commented on an August letter on the detainee issue from Sen. John McCain (R-Ariz.), the chair of the powerful Senate Armed Services Committee.
The State Department has only recently begun to publicly acknowledge the cases, and even then only in broad terms ― though it did mention Etiwy by name and comment on details of his trial in a statement to HuffPost in September. U.S. diplomats in Cairo did not attend court hearings for the mass trial Etiwy was part of, unlike officials from Ireland who had a citizen named in the same case.
The Pence aide did not comment on whether the vice president plans to mention the jailed Americans during his meeting with Sisi. "The VP is monitoring the situation and has been briefed by his national security team on the matter," the aide wrote in a Friday email.
Trump has grown close to autocratic leaders and described U.S. criticism of other countries' human rights records as hypocritical. Trump administration officials say that behind-the-scenes advocacy ― sometimes mixed with the kind of praise the president has lavished on Egypt's strongman ― is the best approach to the detainee issue.
The administration has issued some public criticism, citing rights concerns as a factor in its August decision to withhold part of the huge annual military aid package Egypt receives from the U.S. And Trump aides note that he did talk to Sisi about Aya Hijazi, the American aid worker released in April.
"We closely follow the cases of all United States citizens detained in Egypt," a National Security Council spokesman told HuffPost in a Friday email. "Assisting Americans abroad is of the highest importance. Officers from the United States Embassy in Cairo regularly visit detained U.S. citizens. We are in close contact with the government of Egypt on all cases and will remain so."
But that may not be enough to force change from Egypt's general-turned-president. The U.S. government campaign for Hijazi's release began long before Trump won the presidency. While Trump brought that effort to fruition, it's unclear if his strategy of little public critique and quiet pushes, usually from mid-level State Department officials, can free Americans from a labyrinthine Egyptian prison system estimated to contain more than 60,000 people.
"It needs to be in many ways an all-of-government approach," said Andrew Miller, who worked on Egypt at the National Security Council from 2014 to January 2017 and at the State Department until November. "There's a tendency within the Egyptian government to discount concerns from a single agency. When they begin to hear it from everyone ― from the White House, from the State Department, even the Department of Defense and CIA in certain cases ― then they begin to understand that it is more of a concern."
Multiple meetings with Hijazi's advocates and statements about her imprisonment enabled the Obama administration to secure an Egyptian commitment to fast-track her case in its last few months, he said.
Miller, now the deputy director for policy at the Project on Middle East Democracy, said he knows the NSC is aware of the cases of Kassem, Etiwy and the other Americans, which he said the agency began to learn about last year. He is unsure if the information has been passed to Trump ― in part because these citizens' stories have not been widely publicized. That affects the responses of every part of the American government, from the White House to the Cairo Embassy, which he said did not share information about the cases of Kassem, Etiwy and others with the NSC until it was asked to.
"To get the entire U.S. government to do something, it helps when there is a public furor," Miller said. "The Trump administration has prioritized private engagement in trying to resolve these cases, but based on my experience there needs to be both public and private diplomacy. The public remarks in which the U.S. government expresses concern are a necessary precondition. It serves as a signal of how much we care about the status of those individuals. It also helps to create a sense within Egypt that this is a real problem, that it's going to have the potential to make relationships scratchier."
Soltan, the former Egyptian prisoner, said it's clear from his recent meetings in Washington that there is not much interest in the detainee issue at the top levels of the Trump administration.
"It's been quite frustrating," he told HuffPost. "Trying the regular avenues and channels which we used to raise some of these profiles and some of these stories has not been effective. ... For example, at the State Department, desk officers and whatnot, they're completely demoralized. They cannot reach senior leadership and even when they do, the White House is on a different track."
Soltan believes lawmakers and congressional staff interested in the issue are now choosing to spend less time on it because their lobbying has yet to lead to any concrete administration steps.
The irony is that some national security experts believe Trump's broader approach to Egypt makes it more likely he can get concessions from Sisi's government. It's just a matter of whether he wants to use his leverage for the sake of the jailed Americans.
Even as he has flattered Sisi, Trump has not given in to Egyptian government demands for easier aid terms or classifying the opposition Muslim Brotherhood movement as a terror group, noted Amr Kotb, the policy director at the Tahrir Institute for Middle East Policy.
"Because of this administration avoiding public criticism, we have been able to do things we never have before. ... I think this strategy of public support with private criticism could be instrumental" in reining in Egypt's crackdown, he said.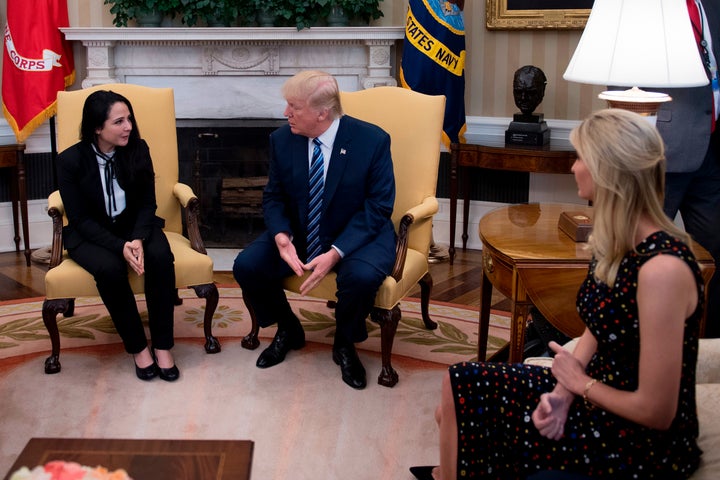 Madhiraju, one of the lawyers for Kassem and Etiwy Madhiraju, said Trump must act because of a legal obligation and because he has already twice intervened to help free other jailed Americans abroad ― in the Hijazi case in Egypt and on behalf of UCLA basketball players recently held in China on shoplifting charges.
Others in Washington say the Egyptian government's behavior on other issues merits a muscular U.S. response. Sisi has jailed dozens of LGBTQ people since attendees raised rainbow flags at a concert in late September, and the Human Rights Campaign and partner groups arranged for an LGBTQ Egyptian to meet with the NSC last week, HRC senior international policy advocate Jeremy Kadden told HuffPost. Trump aides were in "listening mode," he said.
And a U.S. citizen named Aayah Khalaf has spent months lobbying U.S. officials and lawmakers on behalf of her parents, who were approved for green cards and were planning to move stateside before their June arrest in Egypt. She said Trump has a responsibility toward them because of her and their seven other American relatives, and because the Egyptians have yet to charge them or present any evidence they have broken the law.
Khalaf, Hijazi, Soltan and Madhiraju are hosting a joint telephone press briefing on Monday to boost awareness. But there's no guarantee headlines will prompt high-level action or reunite these American families.
"This whole process, it's emotionally draining and I describe it as a huge roller-coaster, emotionally and mentally," Soltan said. "Nothing is for sure unless they're out."
Popular in the Community