Families divided during the Korean War tearfully reunited for the first time on Monday after South Korean President Moon Jae-in and North Korean President Kim Jong Un signed a declaration earlier this year to facilitate such meetings. 
A group of 89 people, mostly elderly, were chosen, CNN reported, to travel from South Korea to North Korea and see relatives many hadn't even been in contact with since the armistice was signed in 1953. 
One woman, Lee Keum-seom, told CNN that she was seeing her son for the first time since he was 4 years old. They are now 92 and 72 years old, respectively. 
"(My family) in North Korea didn't live long so I prayed for my son's health," she said. "What shall I ask? Oh, I should ask him what his father told him about me. His father must have told him about how we got separated and where our house used to be."
Yonhap described a tearful scene, as long-lost family members hugged and asked each other rudimentary questions about each other's lives. Lee, for example, asked her son how many children he had.
The reunification event will go until Wednesday, Yonhap said, giving families a total of 11 hours together by the end. More than 300 South Koreans will also travel north this coming weekend for a second round of reunions. 
Tens of thousands of Koreans have reunited since the early 2000s, but Monday's meet and greet was the first of its kind since 2015, after which tensions increased between the countries and reunifications were halted.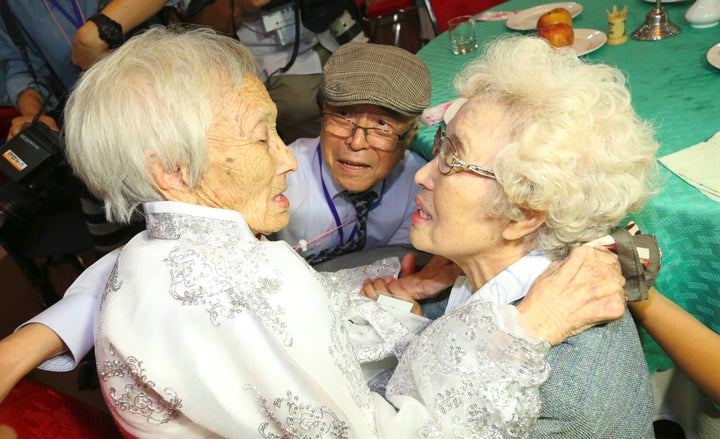 The two Koreas have made efforts to mend ties this year, amid President Donald Trump's diplomatic push to get the reclusive regime to denuclearize. 
The neighbors have held a series of summits this year, including a historic meeting in May during which Kim stepped over the border into South Korea and embraced Moon.
Progress may be stalled though given that American officials confirmed last month that North Korea continues to manufacture new ballistic missiles and produce nuclear fuel.
Calling all HuffPost superfans!
Sign up for membership to become a founding member and help shape HuffPost's next chapter
BEFORE YOU GO