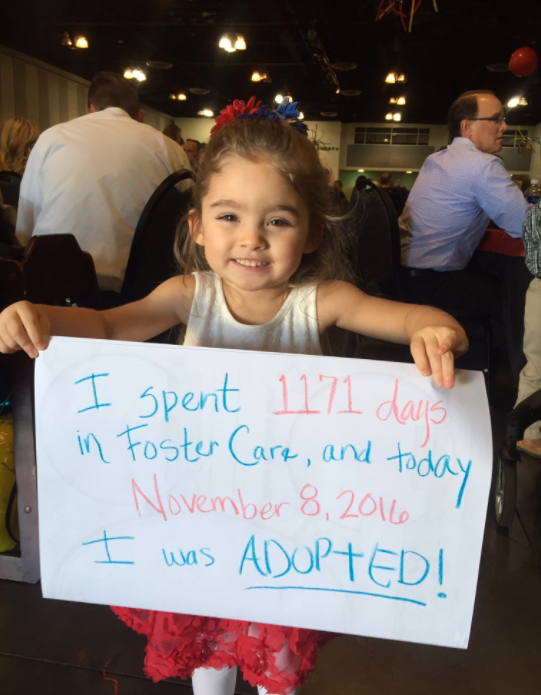 Veronica and her baby brother had been in foster care their whole lives before the Scudders heard their story.
Autumn Scudder and her husband, Matthew, of Southern California, already had three teenage daughters and wanted more children. But health reasons prevented them from doing so biologically, according to BuzzFeed. When the Scudders found out that Veronica, 3, and her brother Preston, 1, were looking for a home, they decided to bring them into theirs. They fostered the two children beginning in December 2015 and, six months later, started the adoption process.
"I had always wished we had been able to have a son, too," Autumn told BuzzFeed. "So when we found out Veronica and her new brother needed a home, there was no hesitation in our emphatic yes."
They finished the process just in time for Adoption Month in November, and had a celebration on Tuesday officially adopting little Veronica and Preston.
Kylie, their 17-year-old oldest daughter, was thrilled about her expanding family and shared photos of the event.
"[T]he adoption to us has meant unconditional love," she told The Huffington Post. "It doesn't matter that Veronica and Preston aren't blood related to us, or the way they joined our family. They're our family, and we love them so much. Adopting them has helped our family learn and understand a whole new level of love."
Autumn told HuffPost that, with the adoption coinciding with Election Day, it provided a little light during a time of tumult.
"I'm so happy that our joyous occasion is bringing smiles to people during such a stressful time in America," she said. "Although America is divided right now politically, we are still a country of compassionate people ― and the overwhelmingly positive response about our Adoption Day is proof of that. If Americans are capable of uniting together to celebrate Veronica and Preston finally getting their forever family, then I have no doubt they can unite to celebrate our great republic and begin working towards repairing our nation and molding it into a place we can all live our unique lives in unity.
"Adoption is a wonderful thing," she continued. "It takes pieces of people from here and there, and brings them together as one family with a common goal of supporting and loving each other no matter what. America can learn from this. We are all a part of the American family."