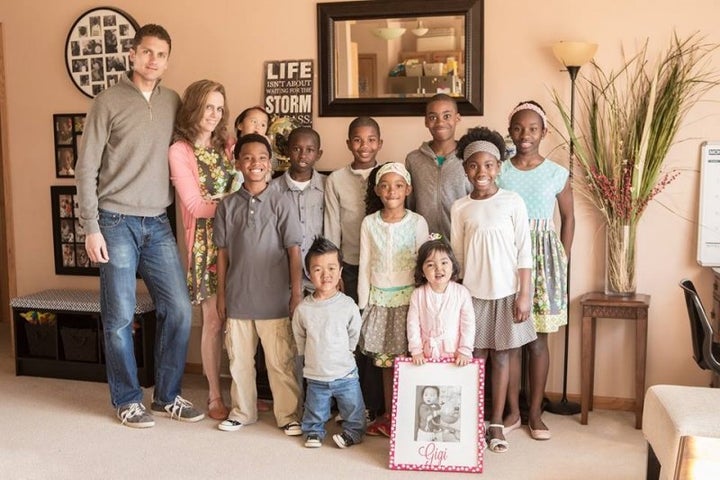 The past few years have been a dark time for me. My home was partially destroyed during Hurricane Sandy when a five-foot wave washed through my neighborhood. There were endless delays with the repair program. Emotionally and financially, the comfort and pleasure I took in my home had drained away. There was a cloud hanging over me that I couldn't shake. And then I met Becky Ketarkus.
It was a chance online encounter. Becky made a comment on Facebook about her adopted children — there were a mere 10 of them at the time! — which piqued my curiosity and started a conversation.
I learned that as a young couple, Becky and her husband Joe adopted four children domestically, followed rather quickly by three children from Ghana. Their eighth child, who was their first child with special needs, was labeled 'terminal' by physicians due to the nature of her heart defect three years ago. But that didn't stop Becky and Joe from adopting her, loving her, and praying by her bedside as she underwent her first open heart surgery -- and then another in April of this year. Today, this joyous little girl, known as their "warrior," is doing fantastic in every way. The same is true of her brother adopted a year later, who was born with dwarfism, a physical difference that doesn't limit him in any way, or make him any less the funny and fantastic boy he is.
Later that year, they rushed back to China to adopt another girl who was living with near constant pain due to a tumor on her eye. After the difficult decision to remove her eye, she too has been able to live her life as a happy and healthy toddler. At Christmas this year, Gigi will be home with her new family, and all 11 of the Ketarkus children will open their presents together.
The family lives in Madison, Wisconsin. Becky works as a nurse and owns two early childhood education centers. Joe is a Spanish language interpreter for local emergency rooms.
Donations will be used to pay off $20,000 in remaining adoption costs for their daughters Cate and Gigi. There are also upcoming costs that will be incurred to get Gigi the physical and occupational therapy and language acquisition that she desperately requires. In both girls' situations, the circumstances were so urgent that they proceeded as quickly as possible to get them the care and treatment that they required, even though they did not have the entire funds to cover the costs. As a result, they are carrying $20,000 in a loan against their credit cards.
Gigi is deaf, blind in one eye, has a serious heart defect, and significant developmental delays. At 3 years old, she has no means of communication. She needed to be brought to her new family as quickly as possible.
Cate, who was adopted last year, had a tumor on her eye so large that it kept rupturing. She was in horrible pain and it was eating through her orbital bone.
The Ketarkus kids also pitch in and spent the summer mowing lawns, walking dogs, helping the elderly for pledges, and selling jewelry and T-shirts that they designed with the saying "We Rise By Lifting Others" toward raising money for Gigi's current adoption.
See how you can help. Story continues below:
Becky's blog invites readers to come along on her journeys as she describes, with raw honesty and authenticity, her hopes and dreams and fears and challenges for each of her eleven adopted children. As I read more about her, her husband Joe, and their delightfully compassionate and empathetic children -- I came to care more and more about them. Reading their updates and cheering this family on became something I looked forward to. I read stories of her family -- laughing, crying, and being incredibly touched and inspired along the way. Even without having met them in person, I developed a great love for them, and felt touched by them for who they are and for what they do.
I realized that my life had been blessed to have crossed paths with a family that transcends the typical definition of "family," who created one that seems to know no bounds in terms of the magnitude of their love, support, commitment and strength. I felt that I had to show support for a young couple who not only decided to adopt these children, but who also demonstrates a commitment to enriching their lives in every possible way, and who go to the greatest lengths possible to heal their hearts and develop their character and to make them feel loved.
My thoughts turned from self-pity to 'What can I do to show support for this incredible family?'
My own heart felt lighter, even though everything else in my life was the same, simply by virtue of knowing that people like this are out there in this world, taking an active role in making miracles happen. My thoughts turned from self-pity to "What can I do to show support for this incredible family?" So I started a fundraiser to help remove some of the financial burden that they have undertaken.
Adoption is expensive. The travel costs to bring Gigi home from China, especially with the paperwork being finalized at the holiday season, are expensive. Her treatment will be expensive. I was aware that these parents still have remaining debt from two previous adoptions, but didn't let that stand in the way of getting these children to their family and the doctors as quickly as possible.
This family is so deserving of support. 
A few days ago, Gigi, who has never known a language to be able to communicate with others, who has already undergone heart surgery without a parent to hold her hand and give her comfort, who doesn't yet know what a "family" is but surely deserves one—this girl signed her first word in American Sign Language. She signed "mama" to the American woman who traveled with her two eldest sons to an orphanage halfway around the world, with the determination to give this child the family, the home, the language, the medical treatment, and the future that she deserves. This past week, this woman, Becky Ketarkus, officially adopted the fragile yet brave little girl who will be home in the states in time for her first Christmas with her new forever family.
Calling all HuffPost superfans!
Sign up for membership to become a founding member and help shape HuffPost's next chapter