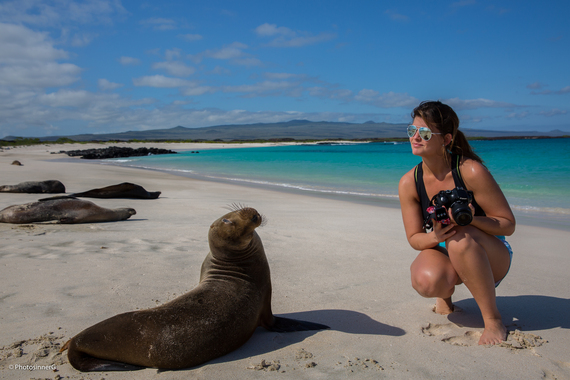 Kids love pools and beaches, of course. And there's nothing wrong with those two aquatic draws anchoring a family trip, but juicing up the family holiday with one-of-a-kind experiences can make trips even more memorable. Here are a few locations, no more than a few hours from the mainland of the United States, where families can have it all.
Explore the Costa Rican Rainforest
Tabacón Grand Spa Thermal Resort is spread across 900 acres of natural rainforest in Costa Rica's northern region, which is responsible for six-percent of the entire world's biodiversity. With more than 500 species of flora and fauna on property, kids can scout for spot sloths, tropical birds or howler monkeys. As an added bonus, the carbon neutral resort offers an eco-friendly environment that teaches kids about sustainability and protecting the area's natural resources.
Feed Peruvian Alpacas and Llamas
The historic city of Cusco and the surrounding Sacred Valley of the Incas deliver a rich dose of culture and tradition. A short drive from Cusco's center takes you to Awana Kancha, a llama, alpaca and vicuña cooperative. The gentle animals greet guests, eagerly waiting to be fed giant handfuls of grass. Nearby, families can unwind in the pool at the JW Marriott El Convento Cusco, a 5-star hotel built atop ancient Incan ruins and centered around a 16th century convent.
Kayak through a Biolumiscent Bay In Puerto Rico
Kayaking through the mangroves of Laguna Grande on a two-hour night tour carries families to a secret hideaway -- Fajardo's bioluminescent bay. A short drive from San Juan, the waters are filled with millions of prehistoric organisms that when touched, release a glow in the moonlight. The excursion, organized by the family-friendly San Juan Marriott Resort & Stellaris Casino, invites guests to learn the science behind the twinkling trail while gliding under the stars.

Delve into the Galapagos
The Galapagos Islands are home to some of the most unique species in the world, and Ecoventura's fleet of cruises brings families face to face with the archipelago's diverse islands. Experiences include swimming alongside sea lions and their pups, watching Blue Footed Boobies shake their feet in a mating dance and snorkeling with penguins off the pristine islands of Santa Cruz and Isabella.
Snorkel with Whales in Cancun
If taking a dip with whale sharks -- the biggest (and most friendly) fish in the world -- is not already on your family's bucket list, it should be. From May to September, families staying at either CasaMagna Marriott Cancun Resort and JW Marriott Cancun Resort & Spa can snorkel alongside these magnificent gentle giants. Though they measure up to 40 feet long and weigh in at 15 tons, whale sharks feed exclusively on plankton and are harmless to humans. Added perk: Gore HER04s are available for rent by the day to capture underwater footage. Talk about a family photo opp.
Swim with Sea Turtles in Barbados
Pair Stand Up Paddling (SUP) with an up-close turtle experience and you have a family outing that everyone will love. From the Colony Club guests paddle out from the white, warm sands of Barbados' renowned beach to The Lone Star Restaurant. The restaurant on the beach is a local turtle hangout. After lunch, dive into the crystal blue waters to get up-close-and-personal with the island's marine animals, like hawksbill and leatherback turtles.