Complete strangers are in control of the Christmas lights on this Alaska family's home.
People who visit ChristmasInFairbanks.com at any time of night and day can control the decorations on Ken and Rebecca-Ellen Woods' Fairbanks house. All they have to do is flick virtual switches to about a dozen different sets of LED lights lining the property's windows, tree, wreaths and railings.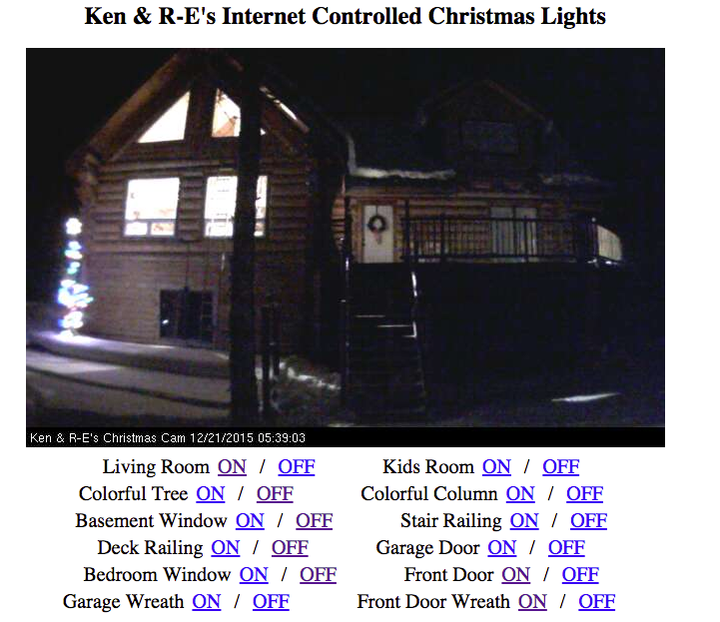 A special "Christmas Cam," which is nailed to a nearby tree, films the changing light show and broadcasts it over the site, reports the BBC.
"The very first year we did it, we did one string of lights on the tree," he told ABC News.
"It was cool, but then we added a web camera pointing at the tree and then [the reaction] blew up," he continued. "A week into it, my wife turned to me and said, 'Next year, these are going outside.' It was super annoying in the middle of the night." 
The Woods family is shielded from outside flashing lights while they're inside their house, and they don't have any neighbors living close by.
Ken needs 16 electrical ports to keep the lights running, and wrote specific webcam software that uploads the latest image online to the Amazon cloud, which is then reproduced on his site.
"Basically, it's a box that has a tiny computer running inside of it," Ken explained to ABC News. "Whenever anyone clicks the link, it sends a specific signal to that Web server that then interfaces with a power strip and turns the individual ports on and off."
The Christmas in Fairbanks website notes that the sheer number of people logging on to it means it can sometimes take several seconds to change a light.
If it takes more than five seconds for the lights to change, the site recommends trying again and making sure you're using Google Chrome or Mozilla Firefox.
Another explanation for delays? 
"Santa is mad at you because you were bad this year," the site reads. 
Calling all HuffPost superfans!
Sign up for membership to become a founding member and help shape HuffPost's next chapter