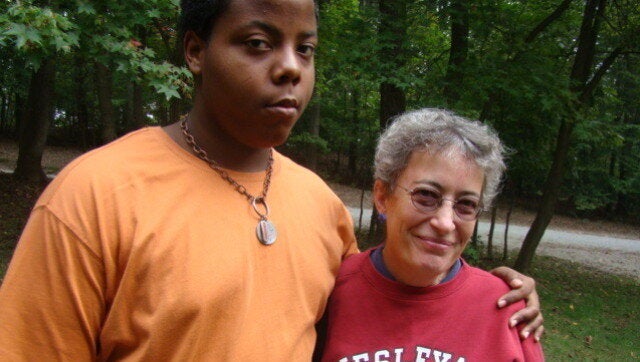 WASHINGTON -- Each year in the United States, more than 100,000 children wait to be adopted. In 2011, less than half of them were matched with adoptive families.
For older children, the likelihood of being placed in a permanent adoptive home is even bleaker: During the same year, only about one-fifth of children 12 and older were adopted.
That's where Susan Punnett saw a need. A 15-year veteran of child welfare and social services, Punnett founded the D.C.-based Family and Youth Initiative (FYI) to help match local teens to caring adoptive parents, giving them a place to call home.
"We grew out of a need for helping teens in foster care find adoptive families," said Punnett, now executive director of FYI. "[These are] wonderful young people who have incredible potential, and through no doing or fault of their own are stuck in this crazy system."
FYI, which was incorporated in 2010, is the only organization in the D.C. area focused solely on assisting foster children ages 12 through 21 find adoptive families.
The organization's emphasis on placing older foster children in permanent homes addresses an urgent need seen nationwide. According to Child Trends, a nonprofit research center focused on children's welfare and policy, the number of older youth who age out of foster care continues to rise, despite improvements in the child welfare system.
Studies find that children who age out of the foster care system -- which, depending on the state, ranges between ages 18 and 21 -- suffer from higher rates of insufficient education, unintended pregnancy, joblessness, homelessness and incarceration.
FYI hopes to combat these risks by helping teens develop positive relationships with adults through three primary means: mentoring, hosting and adopting. Each month, the organization hosts a variety of events to help connect volunteers and prospective adoptive parents to FYI foster teens. Past events include bowling, cookouts, kayaking and scavenger hunts.
In addition to giving teens a fun outing with their peers and mentors, it's also an opportunity for adoptive parents to find their perfect foster match.
"What makes us different from any other organization is that we invite and welcome people to come and get involved with us even before they've made a decision if they want to become an adoptive parent," Punnett said.
"We have a couple teens who were placed just in the last month and both sets of adoptive parents are people who had known they wanted to adopt, but hadn't planned on adopting this much older," Punnett added. "What made the difference for them was getting to know some of these teens and basically falling in love with them."
But in February, FYI is shifting gears to host a slightly different event aimed at spreading awareness and raising funds: its first ever "Give your heART to a Child." The Valentine-themed fundraiser, which is scheduled for Feb. 2, will feature several local artists, including musicians, graffiti artists, a jewelry maker and even a chocolatier. Tavon Mason, former New York Jets player and current philanthropist, will be the event's featured speaker.
Tickets are $50 per person in advance, and $60 per person at the door.
Leah Gurowitz, an FYI volunteer, said she encourages people to attend the event to learn more about the organization and to support a good cause.
"One of the challenges is that some of these people don't know that this option is out there. Any of the options -- mentoring a kid, hosting for a weekend, adopting -- they don't know that the option is out there," Gurowitz said. "Even if you aren't a child person or you don't have the time, you [can] support the organization."
Gurowitz, who has been volunteering for the organization for roughly a year and a half, also described her experience with the foster teens as "life changing."
"It's a luxury to be annoyed and tired of your parents and all their attention and affection and guidance. It makes a huge difference [to have] somebody who wants to know how your day was," Gurowitz said. "I leave every event feeling grateful for the time I had with the kids."
When asked what she would tell parents thinking about adopting a teen, Punnett's advice was simple: "I would say, meet them."
"Their perspective and their appreciation for having adults in their lives is pretty remarkable given everything they've been through," Punnett said. "They really are just the most incredible young people that you could meet."
Related