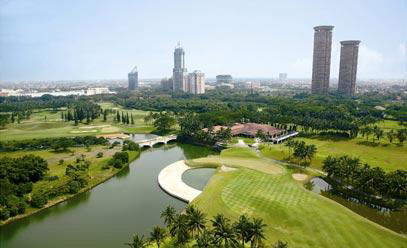 [The image of Lippo Village on the Lippo Group's website]
By AsiaToday reporter Jina Koh - About 25 kilometers away from crowded Jakarta, there is a totally different modern city. The place is filled with more than 150,000 trees, long straight roads, golf courses, shopping malls, and western-style houses. It is called Lippo Village, developed by Lippo Karawaci, a property developer owned by Indonesia's leading family conglomerate Lippo Group.
Asian family-run businesses create new complexes, open new markets, and achieve good results. Their growth has been seen as a key driver of the regional growth for decades. However, there are also some downsides.
Lippo Group, which started as a bicycle parts company, was in the process of expanding its core business to banking until it was put in trouble due to the financial crisis that swept Asia. At that time, Lippo Bank received three large plots of land as collateral for unpaid loans. One of them became Lippo Village. The crisis has turned into a new opportunity.
Some companies open new markets. India's Reliance Industries is doing a variety of business from energy and petrochemicals to textiles and retail, and is now eyeing on the mobile communication market. It has already launched fourth-generation (4G) mobile communication service in September. Its decision was based on the judgment that the age of voice calls were fading and fast data would dominate the future.
"Reliance Jio", a 4G-only mobile communication service launched separately from the company's existing mobile communication services, provides free data to subscribers until this year. Due to this, price competition has also intensified among existing telecom service providers such as Bharti Airtel, Vodafone India and Idea Cellular. The competition is gaining positive recognition as the market is being activated by the spread of smartphones and price cuts.
The group is not worried about its operating costs due to the profit from other affiliates. Fitch Ratings analyzed that earnings from the group's refining and petrochemical businesses will serve as a buffer for the growth of its mobile communications business for some time.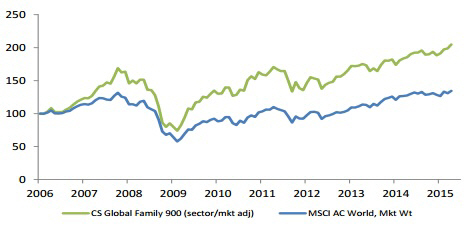 [Performance of Credit Suisse CS Global Family 900 vs. MSCI All Country World Index / Source: Credit Suisse]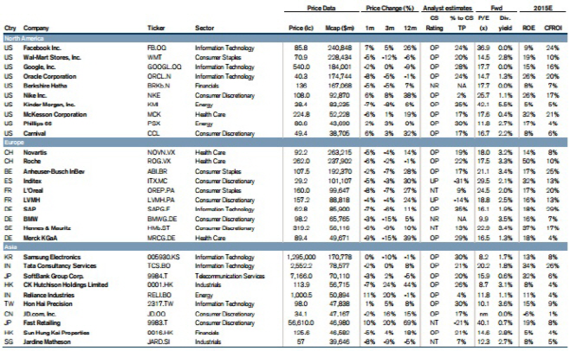 [Top 10 family-owned companies by region / Source: Credit Suisse]
Obviously, big family-run companies would make better investments. The investment bank Credit Suisse, which tracked the share price movements of more than 900 listed family-owned companies with market capitalization of over $1 billion, found that they outperformed in terms of compound annual growth rate the MSCI All Countries World Index by 4.5% since 2006. The majority of them are from Asia, including Samsung Group and Cheung Kong Property Holdings.
In an interview with the Nikkei Asian Review, prof. Joseph P H Fan from the Chinese University of Hong Kong said, "Family-run businesses usually do better than state-owned enterprises in terms of sustainability and profitability." He attributed this to "intangible capabilities" such as relationships, trust, networks and values that are "very difficult to buy and sell in the marketplace."
China's open door policy has also helped activate investment and prosperity of these family-run businesses. Deng Xiaoping's foreign direct investment (FDI) policy did not attract much attention at first, but FDI inflows increased thanks to the investment of overseas Chinese. Bangkok-based family conglomerate Charoen Pokphand (CP) was also one of the early investors. Dhanin Chearavanont, a second-generation leader of the conglomerate, was the first to apply for a joint venture in 1981 in Shenzhen, one of the special economic zones in China. CP was also the first to open a carpet factory in another special economic zone, then steadily grew to become one of the leading companies in Thailand.
As seen above, family businesses cannot be separated from the growth of Asia. However, there are some downsides. The case of former chairman Cyrus Mistry, who was suddenly ousted in October last year as chairman of Indian company Tata Sons, is a good example that shows the dark side of family business. The confrontation between predecessor Ratan Tata's corporate expansion policy and Mistry's restructuring and financial stability policy triggered internal management problems, leading to sudden dismissal.
In South Korea, cozy ties between politicians and family-run conglomerates lead to scandals, creating serious confusion. Politicians press family conglomerates, known as chaebols, to set up funds for their own interests in return for business favor. The appearance of Lee Jae-yong, vice chairman of Samsung Electronics, at a parliamentary hearing of the probe in the so-called "Choi Soo-sil gate" was a major issue these days.
The recent hearing of South Korea's major chaebol chiefs has become a place to criticize the succession of cozy ties between businesses and government. Six of the nine chaebol owners who appeared were the children of former business leaders who testified at a parliamentary hearing 28 years ago.