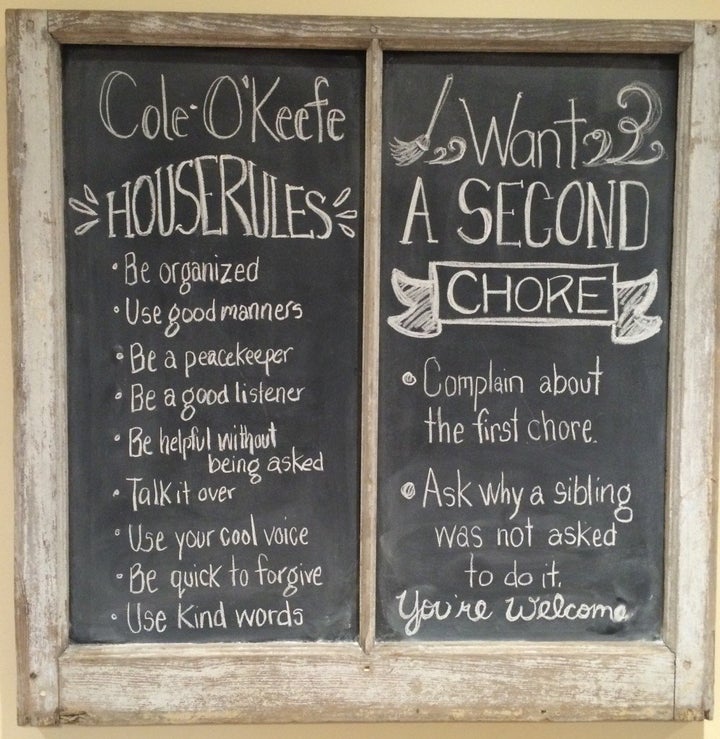 At some point a few years ago, we went through an extensive exercise at work identifying and defining our core values. It made sense to me that our family should discuss and establish our core values as well. These are the basic things we can all agree on that will make our family culture not only function, but thrive.
For years, I had our core values scribbled on a piece of paper and pinned to a corkboard in the house, but recently a talented friend created a much more beautiful way to display our family core values.
•Be helpful without being asked.
*Remember always: the people who love you the most in the world live in this house. Be patient and appreciative*
What is not posted is something we often talk about. We call it "The Code." This has to do with any confidential information you receive as a result of being a member of the family. This information cannot be shared. It is generally embarrassing in nature.
The kind of things included in the code would be:
•Never reveal a sibling's crush in public.
•Never, when angry at a sibling, reveal information such as the child being a bed wetter, someone who is afraid of the dark, etc.
•Never, and I mean NEVER say something so mean when you're in a fight that no matter how much you apologize, the person who is on the receiving end will never be able to FORGET what was said to them. Usually these kinds of comments would be directly insulting their appearance or personality. In other words, you always FIGHT FAIR.
Does your family have a set of core values or "The Code" as well? What do you think is missing from my list?