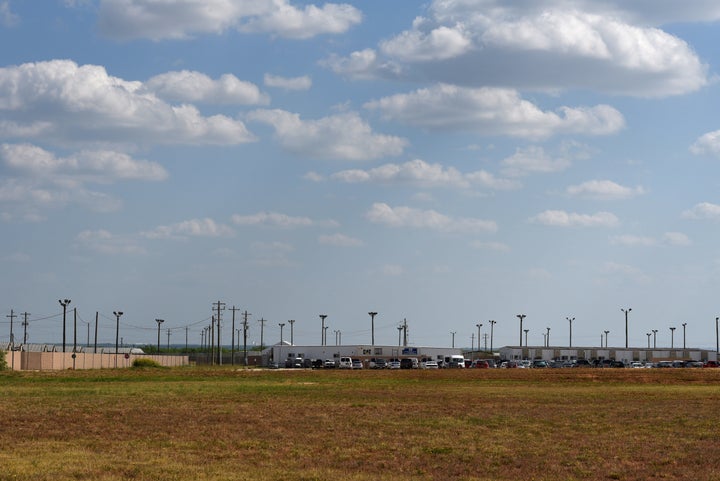 In July, I left my wife and two little girls and traveled from Denver to Dilley, Texas, to join a group of volunteers helping migrant women in detention file claims for asylum. I am not a lawyer, but I speak Spanish and have a background in social work. Our task was to help the women prepare for interviews with asylum officers or to prepare requests for new interviews.
The women I worked with at the South Texas Family Residential Center in Dilley had been separated from their children for up to two and a half months because of a policy instituted by the Trump administration in April 2018, under which families were targeted for detention and separation in an attempt to dissuade others from embarking on similar journeys. Although the separations have stopped because of the resulting public outcry, hundreds of families have not been reunited (including more than 20 children under 5), families continue to be detained at higher rates than adults crossing the border alone, and the trauma inflicted on the women and children by our government will have lifelong consequences.
To be clear, this is a policy of deliberately tormenting women and children so that other women and children won't try to escape life-threatening conditions by coming to the United States for asylum. I joined this effort because I felt compelled to do something to respond to the humanitarian crisis created by unjust policies that serve no purpose other than to punish people for being poor and female ― for having the audacity to be born in a "shithole country" and not stay there.
I traveled with a group of amazing women gathered by Carolina, a powerhouse immigration lawyer and artist from Brooklyn. My fellow volunteers were mostly Latinas or women whose histories connected them deeply to this work. Through this experience, we became a tight-knit community, gathering each night to process our experiences and try to steel ourselves for the next day. Working 12-hour shifts alongside us were two nuns in their late 70s, and it was one of them who best summed up the experience as we entered the facility one morning. "What is happening here," she said, "makes me question the existence of God."
"It was a nun who best summed up the experience as we entered the facility one morning. 'What is happening here,' she said, 'makes me question the existence of God.'"
I am still in awe of the resilience I witnessed. Many of the women I met had gone for more than two weeks without even knowing where their children were. Most had been raped, tormented, threatened or beaten (and in many cases, all of the above) in their countries (predominantly Honduras and Guatemala). They came here seeking refuge from unspeakable horrors, following the internationally recognized process for seeking asylum. For their "crime," they were incarcerated with hundreds of other women and children in la hielera ("the freezer," cold concrete cells with no privacy where families sleep on the floor with nothing more than sheets of Mylar to cover them) or la perrera ("the dog kennel," where people live in chain link cages). Their children were ripped from their arms, they were taunted, kicked, sprayed with water, fed frozen food and denied medical care. Yet the women I encountered were the lucky ones, because they had survived their first test of will in this country.
Woman after woman described the same scene: During their separation from their children ― before they learned of their whereabouts or even whether they were safe ― the women were herded into a room where Immigration and Customs Enforcement officials handed them papers. "Sign this," they were told, "and you can see your children again." The papers were legal documents with which the women would be renouncing their claims to asylum and agreeing to self-deport. Those who signed were deported immediately, often without their children. Those who refused to sign were given sham credible-fear interviews (the first step in the asylum process), for which they were not prepared or even informed of asylum criteria.
The women were distraught, not knowing what ICE had done with their children or whether they would see them again. Their interviews were conducted over the phone, with an interpreter also on the line. The asylum officer would ask a series of canned questions, and often the women could reply only, "Where is my child? What have you done with my child?" or would begin to give an answer, only to be cut off midsentence. Not surprisingly, almost all of them got negative results — exactly the outcome this policy was designed to produce. Still, these women persisted.
After a court battle, my clients were reunited with their children and were fortunate enough to have access to free legal representation (many do not) through the CARA Pro Bono Project. The women arrived looking shell-shocked, tired, determined. Some of their children clung to them, afraid to be apart even for a few minutes, making it very hard for the women to recount their experiences, which often included sexual violence, death threats and domestic abuse. Other children stared into space or slept on plastic chairs, exhausted from sleepless nights and nightmares. Still others ran manically around the legal visitation trailer. But some of the children showed incredible resilience, smiling up at us, showing off the few English words they knew, drawing pictures of mountains, rivers, neat little houses. They requested stickers or coloring pages, made bracelets out of paper clips. We were not allowed to give them anything ― no treats or toys or books. We were not allowed to hug the children or their mothers ― not even when they sobbed uncontrollably after sharing the details of their ordeals.
In the midst of this sadness and chaos, the humanity of these women shined through. One of my clients and her son, who had traveled here from Guatemala, took great pleasure in teaching me words in their indigenous language, Mam. She taught me to say "courageous" ― hao-tuitz ― and whenever our work got difficult, we would return to this exhortation. These lessons were a welcome break from reviewing the outline of the experiences that drove them to leave, fleshing it out with details for their interview. They wearied of my pressing them to remember facts I knew the asylum officer would ask about. They wanted only to say that life is very hard for indigenous people, that their knowledge of basic Spanish was not enough to make them equal members of society. Mam is not taught in schools, and almost everyone in Guatemala looks down on those who speak it. They were so happy to have a licenciada (college graduate) interested in learning about their culture. We spent almost an hour finding their rural village on Google Earth, zooming in until we could see pictures of the landscape and the people. As we scrolled through the pictures on the screen, they called out the people by name. "That's my aunt!" and "There's my cousin!" There were tears of loss but mostly joy at recognizing and feeling recognized ― seen by the world and not just dismissed as faceless criminals.
"A diabetic woman who had not had insulin in over a week dared to ask for medical attention, an infraction for which she was stripped naked and thrown in solitary confinement."
There were stories of the astonishing generosity of people who have so little themselves. One colleague had a client who had been kidnapped with her daughter and another man by a gang while traveling north from Guatemala. The kidnappers told the three to call their families, demanding $2,000 per person to secure their release. The woman was certain she and her daughter were going to die. Her family had sold, mortgaged and borrowed everything they could to pay for their trip. They had never met the man who was kidnapped with them. She watched as he called his family. "They're asking for $6,000 for my release," she said he told them. He saved three lives with that phone call. When they got to the U.S.-Mexico border, they went separate ways, and she never saw him again, never knew his last name.
Another client I worked with was a different kind of hero. After confronting gangs trying to extort her in her country, she fled north with her son and was caught at the U.S.-Mexico border. She and her son were forcibly separated, and she was pressured to sign papers waiving her legal rights. Not only did she resist doing so, but she also took great personal risks to confront the ICE officials. "You didn't need my signature to take my son away from me. Why do you need my signature to bring him back?" Then she loudly urged all the women in the room not to sign. "It's a trick!" she told them. She made sure to write down the names and contact numbers of the women she was detained with. When I worked with her, she would often ask if she could call the relatives of one of the women to notify the family or see if she had made it safely to her destination. Every day I was at Dilley, this client took other women with her to the legal visitation trailer, trying to ensure that everyone had access to representation. She is a budding community organizer, a true example of the kind of concern, compassion and courage that our country needs.
Not everything I heard was so positive. Without exception, the women described cruel and degrading treatment at the hands of ICE officials at the Port Isabel immigrant processing center, near Brownsville, Texas. There was the diabetic woman who had not had insulin in over a week and dared to ask for medical attention, an infraction for which she was stripped naked and thrown in solitary confinement. Women reported being kicked, screamed at, shackled at wrists and ankles and told to run. They described the cold and the humiliation of not having any privacy to use the bathroom for the weeks that they were confined. The children were also kicked, yelled at and sprayed with water by guards, then awoken several times a night, ostensibly so they could be counted.
Worse than the physical conditions were the emotional cruelties inflicted on the families. The separation of women from small children was accomplished by force (pulling the children out of their mothers' arms) or by deceit (telling the women that their children were being taken to bathe or get medical care). Women were told repeatedly that they would never see their children again, and children were told to stop crying because they would never see their mothers again. After the children were flown secretively across the country, many faced more cruelty. "You're going to be adopted by an American family," one girl was told. Some were forced to clean the shelters they were staying in and faced solitary confinement (el poso) if they did not comply. Children were given psychotropic drugs to ameliorate the anxiety and depression they exhibited, without parental permission. One child underwent surgery for appendicitis; he was alone, his cries for his mother were disregarded, and she was not notified until afterward.
The months of limbo in which these women wait to learn their fate borders on psychological torture. Decisions seem arbitrary, and great pains are taken to keep the women, their lawyers and especially the press in the dark about the government's actions and rationales for decisions. One woman I worked with had been given an ankle bracelet after receiving a positive finding at her credible fear interview. Her asylum officer had determined that she had reason to fear returning to her country and granted her freedom while she pursues legal asylum status. Having cleared this hurdle, she boarded a bus with others to be released, but at the last moment, she was told her ankle bracelet needed a new battery. It was removed, and she was sent instead to a new detention center without explanation. A reporter trying to cover the stories of separated families told me about her attempt to follow a van full of prisoners on their way to be reunited with their children so that she could interview them. First ICE sent two empty decoy vans in different directions, and then it sent a van with the detainees speeding down a highway, running red lights to try to outrun her. Every effort is being made to ensure that the public does not know what is happening.
"The accounts of the horrors that women were fleeing are almost too graphic to repeat. Of the many women I spoke to, only one did not report having been raped."
The accounts of the horrors that women were fleeing are almost too graphic to repeat. Of the many women I spoke to, only one did not report having been raped. The sexual assaults the women described often involved multiple perpetrators, the use of objects for penetration and repeated threats, taunting and harassment after the rape. A Mormon woman I worked with could barely choke out the word "rape," much less tell anyone in her family or community what had happened. Her sweet, quiet daughter knew nothing of the attack or the men who stalked the woman on her way to the store, promising to return. None of the women I spoke with had any faith that the gang-ridden police would or could provide protection, and police reports were met with shaming and threats. Overwhelmingly, the women traveled with their daughters, despite the increased danger for girls on the trip, because the women know what awaits their little girls if they stay behind. Sometimes the rapes and abuse were at the hands of their husbands or partners and to return home would mean certain death. But under the new directives issued by Attorney General Jeff Sessions, domestic violence is no longer a qualifying criterion for asylum.
Two things I experienced during my time in Dilley made the purpose of the detention center crystal clear. The first was an interaction with an employee waiting in line with me Monday morning to pass through the metal detector. I asked if his job was stressful, and he assured me it was not. He traveled 80 minutes each day because this was the best-paid job he could get, and he felt good about what he was doing. "These people are lucky," he told me, "They get free clothes, free food, free cable TV. I can't even afford cable TV." I did not have the presence of mind to ask him if he would give up his freedom for cable. But his answers made clear to me how the economy of this rural part of Texas depends on prisons. The second thing that clarified the role of the detention center was a sign in the legal visitation trailer, next to the desk where a guard sat monitoring the door. The sign read, "Our stock price today," with a space for someone to post the number each day. The prison is run by a for-profit corporation, earning money for its stockholders from the incarceration of women and children. It is important to note the exorbitant cost of this cruel internment project. ICE puts incarceration costs at $133 per person per night, while the government could monitor them with an ankle bracelet for $10 to $15 a day. We have essentially made a massive transfer of money from taxpayers to holders of stock in private prisons, and the women and children I met are merely collateral damage.
I have been back home for almost a month now. I am finally able to sleep without seeing the faces of my clients in my dreams, reliving their stories in my nightmares. I have never held my family so tight as I did the afternoon I arrived home, standing on the sidewalk in tears with my 7-year-old in my arms. I am in constant contact with the women I volunteered with, sharing news stories about family detention along with highlights of our personal lives. But I am still waiting for the first phone call from a client. I gave each of the women I worked with my number and made them promise to call when they get released. I even told the Mormon woman that I would pray with her. No one has called.
I comb the details of the Dilley Dispatch email, which updates the community of lawyers and volunteers about the tireless work of the on-the-ground team at Dilley. This week the team did 379 intakes with new clients and six with reunified families. There were three deportations ― two that were illegal and one that was reversed by an ACLU lawsuit. Were the deported families ones I worked with? What has become of the Mam-speaking woman and her spunky son, the Mormon woman and her soft-spoken daughter, the budding community organizer who joked about visiting me? Are they safely with relatives in California, North Carolina and Ohio? In each case, I cannot bear to imagine the alternative, the violence and poverty that await them. I have to continue to hope that with the right advocates, some people can still find refuge here, can make a new life ― that our country might live up to its promises.
Do you have a compelling personal story you'd like to see published on HuffPost? Find out what we're looking for here and send us a pitch!
Popular in the Community