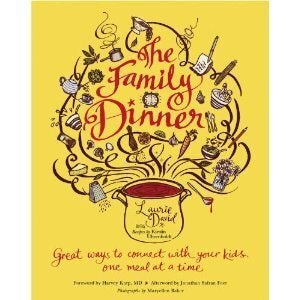 In her new book, The Family Dinner, Laurie David talks about the importance of families making a ritual of sitting down to dinner together, and how family dinners offer a great opportunity for meaningful discussions about the day's news. "Dinner," she says, "is as much about digestible conversation as it is about delicious food."
We couldn't agree more. So HuffPost has joined with Laurie to launch a new feature we're calling HuffPost Family Dinner Downloads. Every Friday afternoon, just in time for dinner, our editors highlight one of the most compelling news stories of the week -- stories that will spark a lively discussion among the whole family.

This week, Walmart joined the First Lady's campaign to fight childhood obesity and announced a massive effort to make thousands of its products healthier by reducing their levels of salt, sugar and unhealthy fats and pushing its many suppliers to do the same. The company will also lower the cost of fruits and vegetables in its thousands of American stores, and add more Walmarts in underserved 'food deserts' across America -- that's what they call neighborhoods where fresh foods are very hard to find.

Other companies have made similar efforts, but Walmart's enormous reach puts it in a position to drastically affect -- and hopefully improve -- America's diet. Walmart's CEO Bill Simon explained, "No family should have to choose between food that is healthier for them and food they can afford. With more than 140 million customers each week, Walmart is uniquely positioned to make a difference by making food healthier and more affordable to everyone." This is an important step in a country where one in three kids is now considered unhealthily overweight or obese.

Do you think your diet is healthy? What things can you do to eat healthier on a daily basis? Do you know what red flags to look for on nutrition labels and ingredient lists (e.g., if you've never heard of it, it might not be food)? How can you use that information to shop more 'defensively' when purchasing food? What are three healthy foods you eat, and what are three unhealthy ones? Name a food that you eat now that you didn't a year ago, or name something you don't eat that you wished you did. Of all the problems in America, why do you think the First Lady chose to focus on childhood obesity?
To see last week's Family Dinner Download, click here.
Subscribe to receive HuffPost Family Dinner Downloads by email every Friday afternoon.
Popular in the Community