This week's Family Dinner Table Talk, from HuffPost and The Family Dinner book:
Yesterday, First Lady Michelle Obama and Agriculture Secretary Tom Vilsack unveiled a new food plate to replace the food pyramid. This design not only departs in shape from the food pyramid, but also in meal structure. Most noticeable is that instead of having a section for meat and beans, the food plate simply says "protein," indicating that there are other sources of protein besides meat. Similarly, while the most recent version of the food pyramid had serving suggestions for milk, the new food plate uses the more general term of dairy.
The food pyramid has gone through many iterations since 1916 when the first USDA food guide was published. The one most familiar is probably the 1992 food pyramid version that instructs people to use fats, oils and sweets sparingly.
Michelle Obama explained, "As long as [our plates are] half full of fruits and vegetables, and paired with lean proteins, whole grains and low-fat dairy, we're golden." Her support of this cause goes along with her Let's Move! campaign, aimed to solve the epidemic of childhood obesity within a generation.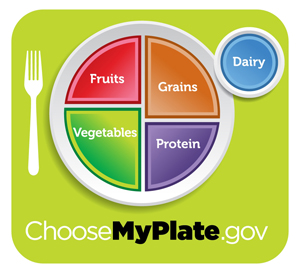 Do you like how the food plate is designed? Do you think the food plate will help Americans balance their diets? Do you agree with using the term "protein" instead of meat? Is your plate half full of fruits and vegetables? Is there a certain food group you should eat more or less of? What are some steps you can take to eating a more balanced diet? If you could design your own food icon, what would you do?
* * *
To see last week's Family Dinner Download, click here.
Subscribe to receive HuffPost Family Dinner Downloads by email every Friday afternoon.
For more tips and recipes, check out The Family Dinner: Great Ways to Connect with Your Kids, One Meal at a Time by Laurie David and Kirstin Uhrenholdt (thefamilydinnerbook.com).

Calling all HuffPost superfans!
Sign up for membership to become a founding member and help shape HuffPost's next chapter