A Muslim woman says she was the victim of discrimination when a Family Dollar clerk told her to remove her niqab or exit the store.
"I might have made it 10 steps into the store and I hear the lady behind the counter say, 'Ma'am, you need to take that off your face or you need to leave my store,'" Safi told ABC7 in Chicago.
A niqab is a veil that some Muslim wear to cover their faces, with an opening for the eyes.
"I understand, but you have to understand too this is a high crime area and we get robbed a lot. You need to remove that from your face or remove yourself from the store," the store employee says in the video.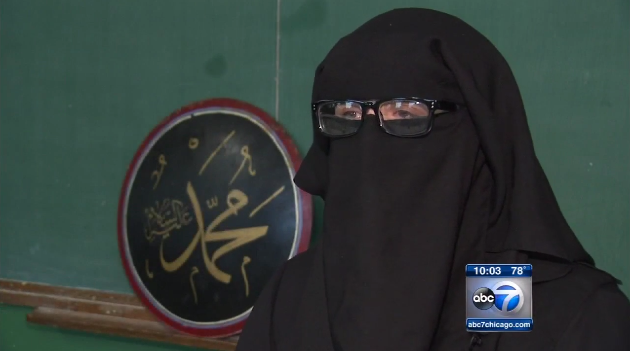 "This is a country where we have freedom of religion and freedom of speech," Safi is heard telling the employee. "I have a right to wear whatever I want to wear."
But Safi says she was faced with a choice.
"Do I wait for the police to come and let my children see this, or do I go head and just go and let Allah handle it how he sees fit?" she recalled.
A spokesman for Dollar Express, which owns and operates several hundred Dollar Tree and Family Dollar stores, issued the following statement to The Hufington Post:
"We deeply regret the incident that occurred recently at one of our stores in Gary, Indiana, and we are committed to taking steps to ensure that no customer is ever treated this way again. The conduct of the assistant store manager at that location was not in accordance with company policy and we are addressing this matter with her. We are also taking this opportunity to address with our workforce the importance of meeting the needs of a diverse customer base and providing a shopping environment that is respectful to all of our customers."
Despite the difficult incident, Safi still hoped for the opportunity to speak with the store clerk.
"I would like to sit with her and speak to her about what I believe in," she told the ABC station. "Because maybe if she heard and really listened to what I believe it would open her heart."
REAL LIFE. REAL NEWS. REAL VOICES.
Help us tell more of the stories that matter from voices that too often remain unheard.
BEFORE YOU GO
PHOTO GALLERY
Know Your Veils