In a time when many discount stores are thriving, one big dollar store is having a rough time of it.
Although Family Dollar has blamed its poor sales on a sluggish economy and a harsh winter, its rivals Dollar General and Dollar Tree have consistently reported rising sales at stores open a year or more, a key measure of retail strength. For Family Dollar, in contrast, such sales have either fallen or flatlined in the past several quarters.
Family Dollar's stock performance, meanwhile, has lagged behind Dollar General's since early 2013 and behind Dollar Tree's since the heart of the recession.
In tough economic times, discount stores often do brisker business, as consumers look for ways to stretch their wages further. So why is Family Dollar struggling?
These photos from Brian Sozzi, CEO of stock-research firm Belus Capital Advisors, who recently visited a number of Family Dollar stores in New York state, help show why. (Some of these images were originally posted on CNBC.com.)
Family Dollar stores have way too much merchandise on the floor. So much, in fact, that you can't even comfortably walk down some aisles.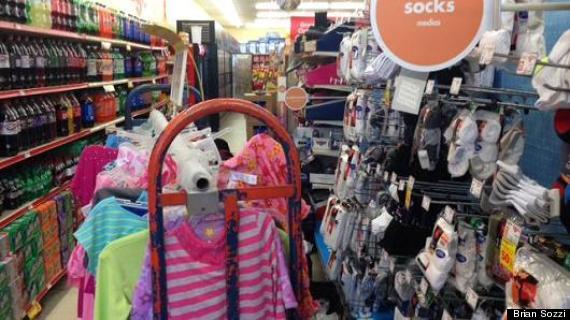 This might be the side effect of over-expansion, according to Sozzi: Although Family Dollar recently said it planned to slow its pace of building, the retailer has opened hundreds of new stores every year for at least the past 10 years. "When you're so obsessed opening stores...you lose focus on the little things that should make your business efficient," like how to unload trucks and move the product onto shelves in an orderly way, Sozzi told HuffPost.
Stacks of boxes sit in an aisle because apparently there's nowhere else to put them.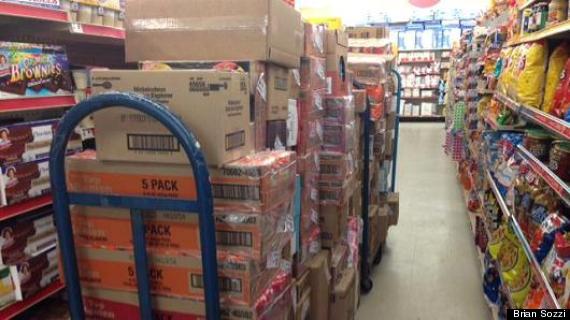 How are you supposed to get to the stuff behind the boxes?
It's not easy to shop in an obstacle course.
Having such a large amount of inventory raises the risk that it won't all be bought, forcing stores to mark prices even lower, which can hurt profits, Sozzi said.
There's so much merchandise, it even spills out onto the sidewalk.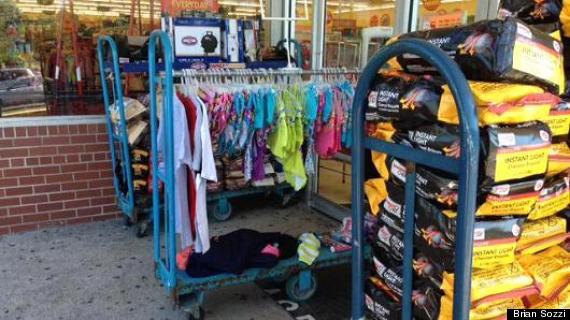 Where will they put this stuff if it rains?
Oddly, Family Dollar rival Walmart seems to have the opposite problem: too little merchandise on its shelves. The retail giant doesn't have enough employees to stock shelves in its massive stores, Bloomberg reported last year. So products sit in boxes in back rooms while customers go elsewhere, the report said.
Inventory overload isn't the only reason Family Dollar's business might be suffering. The company's decision to stock higher-priced items on its shelves as a way to offset the cost of its discounts ended up causing customers to walk out, the Wall Street Journal reported.
Activist investor Carl Icahn revealed Friday that he had taken a large stake in the company, saying he thought Family Dollar's stock was "undervalued" and that he saw "great long term potential" for the industry. Icahn later told Fox Business that he was thinking about pushing for Family Dollar to merge with Dollar General. Family Dollar responded to Icahn's announcement by swallowing a "poison pill," also known as a shareholder rights plan, which is a measure companies take to prevent hostile takeovers. Icahn told Reuters it "put a damper" on the possibility of having friendly communications with executives.
Family Dollar's share price surged more than 15 percent after the announcement by Icahn. Before that, the company's stock had been falling steadily since late last summer.
Family Dollar did not return a request for comment on this story.
REAL LIFE. REAL NEWS. REAL VOICES.
Help us tell more of the stories that matter from voices that too often remain unheard.