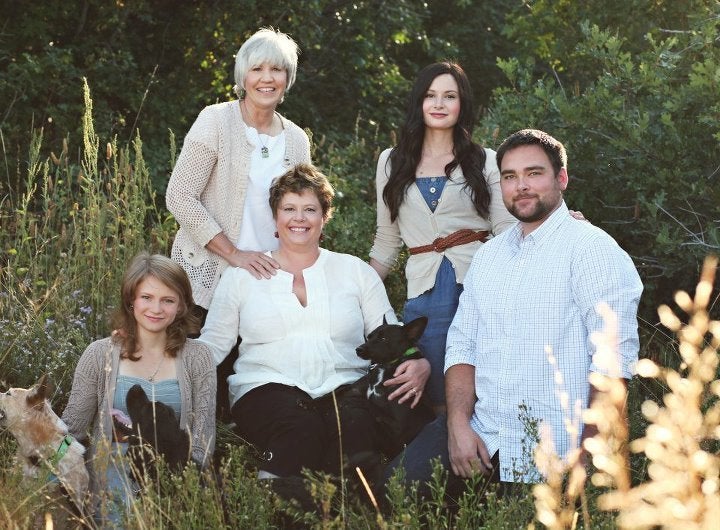 As part of our Family Friday series, every Friday, we spotlight one family, share the story of their love and send lots of love and support to them from our own huge family all over the world. Since we've launched our Family Friday series, we've gotten so many beautiful submissions from you. You've shared your families and stories from your lives. We've been overwhelmed and so genuinely touched by your stories. Thank you.
This week, we're hanging out with a very special family from Utah. Everyone? Meet Anne and her family, Pam, Kiki and her husband Dan, Marie and her new husband Scott.
There are quite a few things about Anne's family that made it stand out to us.
Here's what she wrote when she first reached out to us:
Pam and I met over 12 years ago when my girls were 9 and 11. I had been single for a long time because it isn't always easy to find someone to marry who wants to raise children. She loved the girls before she loved me and we raised them into adulthood together. She is, in every way, their other parent... Love DOES make a family.
One of the first things Anne said when asked to describe her family:
I can't tell you how great our sons-in-law are.
How did you and your partner meet?
I had been a hospice nurse to Pam's ex-partner's mother. A year later, her and her partner invited us to a patio party where we met and had an instant connection. Meeting my daughters sealed the deal; she has always loved kids. We have been together for 12 years.
Tell us about your wedding.
Pam and I live in Utah, close to Salt Lake City. we got married June 21, 2003 on Antelope Island, in the Great Salt Lake, in a beautiful outdoor ceremony on Buffalo Point overlooking the lake. Of course, we did this in Utah, which has an anti-gay marriage constitutional amendment so our marriage is recognized by us and our little family and many people we know but it is not recognized in the state of Utah or by many more of people that we know.
How has your extended family embraced your nuclear one?
Pam's family has embraced me with open arms; most of my family has not embraced her (or even myself). I am the oldest of 12 kids. I have been fully out of the closet for 18 years. I used to only have two siblings who were welcoming. I now have 10 siblings who are welcoming and recognize and love my spouse. However, strangely, two of them (plus my parents) still think Proposition 8 was a good idea. My parents make an effort. Again, Pam's family has always treated us the way we should be treated. The girls-in-laws have been great. Very warm and accepting of our family.
How do you explain anti-gay feelings to your children?
The girls were a little older when we got together. We respected their right to "come out" as our kids in their own time and when they were comfortable. We made sure they did not go to the same schools that kids in our neighborhood went to and we built a home in a neighborhood that was mostly younger families. The girls would sometimes mention teachers at school saying ignorant things but they handled themselves beautifully.
However, the anti-gay sentiments they heard from their extended family members when they were little were upsetting and induced feelings of instability for them. They are smart girls and have long been aware of where the stability, love and support is in their lives. They understand who their parents are. When they say, "Let's go to my parents house," they mean Pam and me.
Tell us what makes you proudest about your family.
Having the girls grown up and married and self sufficient makes our family feel like it is all filled out. We have two wonderful sons-in-law. Our girls are amazing, cool, creative, beautiful creatures who we are so proud of. They are both in a local SLC band that does it's own original classic country, folk and blues music. One of my favorite memories was going to a women's music festival, where our oldest daughter Marie was performing, and Kiki, the youngest, got up on the stage and sang harmonies to a Hank Williams song with her. We were shocked and awed at that point, not knowing she had any inclination to do that.
We have had many proud moments as parents before and since. It is just sweet and so amazing and lucky to just see them go and live their lives with so much originality and beauty. It is comforting to see that they have all the equipment and ability to be stable and happy in life. We love and enjoy our (now) family of six.
You can see some beautiful photos of Anne's family below. To see more families and learn how to share your own, scroll to the bottom.
PHOTO GALLERY
#FamilyFridays: Meet Anne's Family
Just a reminder: If you'd like your own family featured on a Family Friday, please email us at gayvoices@huffingtonpost.com. Remember that family is what we make it, so if your family is you and the pack of LGBT folks who you'd go to the mats for, send them over. We want to see them, too.
BEFORE YOU GO
PHOTO GALLERY
Gay Voices First #FamilyFriday!