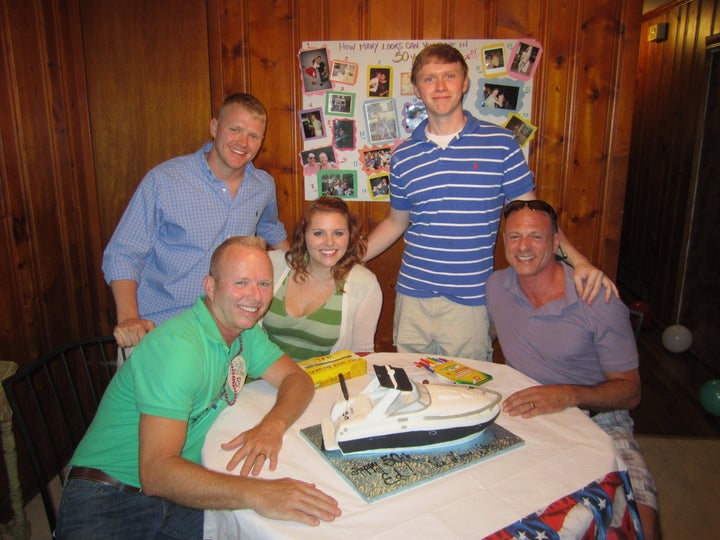 As part of our Family Friday series, every Friday, we spotlight one family, share the story of their love and send lots of love and support to them from our own huge family all over the world.
Since we've launched our Family Friday series, we've gotten so many beautiful submissions from you. You've shared your families and stories from your lives. We've been overwhelmed and so genuinely touched by your stories. Thank you.
This week, we're spotlighting a great family in Georgia. Meet Ed, his husband Joe, and their kids: Julianne, Cody, and Cooper. When we first reached out to Ed, he said something that both surprised and refreshed us:
We live in a very conservative republican area in Georgia and you would be amazed at the love and support we get around the area.
After spending so much of our time writing and talking about the sad stories, it's nice when we hear about one of our family members finding love and support in even the most conservative of communities. Anyway, here's what Ed had to say about his beautiful family:
How did you and your partner meet?
I had never thought I would reopen the door on my sexuality ever again. I had a gay relationship in college and my ex-wife knew this before we were married. I just could not accept myself at that time. It was the early '80s. I grew up in a very narrow-minded, racist and bigoted family in Delaware and I knew it would never fly with them to have a gay son. I wanted to have a family so bad, so I suppressed my true self as many gay men do, and I married Martha. I loved her and she was very supportive and we are still best friends today. She would allow me to go out with some gay friends that I had. Yep -- she was that great. It allowed me to fulfill some part of my true self. So one weekend, I went to a buffet dinner party with a friend. There were lots of cute guys there and I remember seeing my future husband, Joe, but did not really give it much thought. While in line for food he came up and asked, "May I have a napkin?" I turned around and said, "You have to kiss me first." He smiled that wonderful smile of his that I love now and kissed me on the cheek. We spent the whole evening talking. We started going out to play pool or darts or to grab dinner and we fell madly in love. I regret doing this to my wife at the time, but as she puts it, "If I left her for a woman, she would have cut it off," and she says today, "I love Joe."
Tell us about your wedding. What state did you get married in? Did you have to leave the your residential state to do so?
Joe and I were married in Vancouver, Canada in April 2006. You have to understand how Joe lived his life before me and the kids. He was a hot single gay Italian living in midtown Atlanta -- the center of gay Atlanta. He was that single guy with all of his gay friends! When I proposed to him in the center of Centenniel Olympic park, I got down on my knees and read a poem I wrote about how I wanted to share the rest of my life with him and told him he will make an excellent father to my kids. His friends could not believe that Joe was the one who was getting married, let alone married to a man with 3 kids. They still can't believe it.
Now, back to the wedding ceremony. My daughter Julianne and I flew to Vancouver and planned a wonderful small wedding. We had the flowers, the rose petals on the white cloth and the music as we walked down the aisle to get married. I actually made Joe practice walking. My daughter and her boyfriend at the time stood up for us. As the wedding commissioner who married us stated, this was the most beautiful wedding she has ever officiated. We then chartered a 100-foot double decker yacht for a five hour dinner cruise along Vancouver Bay. It was amazing!
By the way, after getting married and sealed it with a kiss, we walked down the aisle to music. Of course you know what is was –- Cher. You can't have a gay wedding without some Cher. Lastly, the Canadian people are amazing. After the cruise, we went back to the hotel bar. It was a young straight bar crowd and I cannot tell you how awesome it was that the entire bar was high-fiving us and wanting to buy drinks for us and my guests. The acceptance was incredible. As I say so many times, Joe and I getting married is not going to destroy the world.
Has your extended family embraced your nuclear one?
As you can see I think I have an amazing story and I am so blessed with the love and support of so many people in our lives. Unfortunately, as with many gay coming out stories we hear today, I am sorry to say my parents and brother have disowned me and the kids because I am with Joe. It took me some time to fully comprehend this, but as I mentioned before, they are not the best people in the world. But it is still your parents. I must tell you my kids and Joe have been the inspiration to get through it all. And here is the kicker: My father's brother's son is gay and my mother's sister's son is gay and they let them in their home. My mother always said about gay people, "How sad they won't have kids." Hello -- I have them! The awesome news is, I have an extended family with Joe's family. I actually just met them after eight years, even though we kept up on Facebook over the years. They accepted me and it is awesome to be called Uncle Ed by Joe's nieces and nephews. I thought I would never hear that again. I also have Martha's family and all of our wonderful friends especially the kid's friends that are a part of our lives today.
How did you explain to your children anti-gay feelings? How did you tell them you were gay?
Martha actually helped tell the boys, because I was so nervous. They were nine and fifteen. I called my daughter in L.A., where she is a dancer, and just blurted it out. They took it pretty well, as they knew I had gay friends and these friends were a part of their lives. I won't sugar coat it, there were difficult times, but we worked through all issues with patience and love. Joe and I have been very honest about how our family situation may be perceived by others. We let them make the decision on whether to tell anyone. I love my son Cooper's philosophy. He said, "Dad, I get it right out on the table and if they don't like it, then I have not wasted any time on the person." As for my son Cody, who was captain of the football team in high school at the time, his friends were like, "Cody get over it, we love your dad and Joe." I think it truly shows the younger generation of children are far more supportive than we think.
What's your favorite memory about your family? What makes you proudest of them?
I think my favorite memories are the ones we still create today. We are all very close and love to hang out together. Our children have a large group of friends, from high school and college, that they still see on a regular basis and Joe and I are always a part of the many parties and gatherings. We continually meet their new friends as they embark on their careers. We are blessed that we have experienced no judgment and in fact when we discuss the real issues facing the LBGT community, they get a much better understanding than just the marriage issue and it always shocks them.
You mentioned you live in a conservative state, tell us how your neighbors have treated you and your family. Do you and your family feel loved and accepted in your community?
We live in the suburbs outside Atlanta in a very republican area of the state. I can honestly tell you, we have never experienced any negative judgment of us as a couple. Our neighbors love "Joe and Ed and their kids." Just recently Joe and I were sitting at the bar at the restaurant near our house, where my son Cooper works. We are kind of regulars. There was this lovely couple in their late 70's sitting next to us. We only said hello when we walked in. After hearing us talk to the employees and the other regulars, she leans over and touches my arm and says, "You love him, don't you? And you make a wonderful couple." I simply smiled and we then began having a great conversation for the rest of the evening.
You can see some beautiful photos of Ed's family below. To see more families and learn how to share your own, scroll to the bottom.
PHOTO GALLERY
Family Fridays: Ed and Joes Family
REMINDER: If you'd like your own family featured on a Family Friday, please email us at gayvoices@huffingtonpost.com. Remember that family is what we make it, so if your family is you and the pack of LGBT folks who you'd go to the mats for, send them over. We want to see them, too.
BEFORE YOU GO
PHOTO GALLERY
Gay Voices First #FamilyFriday!