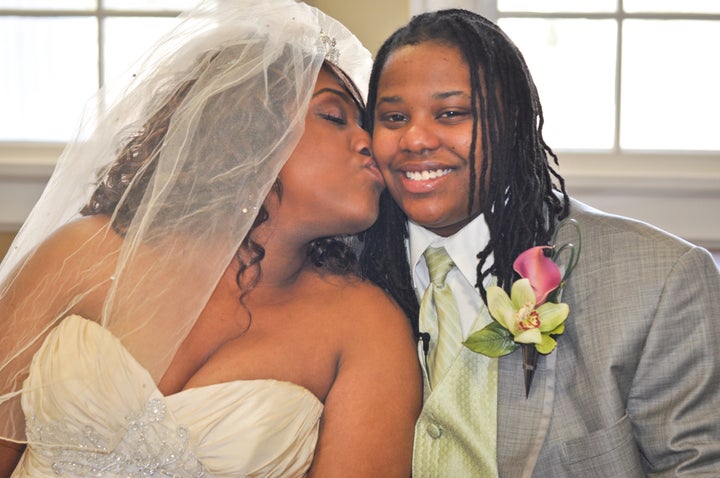 As part of our Family Friday series, every Friday, we spotlight one family, share the story of their love and send lots of love and support to them from our own huge family all over the world. Since we've launched our Family Friday series, we've gotten so many beautiful submissions from you. You've shared your families and stories from your lives. We've been overwhelmed and so genuinely touched by your stories. Thank you.
You may recognize this week's family, Marquita and Christa, from our very first Family Friday post as the happy couple holding their brand new baby. When we reached out to them, to dig a bit deeper in what makes this family so great, we were immediately surrounded in the same love that radiates from that first photo. There is a lot of laughter and a lot of love between these three. We're so happy for this couple and their beautiful baby girl. Meet Marquita and Christa's family.
How did you and your partner meet?
We met at a friend's gathering, Marquita was playing hostess and she forcibly made me drink this new beverage that I had no interest in trying! We talked for the rest of the evening and we have been inseparable ever since!
How did you guys decide to get hitched?
We did things a bit backwards, we got legally hitched first and then five days later Christa planned an elaborate secret surprise. She sent me two dozen of my favorite flowers, and a dozen chocolate covered strawberries. I was under the impression that all of this was just for Valentine's Day, which was a few days away. Later on that evening, we went to a friend's birthday dinner at her house. I was ready to go home and sleep because it had been a long work week. Christa said, "I have a question." I was hoping she was asking, if I was ready to leave but instead she put that little blue box on the table and dropped to one knee! We were engaged for one year before we exchanged vows and rings in front of our closest family & friends.
Tell us about your wedding. Did you have to leave your residential state to get married?
We had our official Wedding Ceremony this past February in Smyrna, GA. But legally, we got hitched in Washington State in February of 2011.
Has your extended family embraced your nuclear one?
For the most part our extended family has been very supportive of our family. We found that after we cut ties with those who did not love and support us unconditionally that our lives became so much happier. We have also replaced some of our "blood" relatives with close friends to take the place of those family member who don't love and support us.
What's your favorite memory about your family?
We collectively agree that our favorite family memory has to be a 3 way tie between the day we got Married, the day we found out we were Pregnant after 13 months of infertility, and the day that our beautiful Daughter was born.
You can see some beautiful photos of Marquita's family below. To see more families and learn how to share your own, scroll to the bottom.
PHOTO GALLERY
#Family Fridays: Marquita's Family
REMINDER: If you'd like your own family featured on a Family Friday, please email us at gayvoices@huffingtonpost.com. Remember that family is what we make it, so if your family is you and the pack of LGBT folks who you'd go to the mats for, send them over. We want to see them, too.
BEFORE YOU GO
PHOTO GALLERY
Gay Voices First #FamilyFriday!