It was a dark tropical night and we were drifting backwards in the Temburong River as the driver gunned the engine of the longboat. He revved it hard and we shot forward for a third attempt at clearing the rocks.
The water was only inches deep, so we could have always got out and walked, but that wouldn't have been quite as exciting.
We were returning from a night trek in the 124,000-acre Ulu Temburong National Park with our guide Tom Chong, who helped us look for creatures by torchlight amid the astonishingly noisy rainforest. At 130 million years of age it is one of the world's oldest, filled with insects and 500 species of birds, all chattering while we ambled beneath them.
There are various accommodation options in the forest but Ulu Ulu National Park Resort is the most comfortable. With slate-tiled bathrooms there's no need to rough it. However sturdy footwear that could deal with rocks and water was a good idea.
Life in Brunei proceeds at a mild pace and so does this the river. The next day, after trekking to some waterfalls, we sat in large rubber rings and "tubed" back to our base. The tiny "rapids" were mildly invigorating, and a mother-daughter duo had a great time -- at least the daughter laughed heartily whenever her mother drifted into a tree trunk. Apart from really small children or the infirm, families of all ages could enjoy this together.
While much of Asia tends to be a health'n'safety-free zone, this resort has plenty of lifejackets and makes you wear them. Getting to the rainforest was a gentle adventure, with the group leaving the capital of Bandar Seri Begawan in a speedboat, passing Kampong Ayer, the "water village" on stilts, to enter mangroves. At the town of Bangar we drove to the longboats for the final stretch of river. We chugged by children swimming and under ancient trees, spotting birds and otters. The water was so clean I could see every pebble.
Brunei Darussalam, which means abode of peace, is small country but a wealthy one. It's current income is derived mainly from oil, but the nation sees tourism and protected rainforest in its future.
Brunei is also a country that likes gold. The streets are not paved with precious metals, though there is a gold-plated fence (19 carat, .8 mile), around the Jame'Asr Hassanil Bolkiah Mosque. Its domes feature 24-carat gold tiles.
Brunei is very relaxed, probably at least partly because its citizens are well looked after by their wealthy sultan, a benevolent father figure who ensures the scrabble to survive that distinguishes most nations in this region is comfortably buffered.
When it comes to comfortable buffering, The Empire Hotel & Country Club is a lavish monument to how oil dollars can be transformed into marble and Swarovski crystal chandeliers amid a 445-acre estate on the South China Sea. Bill Clinton, Prince Charles and the King of Jordan have all stayed in its Emperor Suite.
With a 12-storey lobby, the hotel is lavishly spacious, though golfers might be more interested in the Jack Nicklaus-designed course, twice voted top Asia Pacific resort by Asian Golf Monthly. The industrious can apply themselves to the hotel's nine pools, bowling alley, spa, 14 miles of paths and water sports. The Sultan is sporty too, most afternoons he plays polo at nearby Jerudong Park.
An entertaining day was spent with a local guide, the knowledgeably irreverent Sandra Tang. Originally from Malaysia, she adores her adopted country. 'Bruneians are so friendly!' she exclaimed. 'We love to help people!' She suggested if I needed transport I should stand on the road looking helpless and someone would take me where I needed to go.
We visited Kampong Ayer and watched a resident fishing through a hole in his verandah. She encouraged me to try "wallpaper paste," or ambuyat -- sago starch eaten with conjoined chop sticks and dipped into sauces. This traditional Bruneian fare is popular with children for whom it is both food and activity.
Tip to tip Brunei is a modest 180 km. There is no heavy industry, little pollution, and a population of 400,000. The remains of a once-larger empire is today part of Borneo, third largest island in the world.
Brunei is surrounded by the Malaysian state of Sarawak, with Sabah to the north, and the rest of the island belongs to Indonesia (Kalimantan). A British protectorate from 1888 to 1984, modern Brunei is less than 30 years old.
At the Brunei Museum there is a "circumcision display" -- no graphic details, just a boy mannequin with a dismayed expression. More intriguing is the "pengangunan room" for the innocent bridal couple who required a wedding night "coach."

Sandra describes Brunei as "a minimum security country." Oil was discovered there in 1929, feeding hungry refineries from 1932. Around 300,000 barrels a day keeps everything ticking over, and at night the lights from offshore oil rigs are visible. In the oil and gas gallery I learnt more about Brunei's 4,500 reservoirs, and drillbits with big industrial diamonds.
At the Royal Regalia Building it's diamonds of the Elizabeth Taylor kind with a full-size reproduction of the Sultan's Coronation Chariot and the 48 soldiers who propelled it. His gold Coronation Suit had 10-carat diamond buttons, and there was a small gold arch at one end of the miniature Coronation Hall. "Stick your head in there and have a look," Sandra commanded. It was impressively gold. "We have a saying in Brunei," Sandra shared. "If it's not expensive, we don't want it."
Later we watched Proboscis Monkeys and wild boar from a boat in the nearby mangroves. Nature is never far away here -- rainforest covers more than 70 per cent of the country and is said to be the best-preserved on Borneo. The diving is described as "pristine" with a number of reefs and wrecks -- the best period is the dry season between March and October.
There are no bars in Brunei, where Islam is the state religion, although non-Muslims over 17 can bring in two bottles of wine or spirits and 12 cans of beer for private, personal consumption. Some think the absence of nightclubs makes Brunei dull, but for those traveling with children or searching for unspoilt nature, Brunei is very safe and very welcoming.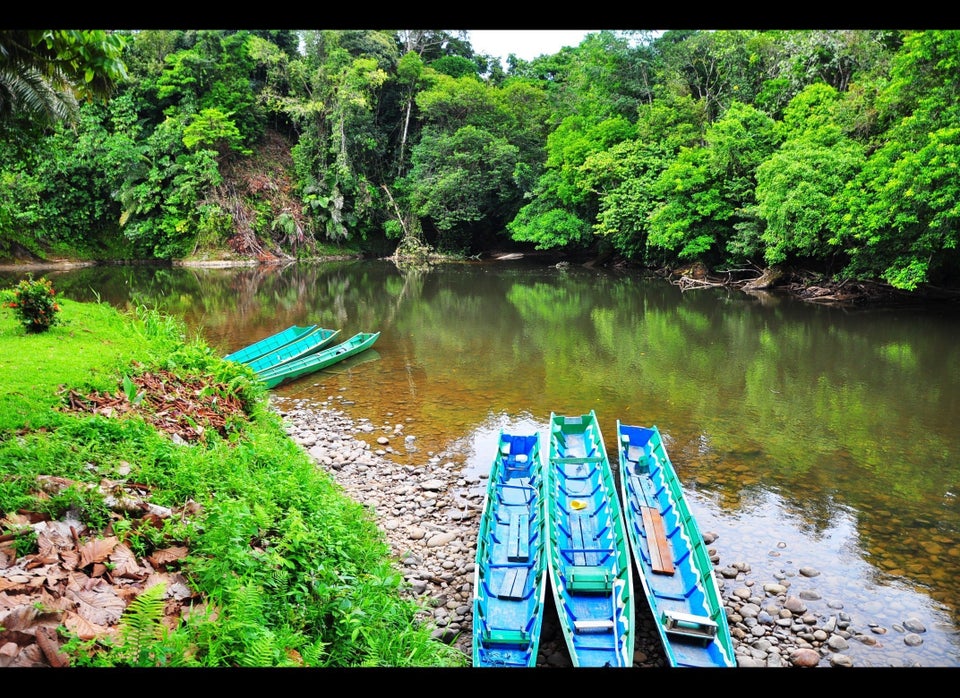 A Slice of Borneo
Popular in the Community