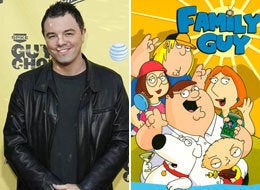 From wunderkind to TV mogul: After 2 1/2 years of negotiations, "Family Guy" creator Seth MacFarlane has inked a new overall deal with 20th Century Fox TV that would make him the highest-paid writer-producer working in television.
The pact, which could be worth more than $100 million, will keep MacFarlane at 20th TV through 2012. It covers his services on "Guy" and his other two animated series for 20th TV and Fox -- "American Dad!" and the upcoming "Guy" spinoff "The Cleveland Show" -- as well as his series development, which includes a multicamera comedy with "Guy" writer Gary Janetti. It also encompasses new-media projects related to MacFarlane's TV series as well as DVD and merchandising revenue from them. ("Guy" alone has grown into a $1 billion franchise with red-hot DVD and merchandise sales.)
"I get a lot of pleasure out of making shows," MacFarlane said. "It's a bonus to be getting paid well for it, and it's a double bonus to be getting paid exorbitantly for it."