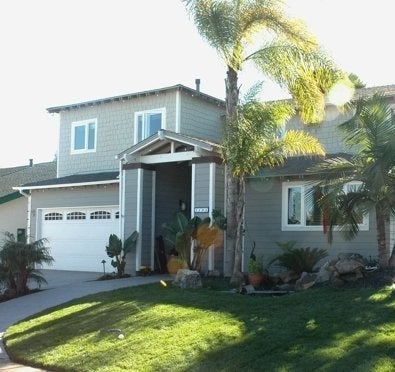 As part of its Bearing Witness 2.0 project, the Huffington Post is rounding up a few of the best local stories of the day.
A family who received a new house from the TV show "Extreme Makeover: Home Edition" five years ago is now facing foreclosure, reports 10News' Joe Little. The Wofford family, of Encinitas, Calif., have been struggling for the past two years, they said. Dr. Brian Wofford, father of the eight kids, explained: "A lot of people think when you get the house you get the mortgage. Well, you don't."
They have been attempting to modify the loan, and have even hired an attorney to help them out, but they claimed the lending agent has been completely unresponsive. A representative of OneWest Bank, when contacted by 10News, said that loan modification papers would be ready by next week. But "I haven't seen anything in writing," Brian admitted. If it does not go through, the house will go up for auction in two weeks.
Tony Andrade owes tens of thousands of dollars in medical bills, and in June he was diagnosed with bladder cancer, reports the Sacramento Bee's Bobby Caina Calvan, who is profiling him for a three-part series. Andrade is uninsured, but went to the emergency room after finding blood in his urine because he knew they would admit him. The ER diagnosed his tumor, but refused to operate. "I thought doctors were supposed to help you," he said. "I've got this tumor inside me that needs to come out, that this doctor told me needs to come out, and he's turning me away."
He earns $11.50 an hour -- too much to qualify for California's version of Medicaid, but not enough to pay for his own insurance coverage. He also has diabetes, which would qualify as a pre-existing condition and make his insurance costs even higher. Andrade recently was approved for a county indigent services program, but bureaucratic problems halted his treatment briefly. In late September surgery to help prevent the spread of his tumor was finally approved, though the procedure still terrified him.
The Sacramento Bee also has an audio slideshow, and will conclude the series Tuesday.
Victor Ruiz, 39, is a retired Air Force major with two teenage children who can't find a job, reports Les Blumenthal for the News Tribune. His house in Fircrest, Wash., is going into foreclosure, and he and his sons are moving to live with his parents in Chicago. "The military service allowed me to get an education, it let me lead a good life," said Ruiz, who has an MBA. "But civilian life is very different. It's not the same."
Ruiz's story is part of a national trend. The unemployment rate for veterans who have entered civilian life in the past three years is practically twice the national average -- 18 percent. And veterans with mental or physical disabilities have an even harder time finding work.
Johnson's 14-year-old daughter is most concerned that her friends at school will discover she is homeless. "I don't like that they have to hide their situation from their friends at school," said Johnson. "I want them to have a life and enjoy things like slumber parties."
She's using a new program in Southwest Virginia called Find a Way, operating through the Bristol Redevelopment and Housing Authority, that empowers individuals to achieve their goals. Now Blaylock-Smith has a college degree, and credits Find a Way for helping her become more self-sufficient and plan for the future. "I fell flat on my face," she said about her prior spending habits, "but it's taken a long time to get everything situated and get my head right where I expected more of myself."
HuffPost readers: Seen a compelling local story? Have a neighbor going to bizarre lengths to get through the recession? Tell us about it! Email jmhattem@gmail.com.
Calling all HuffPost superfans!
Sign up for membership to become a founding member and help shape HuffPost's next chapter