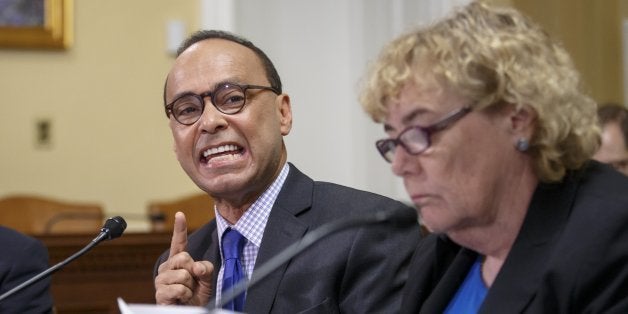 WASHINGTON -- Pressure on the Department of Homeland Security to stop detaining mothers and children is growing, with 11 House Democrats gathering on Thursday to promise they won't let up until the practice is ended.
"This has to stop. ... We will not rest until we succeed in this effort," Rep. Zoe Lofgren (D-Calif.), the top Democrat on the House Immigration and Border Security subcommittee, said at a press conference.
The Obama administration dramatically increased the detention of families after an influx of both unaccompanied minors and mothers with children were apprehended along the border last year. Authorities opened two new family detention facilities in Texas, even though attorneys and human rights groups have warned that the detentions could be threatening the well-being of women and children who have already faced trauma.
Maria Rosa Lopez, a Honduran mother who was detained for months with her 9-year-old son, said it had damaged both her and her child's health and pleaded with the government to shut down the centers. "I'm asking on behalf of all of the mothers who are still detained for this to end," she said through a translator.
Last week, after 188 civil and human rights groups signed a letter calling for the end of family detention, Immigration and Customs Enforcement announced new standards for its facilities. The standards included reviewing the cases of those held for more than 90 days and no longer detaining families in order to deter others from crossing the border illegally.
Lofgren, along with Reps. Luis Gutierrez (D-Ill.) and Lucille Roybal-Allard (D-Calif.), issued a statement afterward saying the only good response would be to stop "jailing children and women." Senate Majority Leader Harry Reid (D-Nev.) and Sen. Bob Menendez (D-N.J.) also called last week for an end to family detention. The New York Times published an editorial calling the practice "immoral," which former Maryland Gov. Martin O'Malley tweeted approvingly.
On Thursday, the Democratic members said that although ICE has improved its family detention facilities, it didn't resolve the central problem.
"There is no way to detain families humanely," Rep. Judy Chu (D-Calif.) said. "Family detention cannot be fixed, it must end once and for all."
Gutierrez accused the administration of detaining mothers and children "as a political kind of balancing act" to counter the criticism that the president was weak on enforcement because of his deportation relief programs.
One of the criticisms of the two Texas detention centers is that they are far from the nearest major city, one of many things that pro bono attorneys have said make it difficult to help the families inside.
"The compounding of the trauma that these women and children have already suffered must end now," Dree Collopy, a partner at Benach Ragland LLP who works with the families pro bono, said at the press conference. "The smothering of due process through the tools of detention and rapid deportation must end now. This embarrassing stain on America must end now."
A spokesperson for ICE did not respond to a request for comment, but an Obama administration official said last week that the agency would continue to consider how the detention system could be reformed.
"Over the past five years, the Obama Administration has taken steps to improve enforcement of our immigration laws by prioritizing public safety in enforcement actions, strengthening our borders and reforming our immigration detention system," the official said in an email. "DHS has implemented critical reforms to the detention system and is continuously looking at ways to ensure that detention policy is consistent with our values as a nation of laws and a nation of immigrants."
The House Democratic Caucus posted a video of the press conference:
Before You Go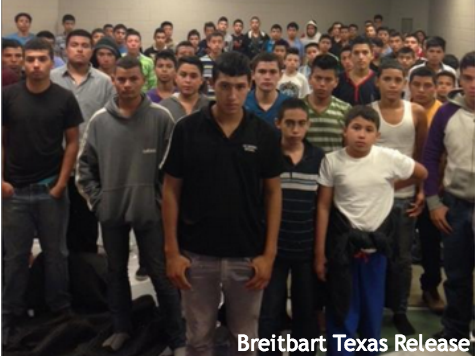 Overwhelmed Border Patrol
Popular in the Community