Since it opened in the Arts District in the fall of 2012, Bestia has been one of the toughest reservations in Los Angeles. Every night, the Italian restaurant is packed with Angelenos and tourists grateful for the chance to eat the restaurant's homemade pastas, pizzas and charcuterie, widely considered some of the finest in the country.
But as exclusive as the restaurant is for dinner, it's more exclusive still at lunch. To snag a table during the daytime, you see, you have to work there. At 1 p.m. and 4 p.m. every day, Bestia serves its staff a sumptuous "family meal" prepared by one of its chefs.
Bestia is by no means unique in this respect; family meal is a storied tradition of restaurants all over the world. You could think of it as the original Google Cafeteria. It gives the staff a chance to take a break from their busy days and sit together and chat over a meal prepared by one of their own. The fare at family meal tends toward the hearty and comforting -- more rustic than the food that the restaurant usually serves, but often no less delicious. The concept of the family meal has even inspired at least one cookbook.
But Bestia takes this tradition unusually seriously. A different chef from the line is assigned to cook family meal each day. About half the time, they'll prepare either pasta or braised meat left over from dinner service the night before. But on other days, they'll make a dish representative of their cultural heritage -- pork adobo, say, from a Filipino chef, or chow mein and fried rice from one with Chinese ancestry. For these days, the restaurant will order specific ingredients only for family meal, which represents a significant investment in creating a convivial atmosphere for the staff. Yet Ori Menashe, the restaurant's Israel-born executive chef, thinks that such an investment pays great dividends.
"For me, family meal is the thing that sets the day," he said. "If family meal isn't great, people don't feel good.
"But it's not about eating fast and running out to smoke a cigarette," he continued. "It's about creating an environment that's like a family, where people are sitting down together, joking and laughing and talking. I've worked at restaurants without family meal, and it's not the same. When my shift ended, I just wanted to get out of there."
For a few months shortly after Bestia opened, the restaurant even held a competition for who could make the best family meal. Every Saturday afternoon, one of the cooks would prepare an elaborate feast related to their own ancestry, with a generous budget of about $400. On one of these afternoons, Menashe recalls, a cook even roasted a whole pig on the dead-end street in front of the restaurant.
Bestia allowed this reporter to sit in on and document a family meal one recent Monday afternoon. The chef in charge of lunch was line cook Camillo Zamora, a former Marine artilleryman of Mexican descent. At noon, the kitchen was aflutter with prep for the night's meal; one chef was butchering lamb's necks for a braise, while others were working on dough for pasta and pizza. But Zamora was in the middle of preparing a Mexican feast: carnitas tacos, beans and red snapper ceviche tostadas.
"I learned how to cook this stuff by osmosis," Zamora explained. "Different family members would cook these things all the time when I was growing up, and I would watch them in the kitchen."
The beans and pork were already nearly done, but he had just gotten started on the ceviche.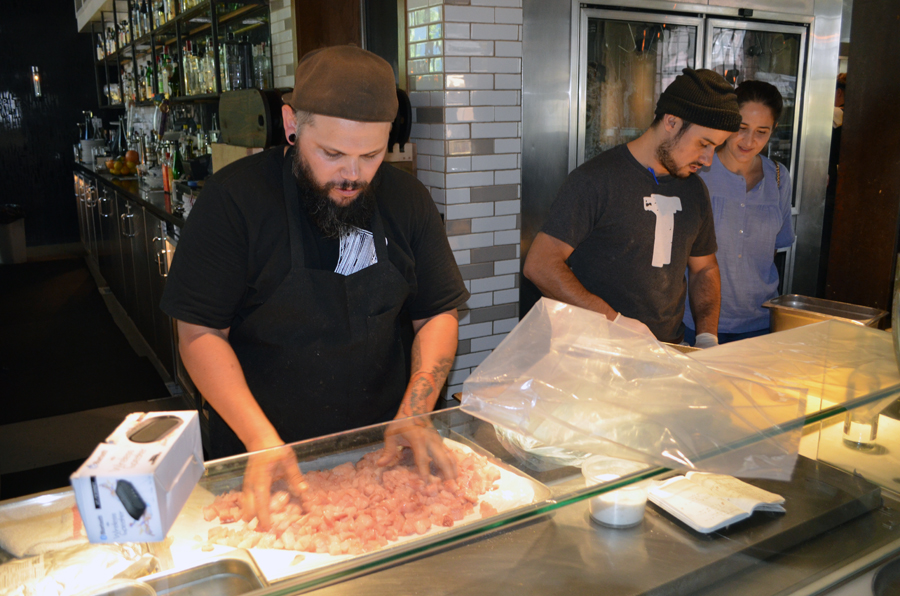 He chopped several pounds of fish as Ori and his wife Genevieve Gergis, who's also the restaurant's pastry chef, stood nearby and worked on a dish for an upcoming event.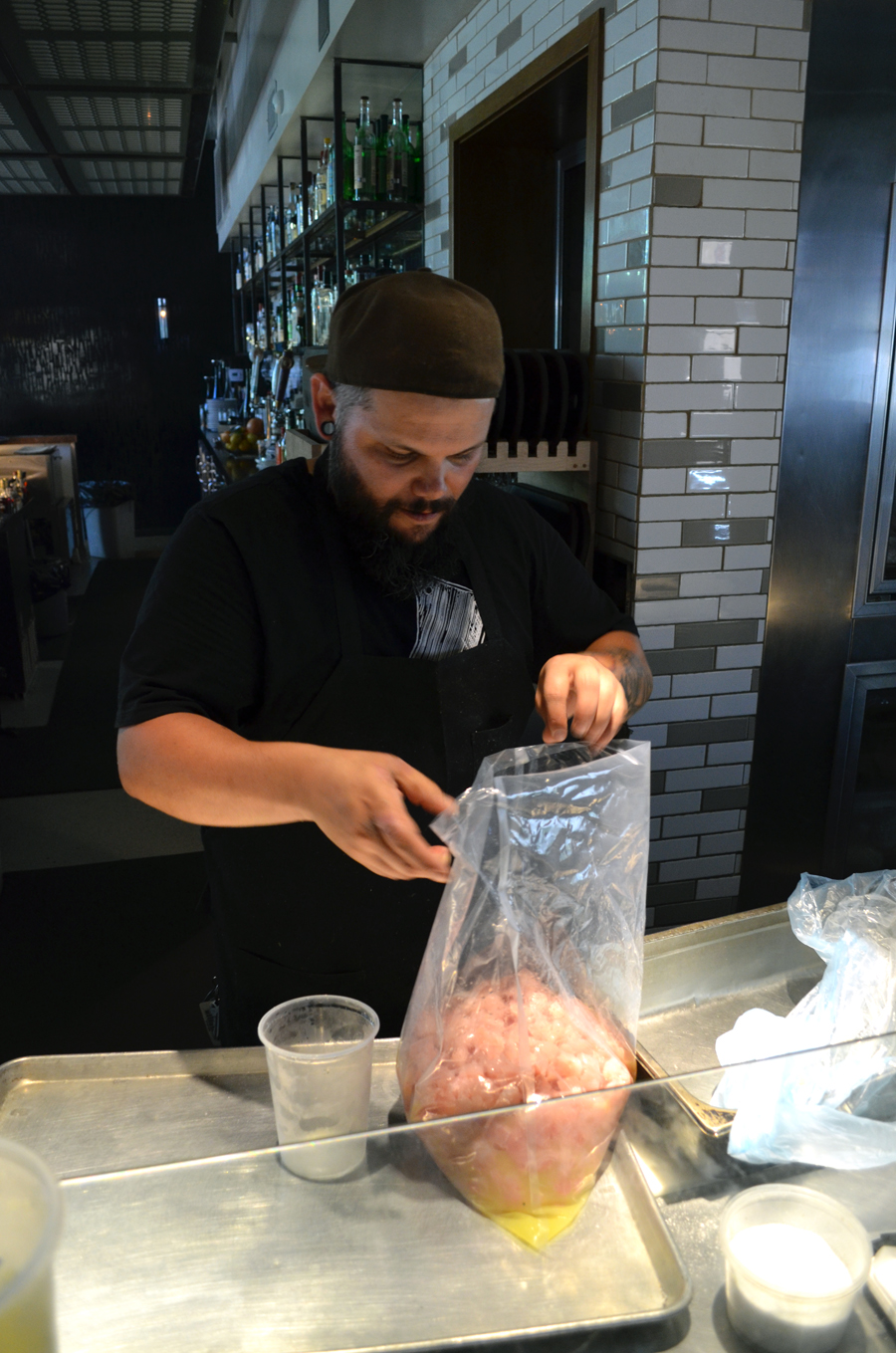 Zamora then put the snapper in a big plastic bag and poured in a mixture of citrus juices.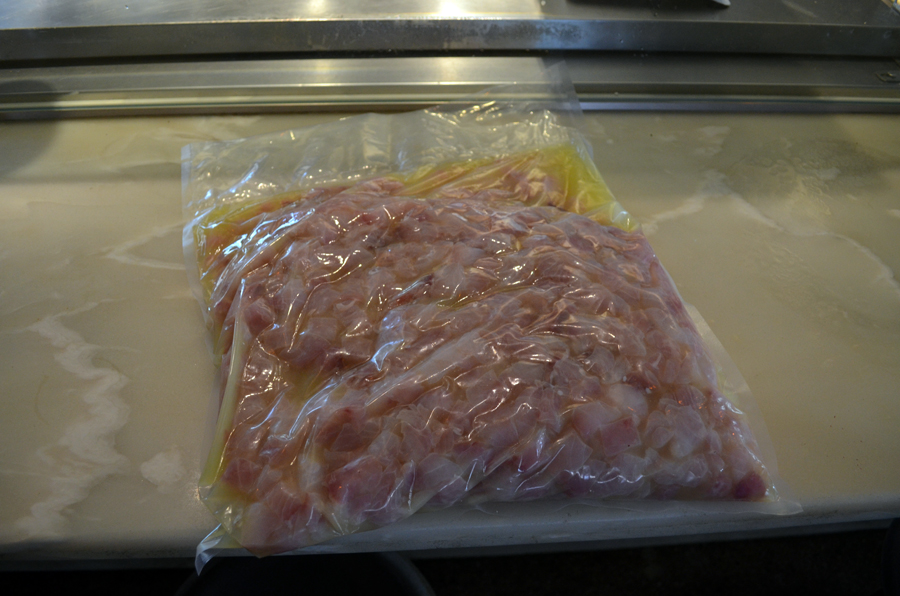 He used a vacuum sealer -- normally used for dishes that are poached sous vide -- to remove all the excess air from the bag and compress it.
"This is the modern way to make ceviche," Zamora explained. "It's how a lot of restaurants do it these days. It's much faster and more reliable than just mixing it together. The vacuum forces the citrus into the fish."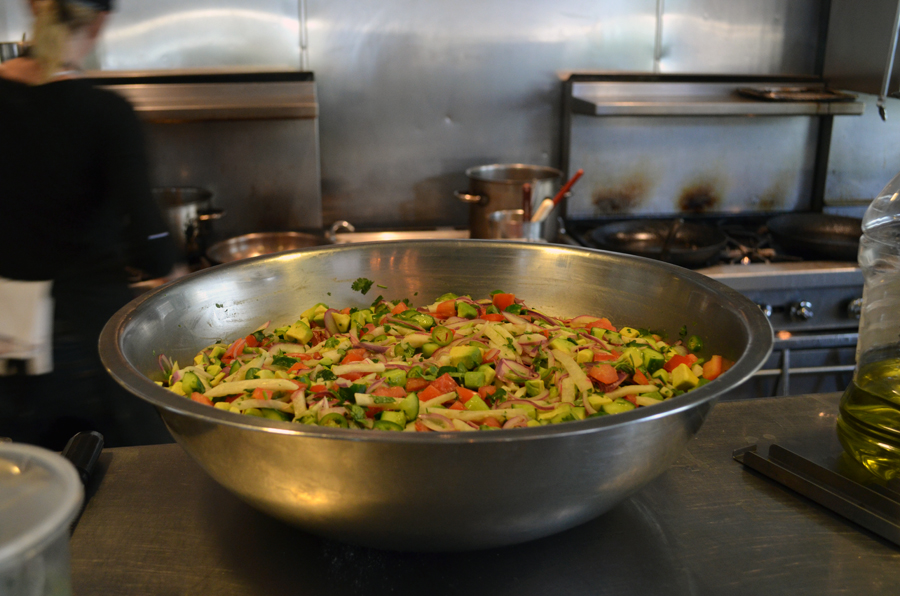 Earlier that morning, Zamora had chopped a host of vegetables and herbs -- tomatoes, cucumber, peppers, red onion, cilantro -- for the ceviche.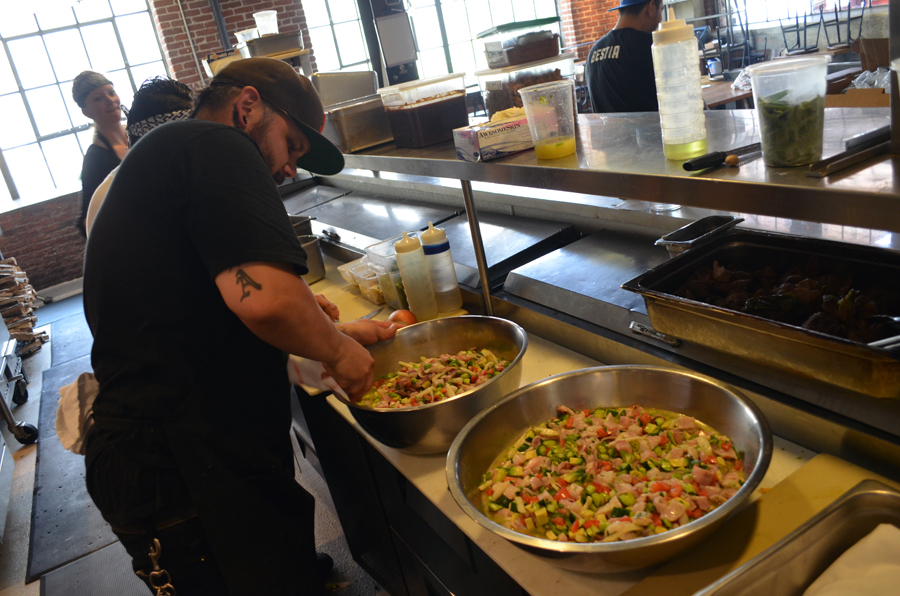 After the fish had marinated in the citrus juices for about 15 minutes in the sealed plastic bag, Zamora took it out and mixed it with the vegetables.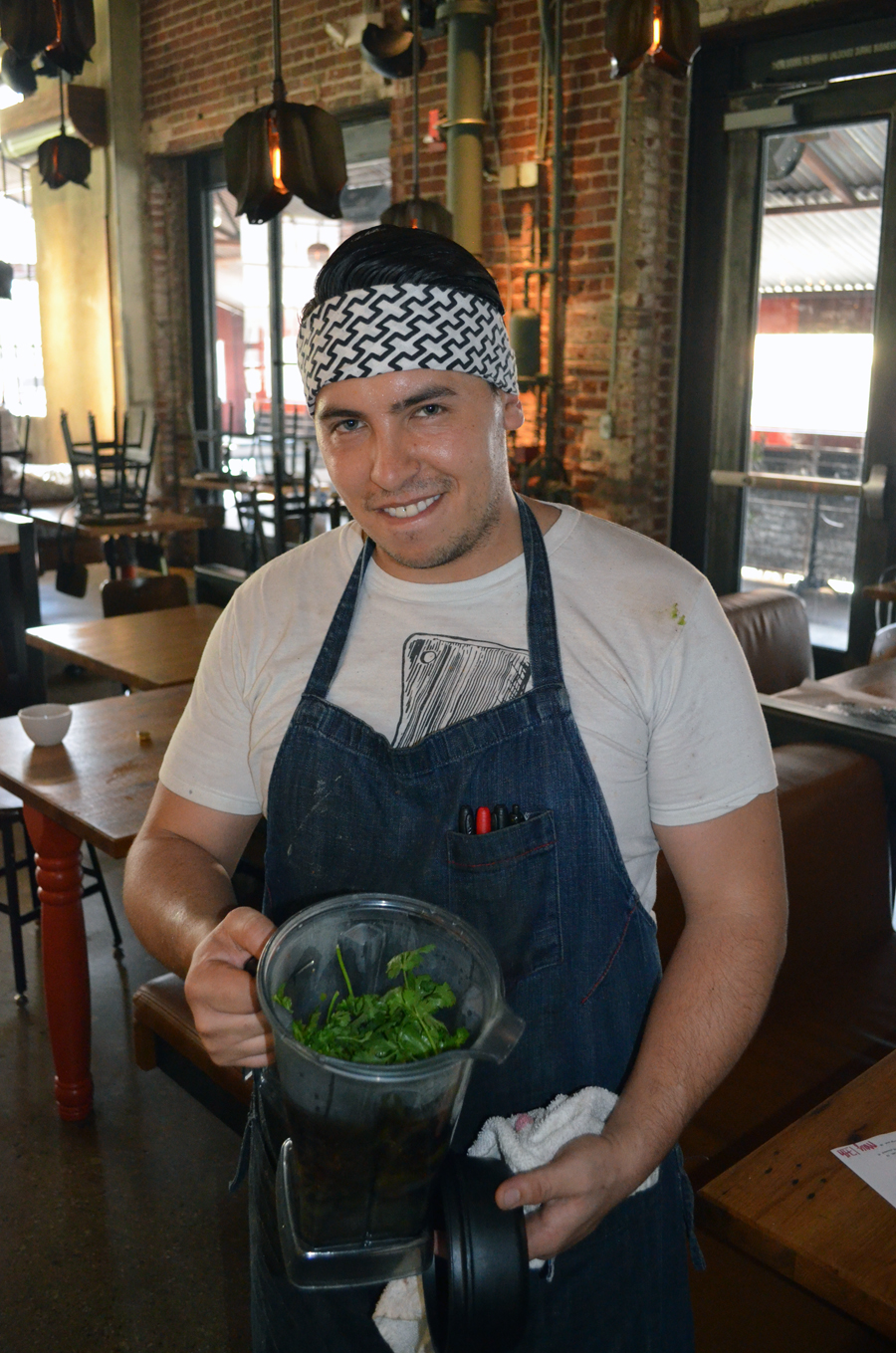 Meanwhile, prep cook Miguel Sanchez pulverized tomatillos, serrano and jalapeño peppers, garlic, cilantro and red onion in a blender to make a salsa to put atop the carnitas.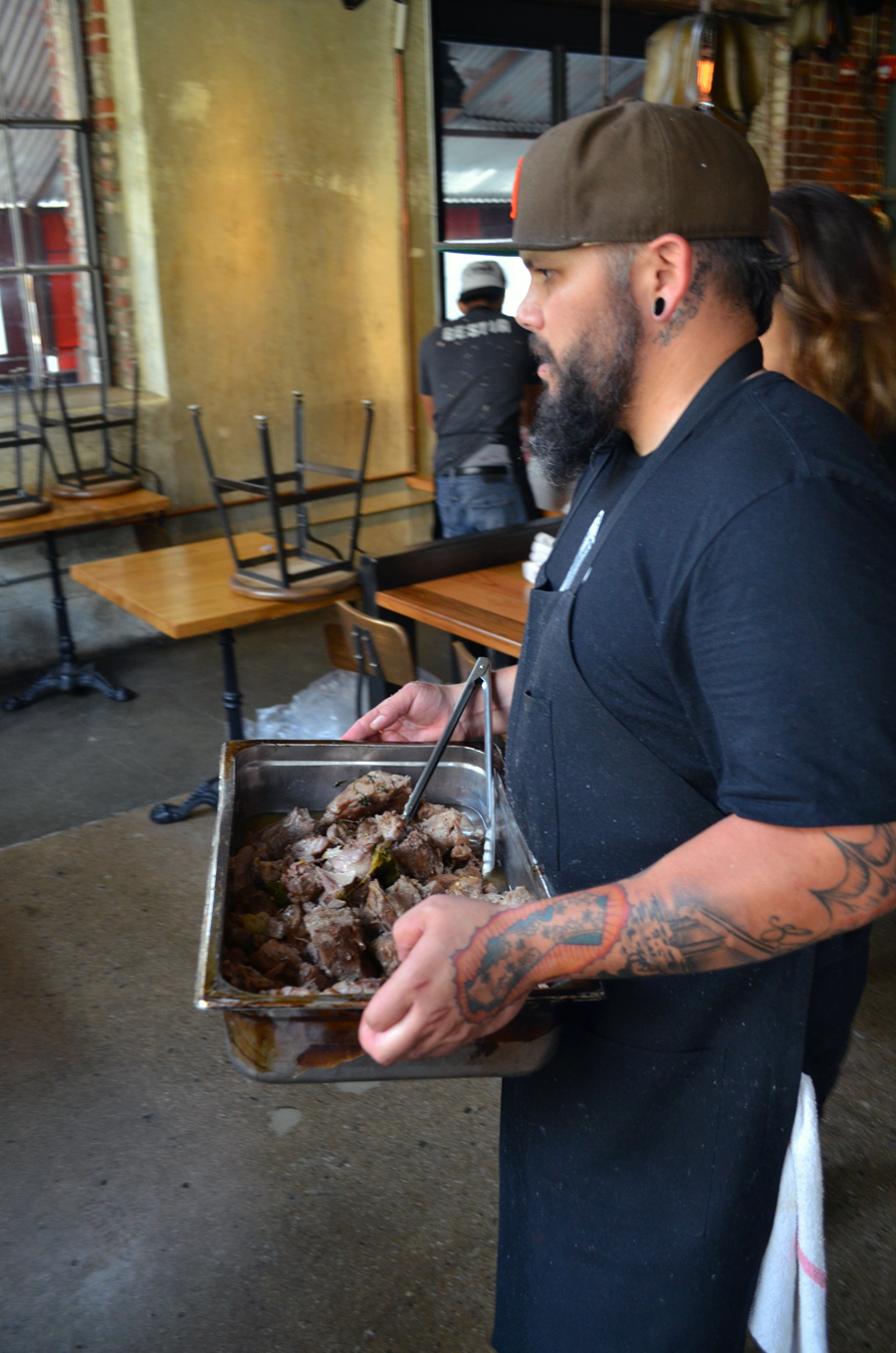 Just after 1 p.m., the food was ready. Zamora carried massive trays of carnitas, beans, tortillas and ceviche out to one of the dining room tables.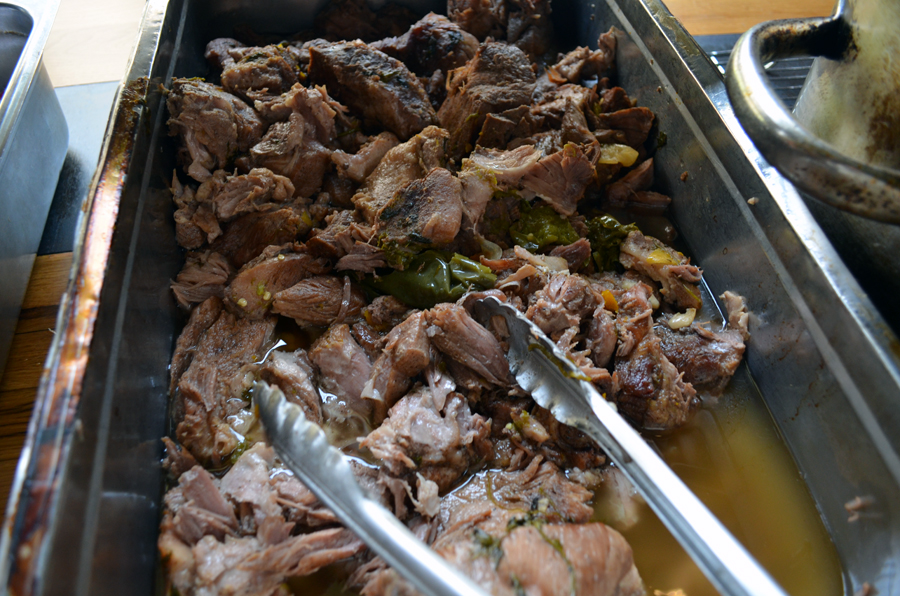 Here's a closeup of Zamora's meltingly tender carnitas.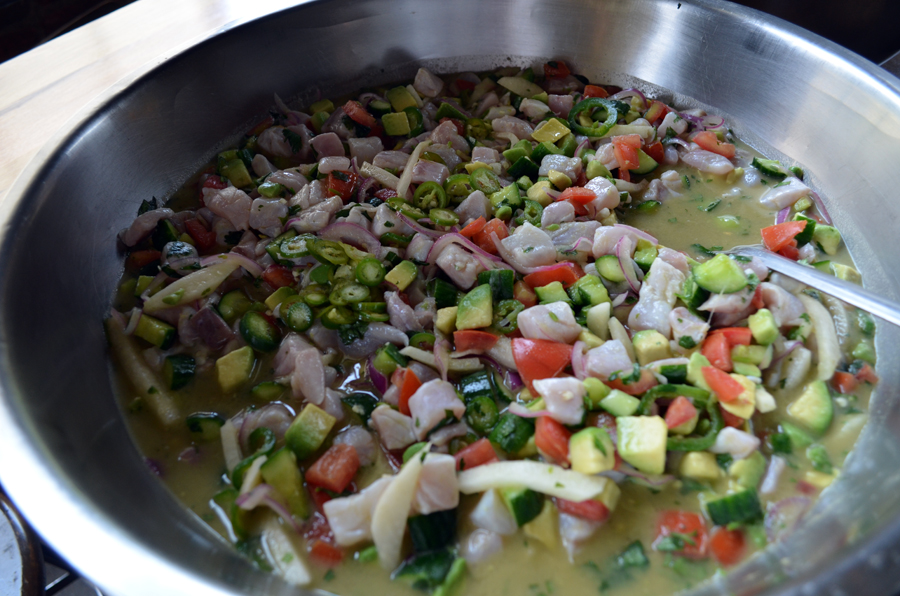 Here's his red snapper ceviche.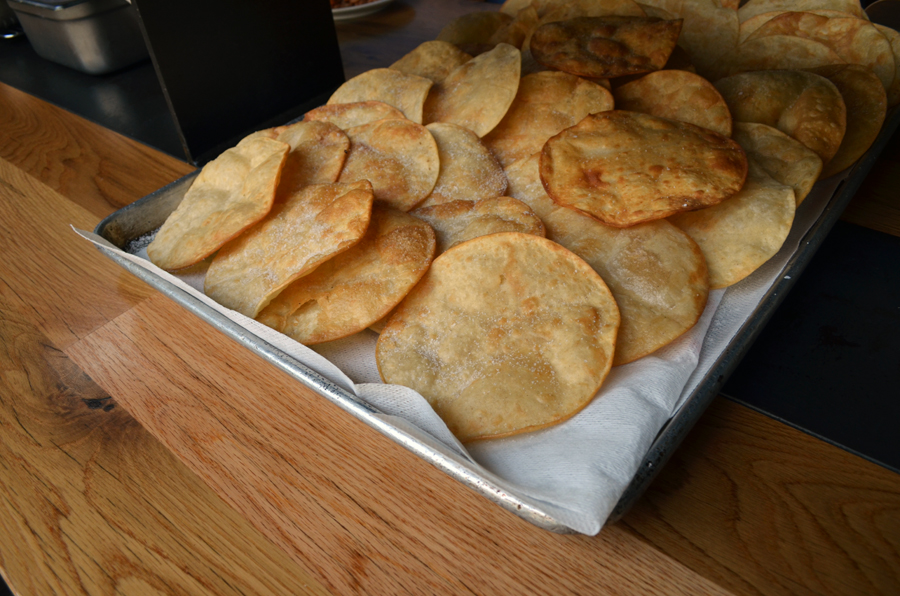 And these are some tortillas that Zamora fried so people could use that ceviche to make tostadas.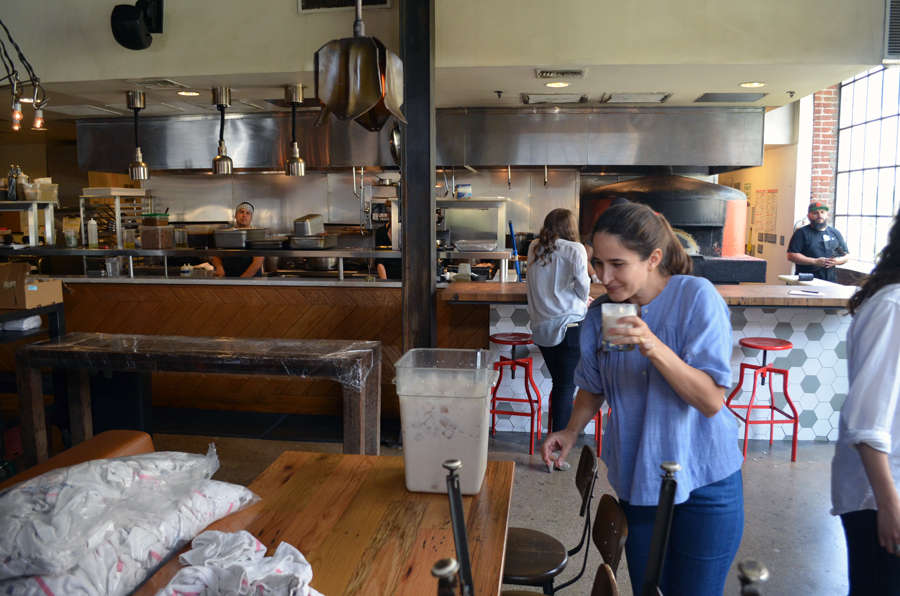 There was also homemade horchata -- a staple of Mexican family meals at the restaurant. Sometimes, Gergis said, family meal will also be accompanied by agua frescas.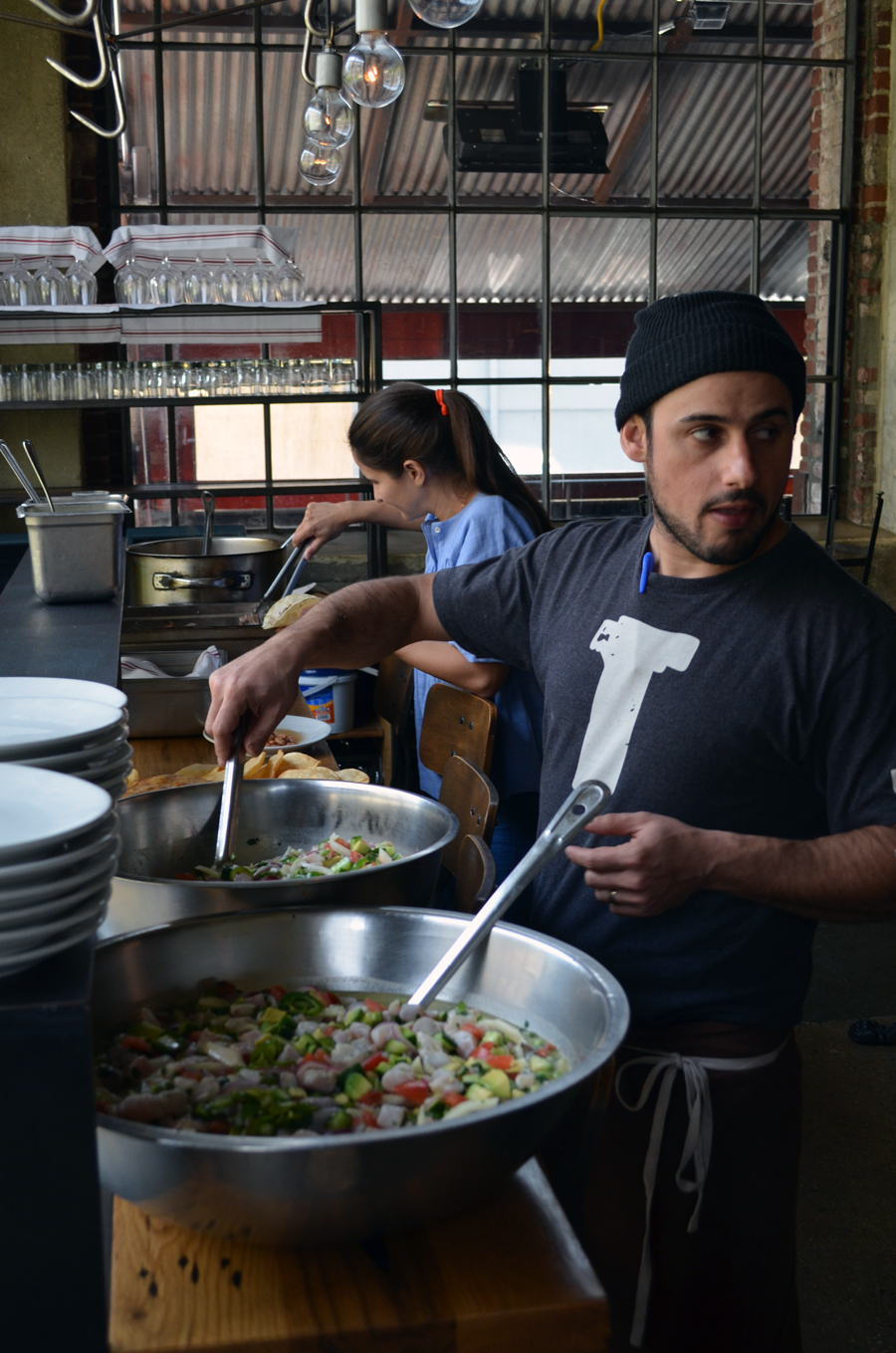 At 1:20, Ori called the staff out to the dining room to get their food. He and Gergis lined up first to get their tacos and tostadas.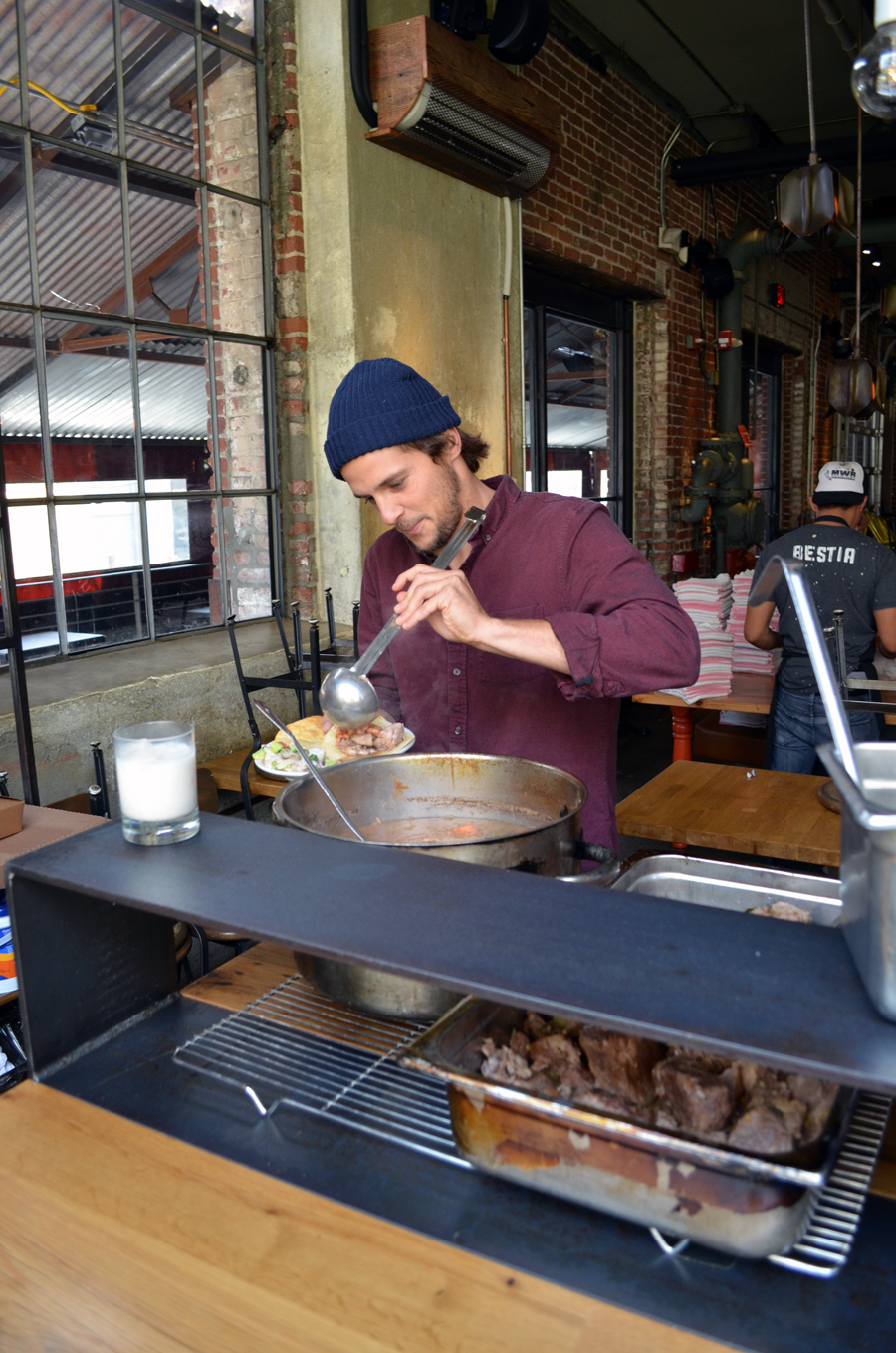 Here, cocktail director Jeremy Simpson puts beans atop his carnitas taco.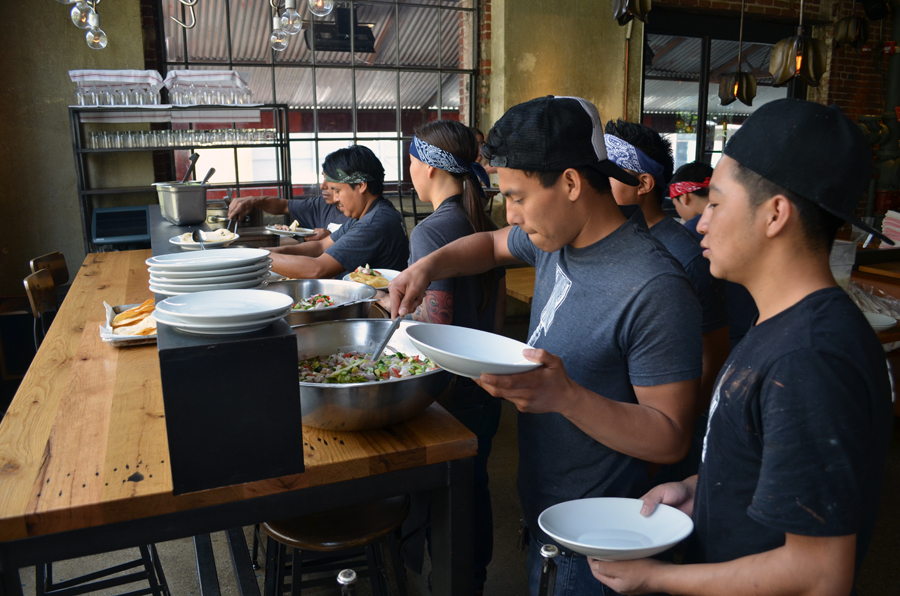 The two men in the foreground of this photo are Elcido and Ceasar, both dishwashers. All in all, a couple dozen people ate lunch that day, many of them prep cooks who get the food ready for dinner service before the night staff arrives. Because more people work at the restaurant in the evenings -- not only in the kitchen, but also in front of course -- the 4 p.m. family meal tends to be even bigger than the 1 p.m. one. As many as 50 people take part.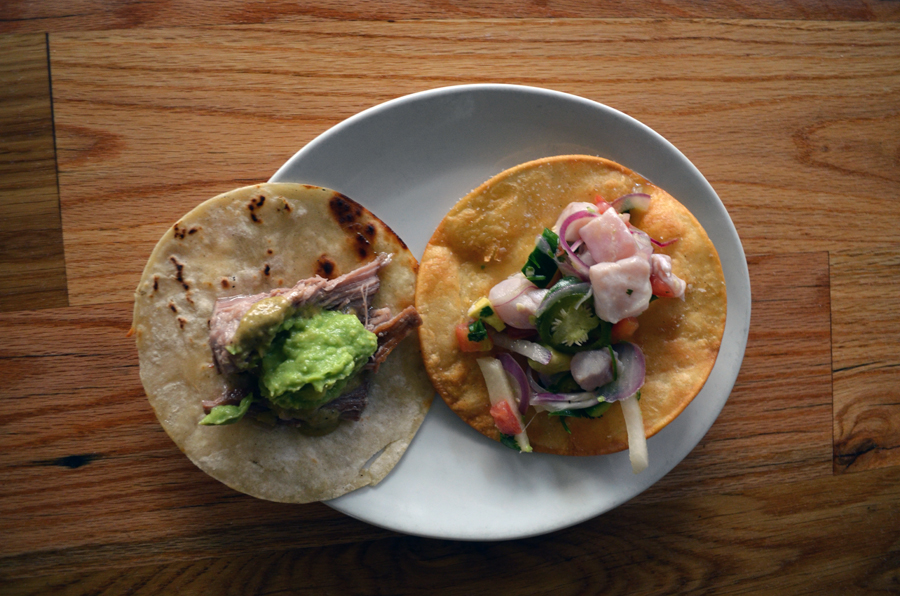 Here's a plate with two of the delectable foods on offer: a carnitas taco with guacamole and a ceviche tostada.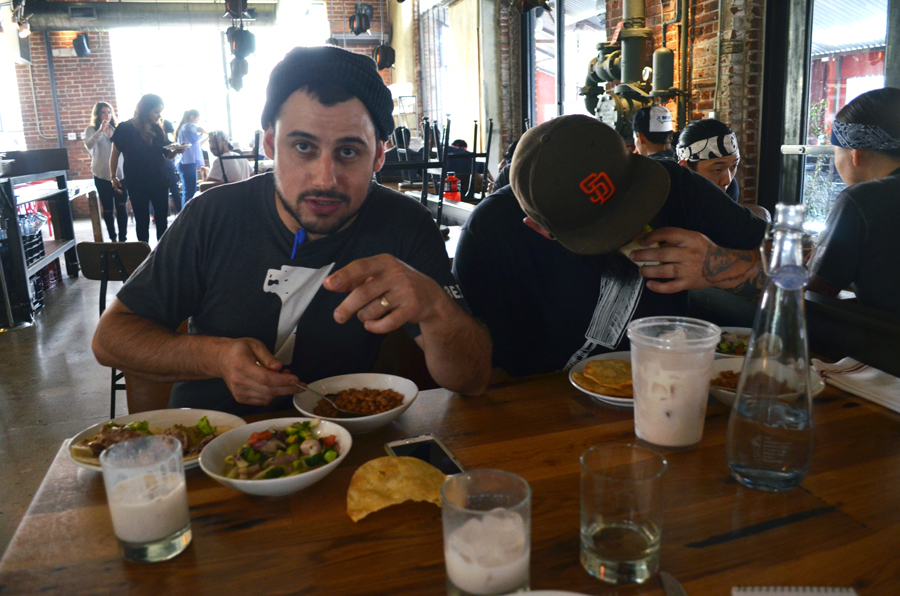 Once everyone had gotten their food, they sat down in small groups at tables in the dining room. Some ate quietly and played with their iPhones, but most chatted, laughed and gossiped. Zamora had the place of honor next to Ori.
"Camillo always makes good food," Menashe said. "And this is no exception."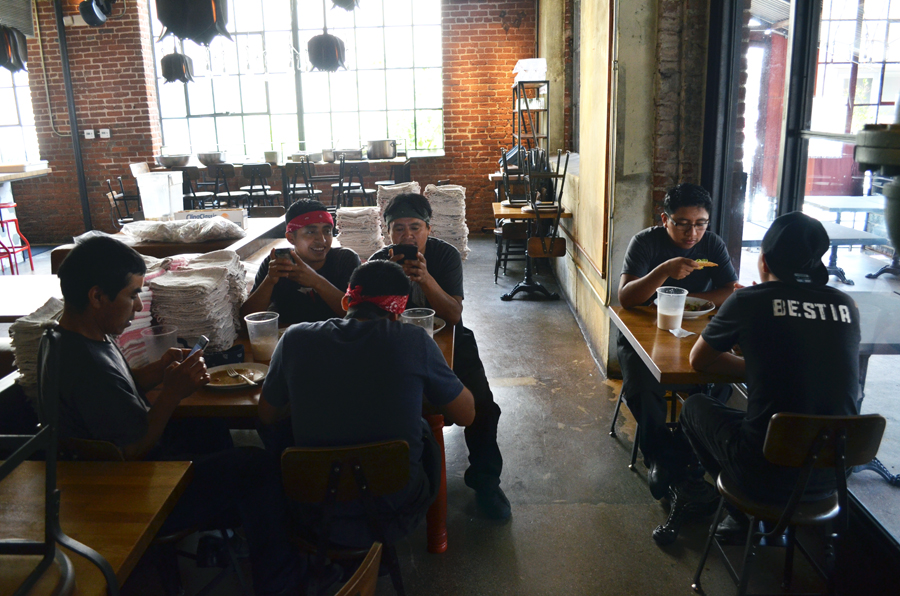 The staff sat and ate in small groups around the restaurant. Though some spent much of the meal on their cell phones, most were shooting the breeze in English, Spanish or both.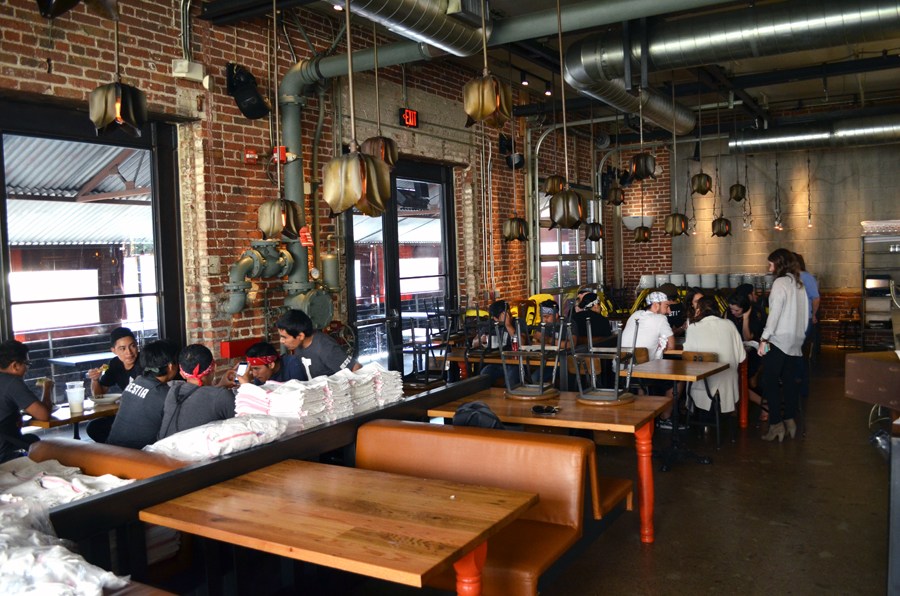 Most of them weren't related by blood, but they ate together like a real happy family.
Related