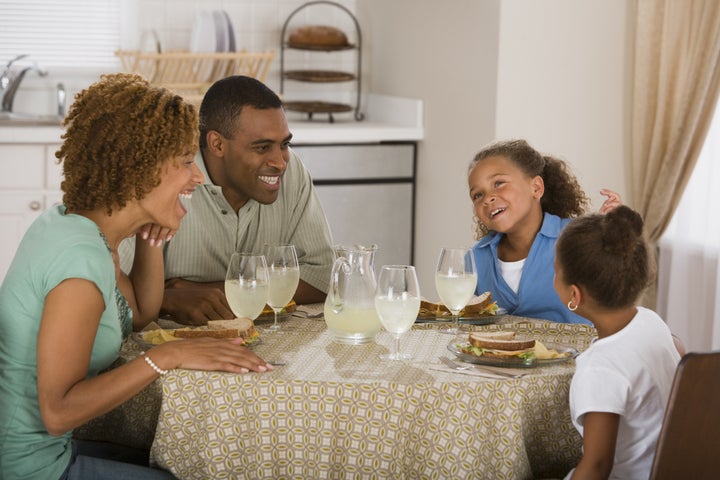 When's the last time you sat down and had a meal with your family? And what defines a family anymore, anyway? On a cool, crisp New England afternoon at the infamous R.J. Julia's independent bookstore in Connecticut, I had a chance to sit down with Food Network superstar Tyler Florence. We talked about the many versions of family in his life -- from his kids to the staff at his restaurants to his friends and neighbors who gather for sumptuous potlucks, he loves to feed them all. Florence recently released a wonderful "cookbook for the soul" called Family Meal: Bringing People Together Never Tasted Better.
According to Florence, "Today, there is no single way to define a family. In the simplest terms, it's the people you spend a great deal of time with, care for deeply and trust with everything. Now more than ever, families need to stick together."
To make your mouth water, check out this quick video of Florence describing his personal take on the importance of a family meal:
Touché. The fact that I interviewed a famous chef was something of a joke to my family. As my kids will attest, I can't bake even the simplest Pillsbury cookies pre-made in plastic wrap without burning them, and once I tried a recipe for "chocolate bird's nest" cookies that looked exactly like teeny piles of dog poo. I am adequate at cooking, but I can tell you, I love to eat, and I love to have meals with friends and family together. It is the ritual of sitting down together around a table that nourishes more than the morsels on the plate. Besides, the comedy of some of my creations makes for fabulous dinner conversation!
Home-made food calms us down. Sitting down to a share meal releases the left brain's dominance and allows the gastric juices to soften the edges. Casual conversation blossoms, laughter is easier, and our brains begin to think more creatively after having a break from screens, deadlines and crazy schedules. It has been proven that there's a direct relationship between the well-being of your kids and how often you have regularly scheduled family meals. I also believe a neighborhood that eats together sticks together, and co-workers who share meals have stronger and more productive working relationships.
Let's explore each area of family one by one.
Having a family meal together couldn't be more vital these days. Many families have delegated the dining room table to store bills, projects and junk and haven't pulled out a roasting pan in years. As kids get older, the teen years are a frantic sprint from one event to another, with lots of meals in the car along the way. Yet studies continue to show that making time to sit down together at a dinner table sets an important foundation for life.
The National Center for Addiction at Columbia University released a decade-long study in 2008 that remains true in showing teens who have dinner with their families fewer than three times per week are twice as likely to use tobacco and marijuana than teens who have more frequent dinners, and that infrequent family dinners raises the risk of depression and eating disorders. "It is a tragedy that family dinners decline as teens get older," said Joseph A. Califano, Jr., chairman and president of the National Center on Addiction and Substance Abuse (CASA) at Columbia University.
Even if the meal feels more like bickering than languishing, a foundation of connection, comfort and security is being created when a family sits around the table together on a regular basis. Clear off the dining-room table, grab the cloth napkins, light some candles and dish up the mac 'n' cheese -- who cares? Start the meal by asking everyone to share something for which they are grateful, and watch the atmosphere change for the better.
Family of Friends and Neighbors
Vive le potluck! Whether we live in an apartment complex, home or condo, the people who live around us either become a support network or a reminder of isolation. I find it tragic to weave through so many pre-planned neighborhoods filled with neighbors who daily drive into their garages, close the door, and do not know one another. In such challenging times, neighbors can support each other simply by coming together over shared meals.
Many of us get stressed out thinking that in order to invite anyone over, the house has to be immaculate and the meal a Martha Stewart perfection. Forget it! Instead, try the "stone soup" potluck: call a few friends on a Saturday or Sunday afternoon, and invite them to bring over whatever they were going to have for dinner and share it as a big smorgasbord. Our neighborhood did this last week, and we had a hilarious combination of pork chops, meatballs, chili, salads and chips and salsa. The kids had a blast, the parents unwound with a few beers, everyone pitched in to clean, and all left deeply satiated.
In my work in training and community development, I have seen time and again that food can be used as the magic glue that brings everyone together in a way that is more authentic and satisfying than can often be achieved in traditional professional settings. Let's face it, most of the food we eat at work sucks! Power bars for breakfast, soggy sandwich pinwheels for lunch, Snickers bars for snack and coffee, coffee, coffee to fill the gaps. Instead, choose someone on your staff to prepare a home-made specialty for the next committee or board meeting, and watch the energy change dramatically.
A friend and colleague of mine teaches medical residents at Yale Medical School. Each year, he asks the students to prepare a meal from their historical roots, and hosts a poolside BBQ that has become the event of the year. With such a cultural diversity, the meal is a mouthwatering blend of Asian, Italian, Indian and American treats that push the stresses of the hospital to the side and tightens the bonds between colleagues used to unrelenting stress.
How about you, HuffPost readers? Do you make time to share a meal with your friends and loved ones? Who do you consider to be your family? Pull up a chair at our table, grab a glass, and let's share a few stories in the comments below.
For weekly updates from me, click "Become a Fan" at the top of this page. Feel free to share this post with your cyber families on Twitter and Facebook!