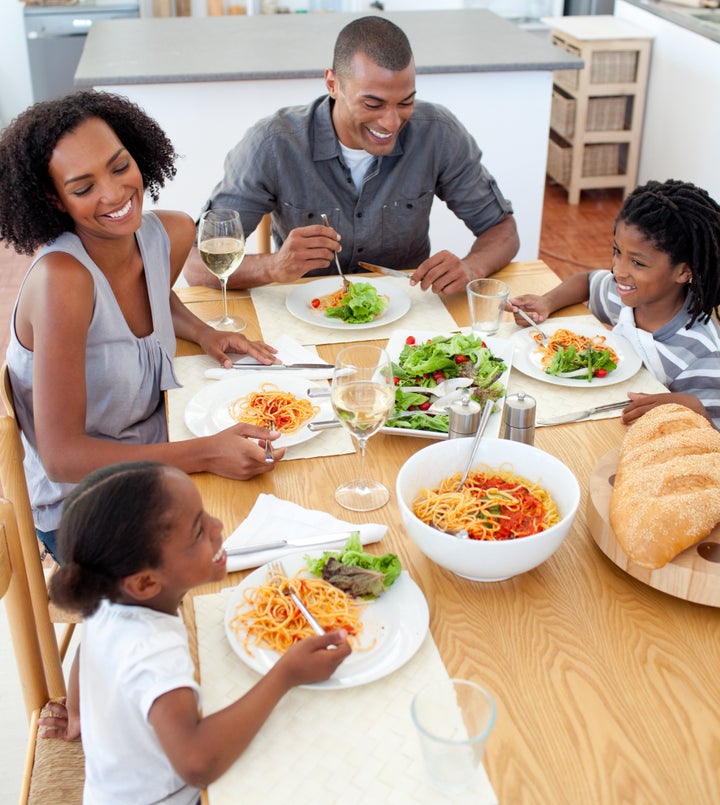 By: Ned Smith, BusinessNewsDaily Senior Writer
Published: 01/23/2013 06:38 AM EST on BusinessNewsDaily
If you use mealtime togetherness as a barometer for the well-being of the American family, it's in pretty good shape, a new study shows. Contrary to conventional wisdoms and hours of TV commercials, most families currently eat dinner together most nights of the week, and more than a third (34 percent) eat together seven nights a week, on average.
What's good new for the robustness of the American family, though, isn't all that promising for the nation's restaurateurs—only 3 percent of families say they eat family meals in a restaurant or fast-food chain.
A study of a nationally representatives sampling of adults or guardians of children under 18 found that 71 percent of respondents said their families eat dinner together as often or more today than their families did when they were children.
The interviewing was conducted on behalf of Welch's Kitchen Table Report. Welch's is the processing and marketing subsidiary of the National Grape Cooperative, which is owned by more than 1,000 family farmers across the U.S. and Ontario, Canada.
Nearly 90 percent of parents said they talk to their children every day about what they think and how they feel. Moreover, family mealtime is an extremely important part of family life with 84 percent of respondents saying that one of their favorite parts of the day is when their family eats together. These meals are taking place at the kitchen table, with 68 percent of respondents reporting they eat most meals or snacks together as a family at the table.
Family mealtime is serving as the hub of family life, with the kitchen table acting as mission control, the study found. Three-quarters (75 percent) of families eat most meals and snacks in the kitchen, with the family couch following as a distance second (18 percent).
A mere 3 percent of families say they eat in the car on the go, and only 3 percent of families say they eat in a restaurant or fast food chain.
"It might feel like the traditional ideal of a family gathered for dinner is only a memory of a bygone era and that today's families aren't connected to each other as they are busy running around, texting, and watching TV," said Sarah-Jane Bedwell, a registered dietitian and Welch's Health and Nutrition Advisory Panel member.
"The truth is parents are making quality time a priority and are using mealtime to share a moment with their children. In fact, research has shown an association between regular family meals and improved family nutrition and overall well-being. In my experience, families who eat together are happier, healthier, and stronger."
Reach BusinessNewsDaily senior writer Ned Smith at nsmith@techmedianetwork.com. Follow him on Twitter @nedbsmith.We're also on Facebook & Google+.
Copyright 2013 BusinessNewsDaily, a TechMediaNetwork company. All rights reserved. This material may not be published, broadcast, rewritten or redistributed. ]]>
Related