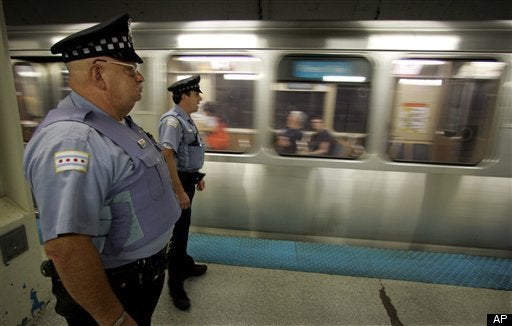 Carmella Lash-Cross, the mother of George Lash, disputes the official account of her son's shooting on a Red Line train near the Garfield/55th stop early last Saturday morning, FOX Chicago reports.
According to police officers, Lash was carrying a gun on the train. When the officers approached him, he resisted, ultimately pointing his weapon at them. At that point, the officers fired on Lash, who later died from multiple gunshot wounds.
Ambrosia Clemons said he was four train cars back when shooting erupted, then ran to the scene to begin videotaping the aftermath. He said he has had trouble with the law and served time and that's why he gathered video.

Witnesses told him, he said, that Lash was shot after he was handcuffed and began struggling with an officer. His video appears to show the injured or lifeless body of Lash on the floor of the Red Line car, apparently with handcuffs on.

According to the Chicago Tribune, Lash-Cross's lawsuit names both the CPD and the City of Chicago as defendants. It argues that the officers murdered the young Lash "with utter indifference and conscious disregard."
And Lash-Cross's attorney, Antonio Romanucci, was even more clear: "He had his back to the police and police had one handcuff or both handcuffs on him," Romanucci said.
Embattled Police Superintendent Jody Weis had a particularly callous response to the lawsuit, as Chicagoist reports: "Unfortunately," Weis said, "the events led to a life being lost, but when you try to murder police officers, that's what's going to happen and I'm really glad our officers are safe."
Carmella Lash-Cross had raised George Lash since he was two years old and eventually adopted him. After she left the room crying, her husband, Kenneth Cross, reflected on his stepson.

"George was not a bad kid," Cross said. "George was trying to go back to school. George had started attending church. He was trying to get a GED."

"It's destroying me," Cross said of the teen's death.

As with all police-involved shootings, the Independent Police Review Authority is investigating the matter.
REAL LIFE. REAL NEWS. REAL VOICES.
Help us tell more of the stories that matter from voices that too often remain unheard.