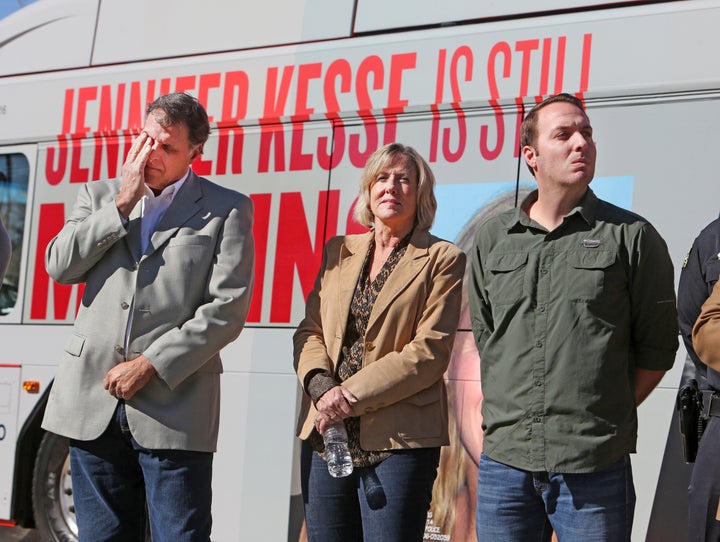 Jennifer Kesse's family bore witness to another dismal milestone in Florida this week as the recurring date of her disappearance marked 12 years. However, unwilling to accept the fate of previous years – where meaningful breakthroughs have long been absent – they have a new plan to find their missing daughter.
"We're fed up," Jennifer's father, Drew Kesse, told HuffPost. "We're suing the Orlando Police Department. They've had probably 150 investigators look at Jennifer's case. There's been million-dollar rewards, the largest searches in the southeast, and yet we're no further than we were on day three."
The Kesse family made their intention public on Jan. 19, with the announcement that they are seeking a court order to compel authorities to open the case files. Kesse said the decision was made after the police department refused to cooperate with them.
"We have a team of investigators – former federal agents – who are willing to help and we'd asked [Orlando police] to please let us bring them in to look at the files," Kesse said. "We explained that we simply want to find our daughter and they said they would not allow that.'"
In a statement to the media, the Orlando Police Department said, "If we were to release any active criminal investigative material to the Kesse family … it could jeopardize the investigation. That's not something we want in this case or in any other active criminal investigation."
Kesse argues the department is missing the point.
"I'm not interested in seeing [the files]," he said. "I'm not an investigator. All we want is one of our investigators to be able to go in and read the files. Do they hold any answers? I don't know, but I think at this point we all know it's a cold case. We don't want to wait another 12 or even 20 years to find Jennifer."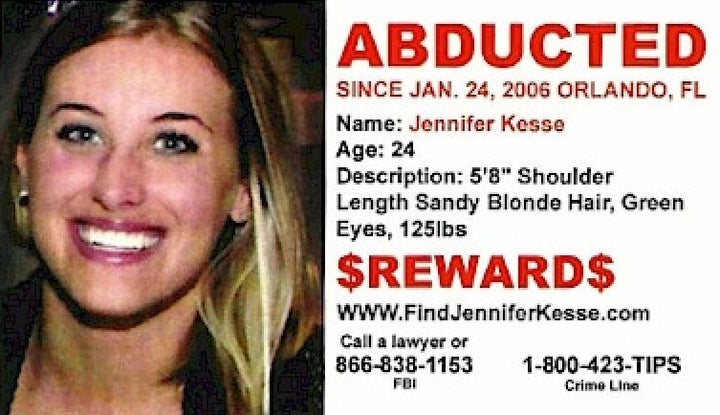 Jennifer was 24 years old when she vanished in Orlando on Jan. 24, 2006. On that day, her family was notified she'd not shown up for work at Central Florida Investments.
When calls to her phone went directly to voicemail, her family contacted Orlando police and made the two-hour drive from their home in Bradenton to Orlando.
Inside Jennifer's apartment, the Kesses found nothing to indicate where she was. The shower had been used and a few items of clothes were laid out on the bed, but there were no obvious signs of foul play.
By 4 p.m. that day, family and friends of Jennifer were already searching the area surrounding her condominium, which was located next to Orlando's Mall at Millenia
The most promising lead came two days later, when Jennifer's car was found abandoned at a condominium complex roughly one mile from where she lived. Police bloodhounds tracked a scent from where the car was found to Jennifer's condo, but that's where the trail ended.
Surveillance cameras at the condo complex where the car was found captured an unknown person parking Jennifer's car and waiting approximately 30 seconds before exiting the vehicle and walking away without looking back. Despite intense media coverage of the video, the identity of the driver remains a mystery.
The surveillance video was the last known break in the case.
Fast forward to 2018, whereupon the Orlando Police Department on Wednesday held a press conference about Jennifer's case. The day marked not only 12 years since Jennifer's disappearance, but the passage of just five days since her family had announced their intention to sue.
At the press conference, Orlando Police Chief John Mina announced that a detective had been assigned to "focus exclusively" on the case. He also unveiled a city bus with Jennifer Kesse's photo on it and said the department was having Jennifer's face displayed on 18 digital billboards throughout the region.
Jennifer's brother, Logan Kesse, was visibly angry – the police chief's words, in his mind, sowing the seeds of discontent. By the time it was over, those seeds had fully germinated.
"This is an absolute slap in the face," Logan told reporters. "It's been 12 years. Did they do this last year? No. The year before? No … This is only being done because … we are on their ass and they fucked up."
Drew Kesse told HuffPost that promises made during the press conference, specifically that of a dedicated detective, were nothing new.
"This is the fourth time they've said that," he explained. "Don't get me wrong, the bus is beautiful – incredible – but at this point it feels like they're an adversary. I mean, if this works and jerks somebody's mind and this all comes to an end tomorrow, great. If that happens, I don't give a crap if the chief of police snubs his nose in my face and says, 'There, we found her. La, la, la, la, la.' I'd kiss him. But I really don't think that's going to happen."
Kesse suspects police are concerned the files contain mistakes that were made in the early stages of the investigation.
"We already know of verifiable mistakes, but we're not interested in that," he said. "We just want to find Jennifer. We all make mistakes. If we wanted to sue them for mistakes we would've done that years ago, but that doesn't bring Jennifer back."
Drew Kesse said his family suffered another blow after the press conference. Upon walking back to their vehicle, they'd discovered someone had broken in.
"It happened with the cops and the press right there," he said. "A cellphone, wallet, credit cards, and money were gone. To top it, we waited around an hour and 53 minutes after we'd called police and they never showed up. I called them back and said, 'I guess you just don't really want to help the Kesses today. We're leaving. Bye.'"
Kesse paused while recounting the incident and then chuckled.
"It's just like holy shit," he explained. "If I don't laugh, I'll cry in the corner."
As of Friday, Orlando police have yet to be served with the lawsuit. According to Kesse, the legal action is in the works.
"Once you step in lawyer land it's a whole different world," he said. "It's going to be a very uphill and expensive battle. Ultimately, we are her family and we are responsible for finding her. [The police] can quit at any time. It doesn't matter to them. We can't. We've already lost everything ― our careers and everything. All we have left is our house and we're about to sell it. But we don't care about that. Finding Jennifer is all that matters. It's a shame they won't help us do that."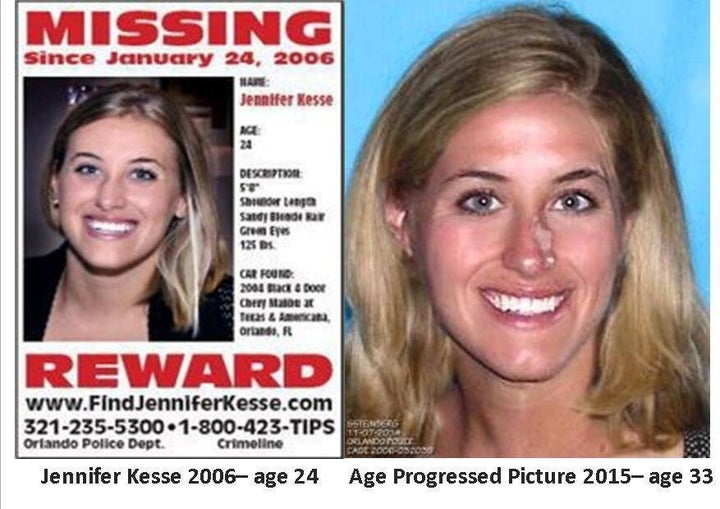 At the time of her disappearance, Jennifer Kesse was 5 feet 8 inches tall and weighed 135 pounds. She had shoulder-length sandy blonde hair and green eyes.
Anyone with information in the case is asked to contact Orlando police detective Teresa Sprague at 407-246-3982. Tipsters may also call the crime line anonymously at 800-423-8477. Click here to listen to Unconcluded, a popular podcast on the case. Additional information can be found at jenniferkesse.com.
Calling all HuffPost superfans!
Sign up for membership to become a founding member and help shape HuffPost's next chapter
BEFORE YOU GO