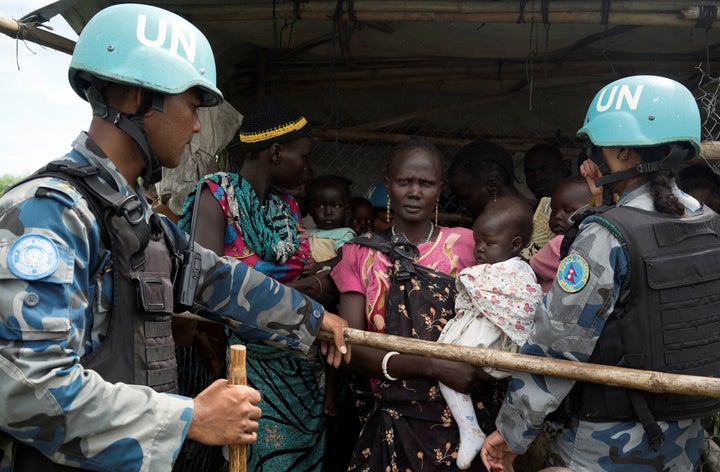 Getting a condom or the morning-after pill might be as simple as popping down the street to the local pharmacy. But for women whose lives have been upended by mass displacement or conflict, and for whom pregnancy or childbirth could be life-threatening, many or all family planning options may be out of reach.
Governments and donors are gathering this week in London to assess and renew progress toward a goal, set in 2012, to give 120 million more women access to modern contraception by 2020. Often women and girls in crisis settings have the most overlooked needs. Aid workers attending the summit are prepared to point out that family planning works in crisis settings, that it saves lives, and that women both want and need it.
It's important to understand that being able to decide if and when to get pregnant is a human right and a key component of women's empowerment. Country representatives at the summit should pledge political support and funds for family planning for women whose other rights are often violated in abusive conflicts.
I was recently in the rebel-held Nuba mountains in Sudan, where aerial bombing of villages and other violations in a six-year war have forced tens of thousands of people to flee their homes. Most of the women I interviewed had never seen a condom; many had no idea what one was. No one I spoke to had any access to family planning. Women's rights, one civil society leader said, were on hold.
Hassina, now 19, first experienced obstructed labor when she was 14. She had already lost a lot of blood in two days of labor and was passing in and out of consciousness when her family put her on a motorcycle to reach a hospital where her dead baby was removed by caesarean section. A doctor advised her she was at risk of complications and should go to a hospital for future births. However, the continuing conflict meant that in her next pregnancy, she was stranded in a dry riverbed seeking refuge from Sudanese government bombs when she went into labor. By the time she reached medical help, they again removed a dead baby.
Hassina never had access to contraception. Tragically, women and girls in a war zone ― where getting enough food for their existing children is a struggle ― have no control and no choice on spacing births.
Global family planning efforts have focused primarily on delivery of services in more stable settings. But donors and policy-makers need to start making concerted efforts to reach women in humanitarian crises with a range of options for family planning. The greatest proportion of women who die in pregnancy or childbirth are in conflict-affected countries, or countries recently emerging from conflict. Family planning is lifesaving. But studies show that family planning lags behind other needs in humanitarian funding.
Aid groups have shown that when they provide a choice of family planning methods in crisis settings, women and girls eagerly use these services. Sometimes these groups are the first service providers to offer women control over their own fertility. These services are key not only for women recently and temporarily displaced because of conflict, but for the huge numbers who are stuck in long-term and complex conflicts that show no sign of ending soon.
Making family planning an adequately funded and normal part of aid may save lives of women like Hasina but could also open up choices that women in the rest of the world take for granted. The basic right to be able to control your own fertility, to choose when to be pregnant, should be one that all women have access to.
Skye Wheeler is a women's rights researcher at Human Rights Watch.
Calling all HuffPost superfans!
Sign up for membership to become a founding member and help shape HuffPost's next chapter