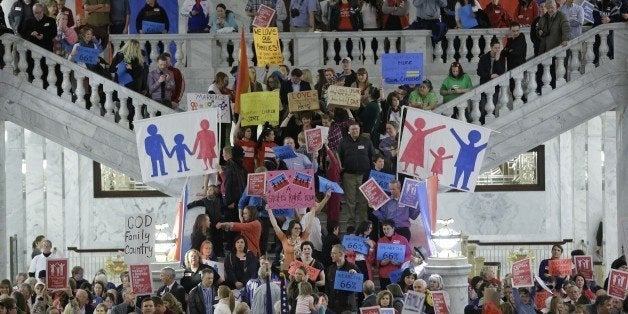 The group, which aims to "[advance] faith, family and freedom in public policy and the culture from a Christian worldview," has launched a new website to showcase business owners, pundits and others who have spoken out against the lesbian, gay, bisexual and transgender (LGBT) community.
Organizers say the stories on the new site "show what it means -- and what it costs -- to live out what you believe," but having an outspoken opposition to LGBT rights seems to be the sole common denominator among all the individuals profiled.
Robertson sparked a media firestorm after he argued that homosexuality was "not logical" in a 2014 GQ interview, while the Kleins and Stutzman have been fined after violating local anti-discrimination laws by rejecting same-sex couples from their respective businesses. Jannuzzi was suspended from her teaching job after claiming that gays "want to reengineer western civ (sic) into a slow extinction" in a Facebook post. That post made national headlines after Oscar-winning actress Susan Sarandon shared an open letter her gay nephew, Scott Lyons, wrote to Jannuzzi on social media.
"The promise of freedom from fear of government punishment or loss of livelihood is a hallmark of our nation," the site's founders declare. "The freedom to believe and live according to those beliefs is the foundation for a civil society where people of differing beliefs can live and work together with mutual respect."
The site also has a petition, which asks supporters to "stand for the freedom to believe and to live according to those beliefs" had been signed by 210 people.
UPDATE April 30: An FRC representative sent The Huffington Post the following statement from Perkins, which also appears on the group's website:
One of the biggest threats America faces today is one that undermines the very fabric of our society. More than ever before in the history of our nation, the freedom to believe -- and to live according to those beliefs -- is under assault. Faithful Americans across the country are incurring the cost of what it means to stand on principle for their beliefs. Some have endured government punishment and others have lost their livelihoods.

We want to tell their stories so all can see that these are not the isolated incidents that the Left would have us believe.
Calling all HuffPost superfans!
Sign up for membership to become a founding member and help shape HuffPost's next chapter
BEFORE YOU GO
PHOTO GALLERY
The Year's Worst Anti-LGBT Villains