 WASHINGTON -- Federal law enforcement officials and D.C.'s Metropolitan Police Department are investigating a Wednesday morning shooting at the offices of the Family Research Council in downtown D.C.
His weapons were purchased legally in Virginia, the news station reported.
In a statement released Wednesday night, the FBI confirmed that the assailant taken into custody was Corkins and that he was being held on a charge of assault with a deadly weapon.
MPD Police Chief Cathy Lanier called the security guard a hero, the Examiner reported. "As far as I'm concerned, the security officer here is a hero," Lanier said, according to the newspaper. "The person never made it past him."
The security guard was reportedly conscious following the shooting, according to WJLA-TV/ABC7, which said that the guard was able to relay information about the incident to police.
"We don't know enough yet about him ... or mentally what he's thinking," said James McJunkin, assistant director in charge of the FBI's Washington field office.
WRC-TV reported that the suspect told the guard that he was an intern and pulled a weapon when the guard asked what was in his backpack. At least one round was fired, the television station reported.
According to WJLA-TV/ABC7, sources said that Corkins said "It's not about you, it's about the policy" just before shooting the guard.
The news station relayed some additional background on the suspect:
Corkins had been volunteering for about the past six months at The DC Center for the LGBT Community, said David Mariner, executive director of the community center, which is in Northwest Washington. He usually staffed the center's front desk on Saturdays, and his most recent shift was about two weeks ago.

"He always struck me as a kind, gentle and unassuming young man. I'm very surprised that he could be involved in something like this," Mariner said.
Family Research Council President Tony Perkins released a statement following the incident: "The police are investigating this incident. Our first concern is with our colleague who was shot today. Our concern is for him and his family."
The Examiner reported that other conservative groups in the nation's capital were tightening security following the Wednesday morning incident.
The Family Research Council, founded in 1983 by James Dobson, describes itself as an organization that advances "faith, family and freedom in public policy and public opinion." It opposes abortion rights and same-sex marriage.
Republican presidential candidate Mitt Romney released a statement Wednesday afternoon, according to AP: "There is no place for such violence in our society," he said. "My prayers go out to the wounded security guard and his family, as well as all the people at the Family Research Council whose sense of security has been shattered by today's horrific events."
Log Cabin Republicans Executive Director R. Clarke Cooper said in a statement:
"As fellow conservatives, Log Cabin Republicans are often in the same room with the Family Research Council. Though we rarely see eye to eye, we absolutely condemn the violence that occurred today. Keeping in mind that at this time we know little about the shooter or his motives, whatever our political disagreements, in this country, we use ballots, not bullets, to address them. We offer prayers for the injured security guard, his family, and everybody at the FRC building, barely a fifteen minute walk away from Log Cabin Republicans national headquarters. In many ways, this is a reminder that we aren't so far apart."
We were saddened to hear news of the shooting this morning at the offices of the Family Research Council. Our hearts go out to the shooting victim, his family, and his co-workers.

The motivation and circumstances behind today's tragedy are still unknown, but regardless of what emerges as the reason for this shooting, we utterly reject and condemn such violence. We wish for a swift and complete recovery for the victim of this terrible incident.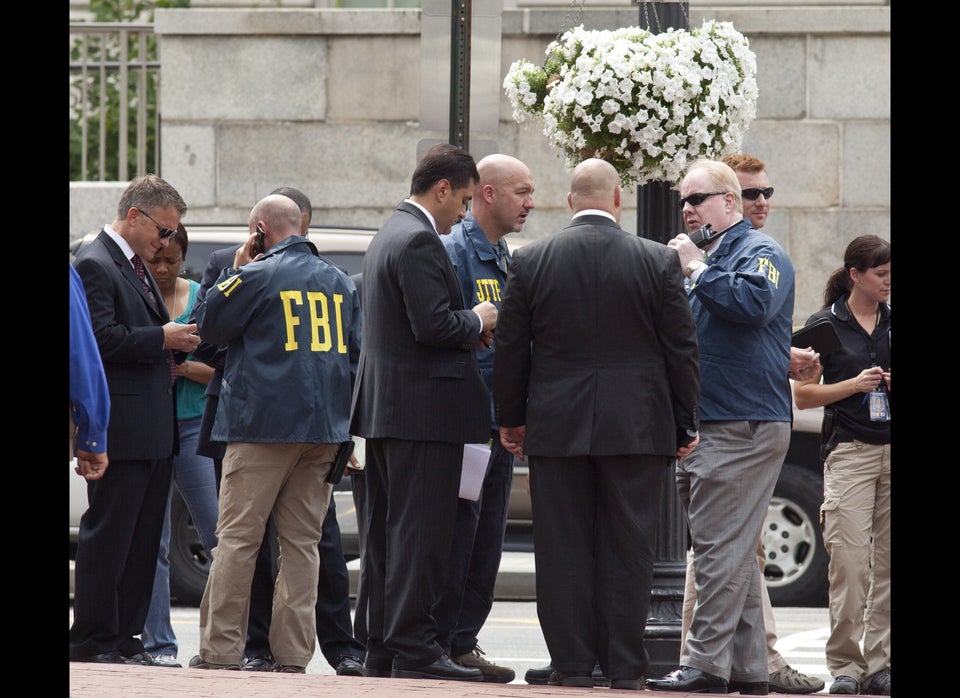 Family Research Council Shooting
This is a developing story ...
Related
Popular in the Community