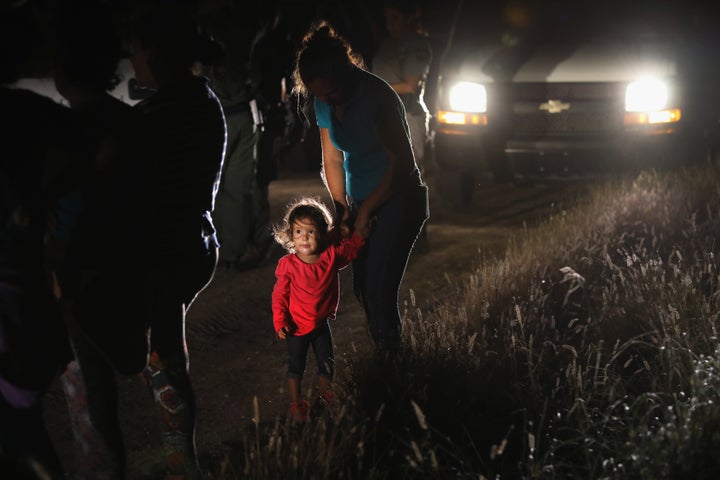 Few Americans are comfortable with the practice of separating children from their parents at the U.S. border, a set of new polling finds.
More than 2,000 immigrant children were separated from their parents between mid-April and the end of May as a result of a "zero-tolerance" policy announced the Trump administration announced this spring. The White House and its allies have vacillated between defending the separations as a deterrent to illegal immigration, denying such a policy exists, and blaming the separations on outside forces.
That the Trump administration might want to distance itself from the separations comes as no surprise ― the policy is deeply unpopular. On average, less than 30 percent of the public supports such separations, and about 60 percent disapprove.
Those numbers come from four new surveys: three ― from Ipsos/Daily Beast, Quinnipac and CNN/SSRS ― were released Monday, and an Economist/YouGov poll was conducted earlier this month. The wording of the polls varies significantly, with some providing additional information about the nature of the separations and the Trump administration's purported rationale. But unlike on other issues, where framing makes a substantial difference, the level of support for separations appears largely consistent regardless.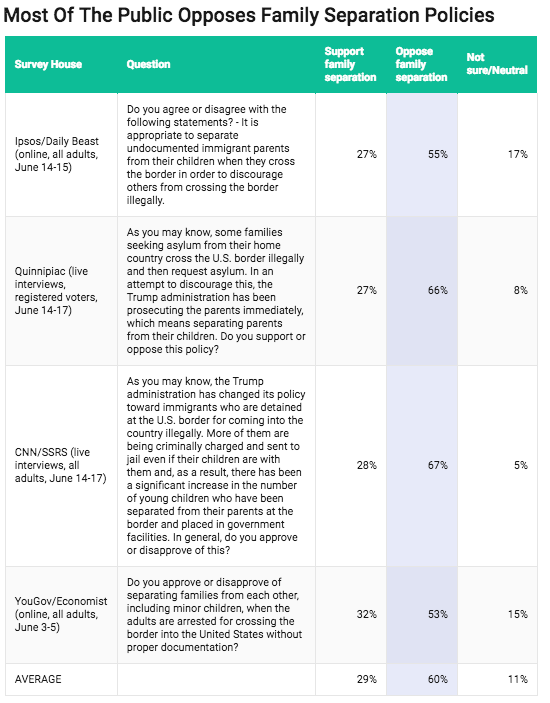 Opponents of family separations don't only outnumber supporters; they also feel more strongly about the issue. Polls that gauge the intensity of opinions find Americans between 20 and 28 points likelier to "strongly disapprove" of family separations than they are to "strongly approve" of them.
In each of the surveys, 14 percent or fewer of the Democrats approve. Republicans, though generally supportive of the separations, are less unanimous, with a significant minority ― between 30 percent and 35 percent ― disapproving.

Family separations are even less popular when they're presented as only one possible option for dealing with undocumented families stopped at the border, according to the YouGov/Economist poll. Just 19 percent of respondents say minor children should be separated from their parents and either taken to government shelters or arrested and sent to juvenile detention. A 43 percent plurality think undocumented families stopped at the border should be detained together until they have an immigration hearing, while 20 percent say the families should be released until their hearing.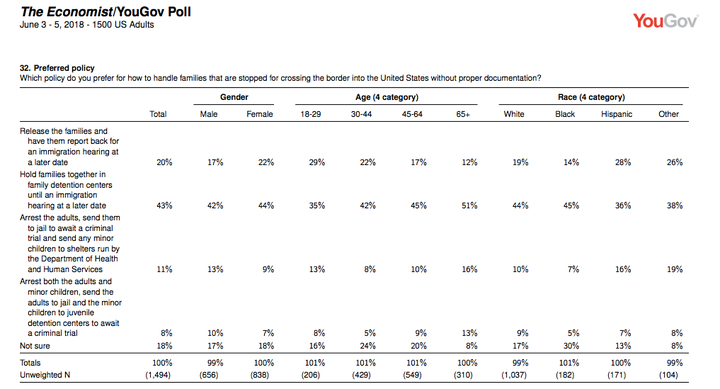 But a majority of the public is willing to cast at least some blame on the children's parents, according to that survey. Fifty-eight percent say they agree with the statement that "If you don't want your child to be separated, then don't bring them across the border illegally," while just 31 percent disagree. That quote comes from Attorney General Jeff Sessions' defense of the policy, although survey respondents weren't told who said it.
Americans in the YouGov/Economist poll are divided on the argument that separating parents from minor children will dissuade undocumented border crossings ― 37 percent believe it will, and an effectively equal 38 percent say it will not. Internal documents obtained by CNN find that the policy leading to separations hasn't served as a deterrent, despite the White House's predictions otherwise.
Popular in the Community