WASHINGTON ― Republican lawmakers appear to agree on one thing: Children should not be separated from their detained immigrant parents at the U.S.-Mexico border.
But they remain starkly divided on how to tackle the incredibly explosive issue, even as the Trump administration maintains that Congress can "alone" resolve a policy directly created by the administration that has resulted in thousands of children being detained and separated from their parents.
Many of the immigrant children are being held in juvenile detention centers where they are kept in chain-link cages, sometimes with 20 or more to a cage, according to The Associated Press. Some of them appear to be in extreme emotional distress, according to harrowing audio published Monday by ProPublica, a nonprofit news organization, in which detained children can be heard crying out for their parents at a U.S. Customs and Border Protection facility.
While some GOP lawmakers want President Donald Trump to reverse the "zero tolerance" immigration policy himself, as he has the power to do, others have said they prefer to handle the matter legislatively. Even if they are able to reach a consensus this week, however, it's highly unlikely it will reach the president's desk next week or the one after that.
"The White House can fix it if they want to. I don't think there's any question about that," Sen. Orrin Hatch (R-Utah), the chairman of the Senate Finance Committee, said in a statement on Monday. Sens. Lindsey Graham (R-S.C.) and Bob Corker (R-Tenn.) similarly suggested that Trump could resolve the matter by simply picking up his phone.
Other lawmakers, including Sens. John Cornyn (R-Texas), Ted Cruz (R-Texas), and James Lankford (R-Okla.), are planning to or have already introduced legislation seeking to keep families together while they await court proceedings.
Cruz's proposal, in particular, would create shelters for families, double the number of existing immigration judges and expedite asylum cases to be decided in 14 days. It's unclear how much support it has among his colleagues and whether it would ultimately create a whole new problem. Child welfare experts, for example, say family immigrant detention isn't a healthy place for children, either.
The prospect of adjudicating an asylum claim in just two weeks may also be exceedingly idealistic given the backlogged immigration system, even if Congress agrees to authorize funds for new immigration judges. Frank Sherry, the executive director of immigration advocacy group America's Voice, tweeted that Cruz's bill would simply "replace family separations that add up to child abuse with indefinite detention that add up to family gulags."
The Trump administration's new policy on family separations prompted substantive pushback from conservatives and moderates alike. Sen. Lisa Murkowski (R-Alaska), for example, issued a blistering statement in which she called for the White House to "end the cruel, tragic separations of families. They are not consistent with our values."
Conservative Sen. Ben Sasse (R-Neb.), meanwhile, called family separation "wicked" and a "discretionary choice." Anyone saying "that their hands are tied or that the only conceivable way to fix the problem of catch-and-release is to rip families apart is flat wrong," he added.
But Senate Majority Leader Mitch McConnell (R-Ky.) declined to answer questions about the family separation issue from reporters in Senate hallways, leaving his caucus fractured ― at least publicly. He is expected to hold a weekly news conference Tuesday, when he will likely address the matter.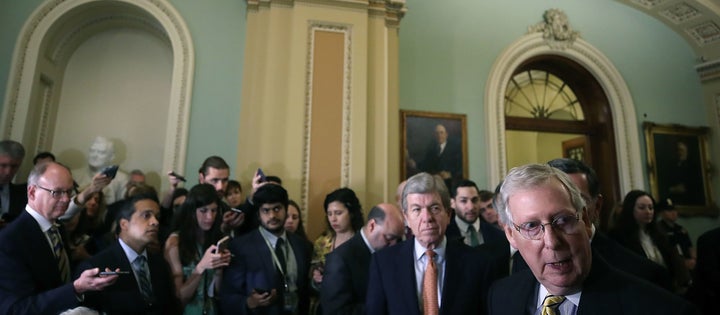 Sen. Dianne Feinstein (D-Calif.) introduced a bill called the "Keep Families Together Act" last month to stop child separations. So far, no Republican senator has signed on to her legislation, although all 49 Democrats have joined as co-sponsors, according to USA Today.
Some House Republicans were equally opposed to the family separation policy. Rep. Steve Stivers (R-Ohio), the head of House GOP campaign arm, said he will ask the Trump administration "to stop needlessly separating children from their parents" and that if it isn't changed he will "support other means to stop unnecessary separation of children from their parents."
The White House, meanwhile, maintained that Congress should address the issue in a broad way ― not a narrowly tailored immigration fix like the one being discussed currently in the Senate.
"We want to fix the whole thing. We don't want to tinker with just part of it," White House press secretary Sarah Huckabee Sanders said during a daily press briefing on Monday, further casting doubt on the prospect of a quick legislative fix.
Popular in the Community