In March, 32 officers flooded an Omaha, Neb., home in an attempt to recover video evidence of police misconduct and brutality, a new lawsuit claims.
The suit filed Monday by the American Civil Liberties Union seeks damages suffered during the incident, which allegedly started over a parking ticket.
On Mar. 21, 2013, two officers responded to a request from a tow-truck driver who was removing unregistered vehicles. The lawsuit alleges that when Octavius Johnson walked up to try to determine what was happening to the family's cars, Octavius was placed in a chokehold, thrown to the ground and beaten. In the video, it appears as if the officer who struck Octavius looks around to ensure he is alone and then begins to hit Octavius.
Brothers Juaquez and Demetrius Johnson filmed the altercation. More than 20 officers arrived, including a commanding officer, and "chased Juaquez into his home and conducted a search without a warrant," the release said.
"Inside the home, Sharon Johnson, aunt to the Johnson brothers, was thrown from her wheelchair while Juaquez was thrown to the floor and repeatedly struck," the release said. "Officers did not help Sharon back into her wheelchair and instead placed her in handcuffs."
The footage recorded by the Johnson brothers was never returned after police seized it, but a neighbor filming from across the street did capture the scene outside the home. The video was posted to YouTube and four officers were fired once the incident received press coverage.
All charges against the Johnson family were dropped.
Officer James Kinsella was charged with tampering with evidence and Sgt. Aaron Von Behren was accused of organizing a cover-up, according to the Omaha World Herald. Their cases are still pending.
The ACLU lawsuit is filed against Omaha Police Chief Todd Schmaderer and the 32 officers who were at the scene.
City Attorney Paul Kratz told the Herald, "Chief Schmaderer took appropriate action after the incident to rectify future situations."
A spokesperson for the Omaha Police told The Huffington Post that the department does not comment on pending litigation.
"I feel like I am on the opposite end of justice," Octavius Johnson said in the ACLU statement. "A parking ticket turned into officers storming my house and me being thrown to the ground and put into a chokehold."
Johnson said he also feared for his family's safety.
"When I was on the ground and police ran towards my house, I was worried about the family that raised me," Johnson said. "I have seen incidents like this happen to other people. I now know that something like this could happen to not just my family, but any family."
Related
Before You Go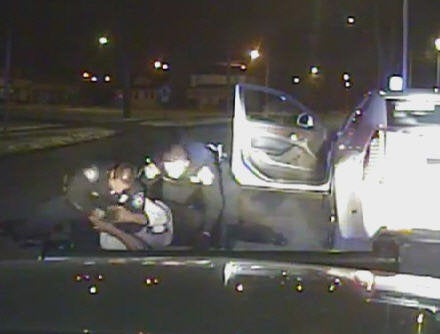 Police Brutality Incidents
Popular in the Community