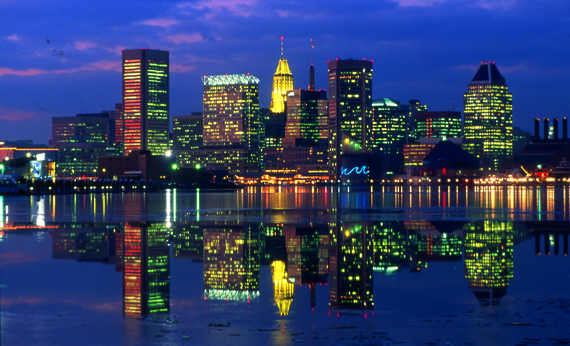 Baltimore is a family-friendly city, but staying with kids doesn't mean you have to forfeit experiencing Baltimore's best asset: its quirky originality. Here's how to spend 24 hours in the city that will satisfy both parents and kids.
DAY ONE
As soon as you arrive, head to the Inner Harbor to stroll among 100 shops at HarborPlace. Several offer Baltimore-centric gifts, like Ravens T-shirts, Edgar Allan Poe books and Natty Boh shot glasses. Kids will love IT'SUGAR with its head-spinning array of candies from jumbo gummy bears to Japanese soda to pop rocks to bins of colorful jellybeans. And the whole family will have fun sampling the BBQ sauce, dips, hot sauces and dressings at Pepper Palace.
Lunch should be fish and chips and a pint of Harp (for the adults) at Tir Na Nog (Land of the Young), an Irish pub with a cozy interior and an outdoor patio overlooking the waterfront.
Next, meander along the water to the National Aquarium, where kids can touch stingrays and jellyfish, meet dolphins, and walk through a glass tunnel surrounded by sharks.
Afterwards book a table by the window at Apropoe, an atmospheric restaurant, tucked within the Marriott in Harbor East neighborhood. If you time it right and arrive by sunset and you just may be lucky enough to watch the sun sink into the Chesapeake Bay. Share a cheese board that features locally crafted cheese and honey, paired with spiced apricots, before ordering a wood-fried pizza or two.
By dark, Fells Point, the city's oldest and most lively neighborhood, beckons. Reserve spots on the one-and-a-half hour ghost tour that prowls the 18th and 19th century cobblestone lanes. Learn about ghosts who have haunted the city since the Revolutionary War, along with those, like one spirited local bartender, who have cropped up recently. The tour also passes by The Horse You Rode In On, the bar where Edgar Allan Poe was last seen alive.
That night check into the new RL Hotel, which just may be Baltimore's hippest stay. Located two blocks from the Inner Harbor, the hotel is part of the Pacific Northwest's Red Lion chain and brings a laid back West Coast vibe to the city. The staff is young, artsy and enthusiastic. The hotels breaks down the walls of formality by forgoing a reception desk; check-in can be done via kiosk, on your phone or by one of the roaming staff who carry iPads. You can have a key or you can use your smartphone to access your room. Rooms are modern but softened with wood floors, a Baltimore city decal mural that spans an entire wall and a clock made from a rustic wood slab. Downstairs is more lounge than lobby, featuring a stage for local artists, bleachers kitted out with funky throw pillows, a fleet of loaner bikes (kept in the lobby like an installation art piece), and a loft-like game room stocked with retro games (Trivial Pursuit, anyone?).
Stay in for breakfast at RF's café. It has roughhewn tables, chalkboard pillars, a resident dog named Jake and an enlightened gallery space that puts a spotlight on serious issues, like homelessness. Coffee is free and plentiful on a sideboard and breakfast, like the egg white scramble with mushrooms, tomatoes and onions, make morning easier to face.
Walk two blocks back to the Inner Harbor. To best experience the Chesapeake Bay, get out on the water. Book a half-hour on a paddle boat. Feeling flamboyant? Paddle the Chessie, a large green dragon paddleboat that holds four people. Or book an hour cruise on a speedboat with Seadog, which will spirit you around the harbor.
Back at the Inner Harbor, climb aboard the USSS Torsk, a sleek gray World War II submarine with a head painted as a toothy shark. Kids love exploring the underwater workings of the sub. Also docked at the harbor is that last remaining ship that served during the Civil War still afloat. The USS Constellation, which was built in 1854, is a powerful sloop that still retains its complicated rigging.
Wrap up your stay in Baltimore with lunch at Miss Shirley's, a fun restaurant that reflects Maryland's position just south of the Mason-Dixon line with offerings like stone ground grits flecked with bacon, slow pulled BBQ pork and cornbread squares topped with blackberry-bourbon jam.