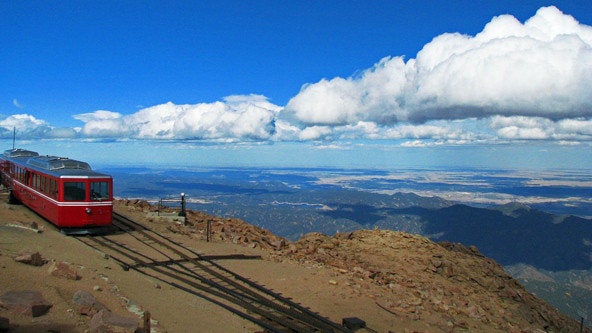 If you would rather leave the driving to someone else in your quest to reach the 14,110-foot summit of Pikes Peak, you can take the
. No driving distractions--just great views, picture taking opportunities and wildlife spotting. The railway cars are quite large and hold over 200 pasengers each. The excursion is nine miles straight up and is very windy. The summit offers souvenir shopping and food service and the trip allows 40 minutes for exploration. The panoramic view includes the town of Colorado Springs and the surrounding areas.
Fasten your seat belts, get your camera ready and check your heart rate for this 19-mile trip up the
. The summit is 14,110 feet high, the air is thin and the views panoramic. The initial leg of the journey (about 10 miles) is a breeze because it's a paved highway. The second leg of the journey is strictly gravel and requires nerves of steel--for some. Make sure you can withstand the conditions at such a high altitude. A gift shop and snacks are available at the
.
The
is for history buffs who want to know about the culture and spirit of the western town of Old Colorado City from 1859 to 1917. This is a kid-friendly volunteer-run museum that showcases the people who lived and worked in the area before it became the metropolis that is now known as "The Springs." The museum has a gift store which carries historical books and souvenirs of the area.
If you are traveling to Colorado Springs and feel the need to dress for the west, a stop at
is in order. It has been around since 1932, when it sold dry goods to the local mining camps and Indian trading posts in southern Colorado and northern New Mexico. It eventually started catering to tourists and visitors to dude ranches. The store carries Stetson hats, Tony Lama boots and a huge variety of quality western-brand clothing.
Related