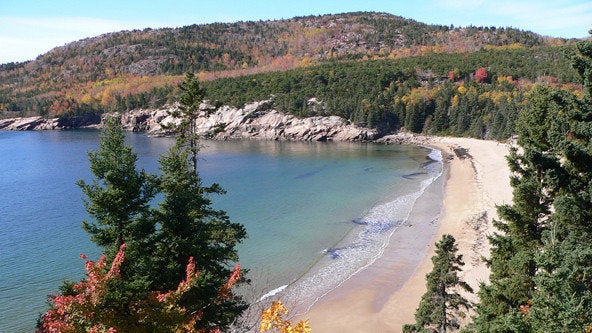 For families looking for the kind of relaxation only a rural environment can provide, look no further than
.
travel here every year to explore hiking and cycling trails that lead off into different areas of Maine's Mount Desert Island. For less outdoorsy types, there are plenty of upscale hotels, restaurants and
in the area.
is one of the most
due to its three miles of sand, dunes and the popular Marginal Way, a walking path more than a mile long. It's this kind of beautiful scenery that prompted the
to give it the name, which means "beautiful place by the sea."
The
gives kids the chance to perform at a miniature theater, dress up like a fireman or hang out in a pretend diner. Portland parents Morgan and Dave Surkin frequently bring their son Sawyer to the museum, who always ends up at the
.
operated by the Department of Marine Resources, allows visitors to both observe and pet its marine creatures. A popular exhibit for children is the touch tank where guests can feel a sea urchin's spine and interact with other ocean dwellers.
For the family's thrill-seekers, there's always Funtown Splashtown USA. The
will satisfy cravings for roller coasters and rushes of adrenaline with rides like Excalibur and Dragon's Descent. When the heat becomes too overwhelming, walk over to
and take a family raft slide down the Mammoth.