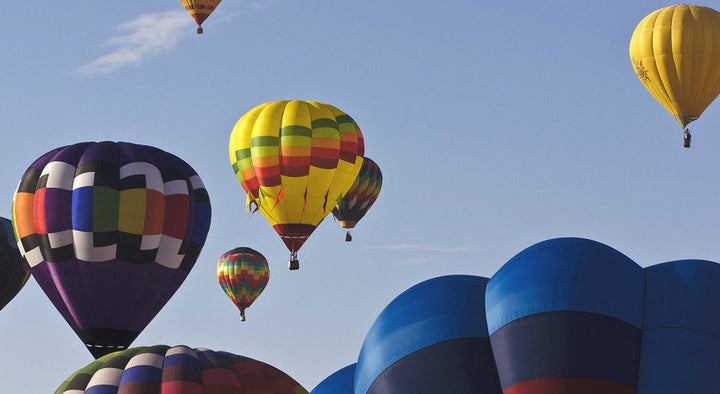 The
is the largest gathering of hot air balloons in the world, according to Fiesta planners. It is held every year in early October for 9 days. There are typically more than 750 balloons and the festival consists of a mass-rising of balloons at sunrise, glow-in-the-dark balloons, contests, a parade, races, balloon rides and more. Many unusual balloons float in the sky as participants try to one-up each other and entertain the crowd in the process.
This museum has the largest collection of
in the world. Over 1100 paintings and sculptures depicting her signature style of sparse Southwest images, often consisting of a single flower, are housed in an old adobe-style church. O'Keeffe eventually moved to Santa Fe, the subject of much of her work.
The
has a 16-foot climbing wall that kids can safely climb — wearing a helmet and harness, of course. There is also a horticultural garden that depicts Southwest growing conditions, complete with a greenhouse and wetlands. There are many interactive exhibits that families can take part in together.
is a living Native American community and a National Historic Landmark. It is a multi-storied adobe complex that has been inhabited for more than 1000 years. The structures that the present Tiwa Tribe members live in are stacked and look similar to Taos Mountain. Visitors are allowed to explore certain areas of the Pueblo and can sample bread made in ancient ovens among many other opportunities. There is also a casino complex nearby. Note: Photos are not permitted on feast days and permission is necessary to use certain types of professional photo equipment.
What could be a better setting for a zoo than 64 acres along the Rio Grande River? The
is a combination of a zoo, botanic garden, biological park and aquarium with natural habitat exhibits. Visitors can walk the zoo or take the Rio Line train than runs in a continuous loop around the zoo. Polar bears, koalas and sea lions with underwater viewing are the stars of the most popular exhibits.
This center is home to the
, which offers handmade treasures for sale right on their reservation. The market sells ceremonial kachina dolls, hand-woven rugs, handmade baskets, pottery and silver and turquoise jewelry. This is the real deal and is quite different from the mass-produced souvenirs travelers see everyday.
Related