Pro tip: don't do a search for pressure cookers right after your spouse does a search for backpacks if you don't want the FBI at your door.

— Michele Catalano (@inthefade) July 31, 2013
Michele Catalano, a professional writer, describes what happened in a blog post on Thursday. According to her retelling, on Wednesday morning, six men identifying themselves as being from a "joint terrorism task force" showed up at her Long Island home. She believes Google searches by herself, her husband and her son raised red flags.
I had researched pressure cookers. My husband was looking for a backpack. And maybe in another time those two things together would have seemed innocuous, but we are in "these times" now. And in these times, when things like the Boston bombing happen, you spend a lot of time on the internet reading about it and, if you are my exceedingly curious news junkie of a twenty-year-old son, you click a lot of links when you read the myriad of stories. You might just read a CNN piece about how bomb making instructions are readily available on the internet and you will in all probability, if you are that kid, click the link provided.
While she was at work, her husband was home at the time of the incident. He let the officers in, and they proceeded to give the house, garage and backyard a quick search.
[T]hey were peppering my husband with questions. Where is he from? Where are his parents from? They asked about me, where was I, where do I work, where do my parents live. Do you have any bombs, they asked. Do you own a pressure cooker? My husband said no, but we have a rice cooker. Can you make a bomb with that? My husband said no, my wife uses it to make quinoa. What the hell is quinoa, they asked.
After 45 minutes they shook her husband's hand and left.
A FBI spokeswoman told The Huffington Post that the FBI's Joint Terrorism Task Force was not involved in the matter and said the incident was handled by The Nassau County Police Department. A Nassau County Police spokesman told HuffPost he had no record of any officers visiting Catalono's home.
UPDATE: 9 p.m. The Suffolk County Police Department issued the following statement explaining the incident:
Suffolk County Criminal Intelligence Detectives received a tip from a Bay Shore based computer company regarding suspicious computer searches conducted by a recently released employee. The former employee's computer searches took place on this employee's workplace computer. On that computer, the employee searched the terms "pressure cooker bombs" and "backpacks."

After interviewing the company representatives, Suffolk County Police Detectives visited the subject's home to ask about the suspicious internet searches. The incident was investigated by Suffolk County Police Department's Criminal Intelligence Detectives and was determined to be non-criminal in nature.
Related
Before You Go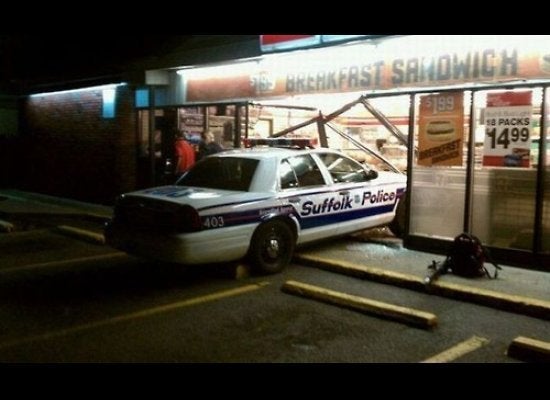 11 Of The Funniest Police Fails
Popular in the Community