A Texas family of seven created a unique IKEA bed hack to suit their needs.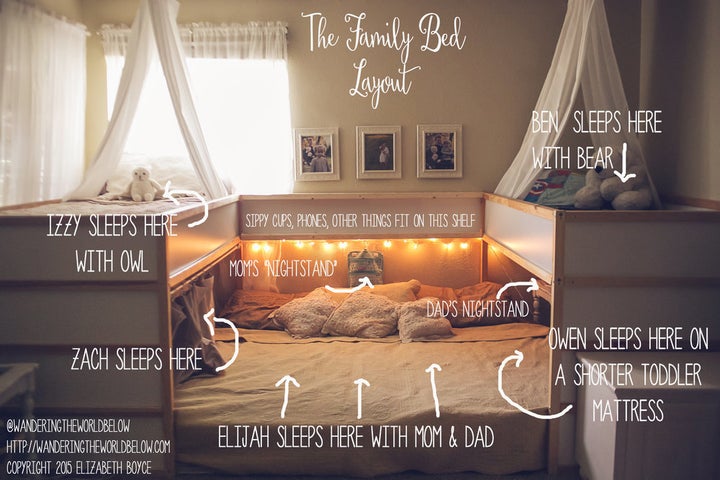 Created using IKEA's Kura beds, the Boyce family's sleep space has spots for Mom and Dad, as well as 11-year-old Zach, 9-year-old Izzy, 7-year-old Ben, 3-year-old Owen and 1-year-old Elijah.
Boyce's post has been shared over 3000 times and prompted the mom to create a tutorial and FAQ follow-up. In an interview with The Huffington Post, she shared the circumstances that led her family to build this bed."My husband is disabled and over the last year has spent a lot of extended time in the hospital," Boyce said. "Our kids were worried, stressed and anxious about dad. They weren't sleeping well and we were all trying to adjust to the big changes."
Because of Tom's health issues, the Boyces decided to begin "living their long-term goals," like traveling together as a family. Because they often drive across the country with their pop-up camper, the kids have grown used to sleeping in the same room with their parents. "Upon returning home, we have a very hard time transitioning them back to sleeping in their own rooms," the mom explained. "Between getting up to feed the baby, helping get water, bathroom trips and helping my sick hubby or soothing anxious kiddos, no one was sleeping."
In September, the Boyces decided to make a change. With help from their kids, the parents spent an afternoon moving the Kura beds and reassembling them in the master bedroom. The children helped with the shopping and hung the curtains, and a couple of them even learned how to use the power drill.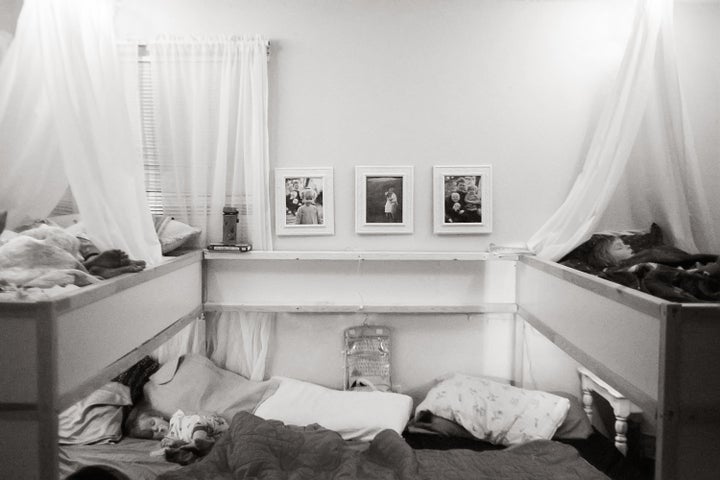 "It was a super fun project, and it made it a family process that allowed them to each have some input on how it went," Boyce said. "We don't actually have beds in the other rooms anymore, but instead we have the thinner foam mattresses from Ikea that are used as reading corners or for when friends come to visit or if a kid just wants their own space."
Boyce says her children "love" their family bed, and the co-sleeping arrangement has been going very well. "The kids are happy and better rested, and so are we!" she said, adding, "Who knows how long it will last? They may want to move back out in a month! If that is they case, we will just separate the beds and try something else. No big deal. Whatever helps everyone sleep is what we do."
Boyce told HuffPost that most of the responses to her family's bed have been positive, though "others can't comprehend it."
"I mean, I guess I can see if you didn't know our family, it might seem strange," she said. "But honestly, we are just loving, hard-working parents who are doing whatever it takes to raise kids to be loving, compassionate and productive adults in a crazy world."
Generally, she added, "I just go with what feels right for our family and let everyone else have the same freedom with theirs."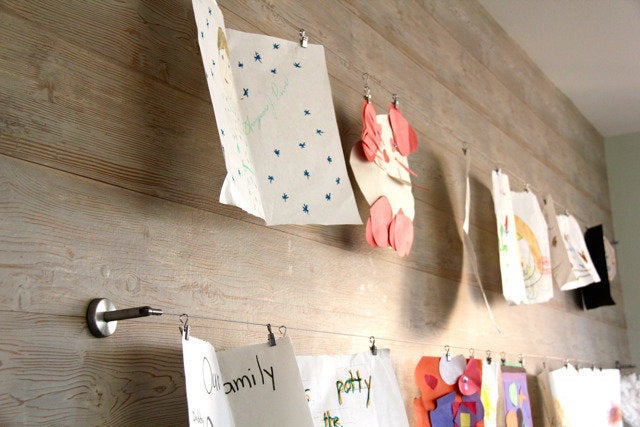 Best IKEA Hacks For Kids' Rooms
Related