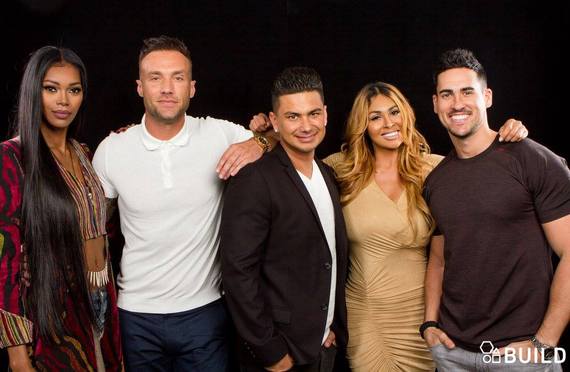 Dating is hard, but dating as a celebrity is even harder. Famously Single, a new show from E!, premieres tomorrow night and eight celebrities who are known for being infamously unlucky in love go to relationship boot camp with Dr. Darcy Sterling who specializes in relationship issues.
The celebrities will live in the same house, explore their issues with love and dating and take part in dating experiments. Dr. Darcy strips away the issues and the fame that surrounds them to pinpoint the real problems and solutions to move forward. Each celebrity has their own issues with dating whether it's people want to date them for their celebrity status, or that they are workaholics or they can't handle long distance relationships and more.
Pauly D, Jessica White, Somaya Reece, Calum Best, and Josh Murray stopped by the AOL BUILD studio in New York City to talk about the show. The cast is loaded with reality stars so there is definitely drama in the house. The stars said within a few hours of moving into the house their first fight erupted. Aubrey O'Day, Willis McGahee and Brandi Glanville are also on the show. For some of these celebrities we think love might be in the cards for them in the future, but others might be hopeless.
You can watch clips from the interview or the whole video on the free BUILD app on Apple TV. Tune in to the premiere of Famously Single Tuesday, June 14 on E!
Calling all HuffPost superfans!
Sign up for membership to become a founding member and help shape HuffPost's next chapter