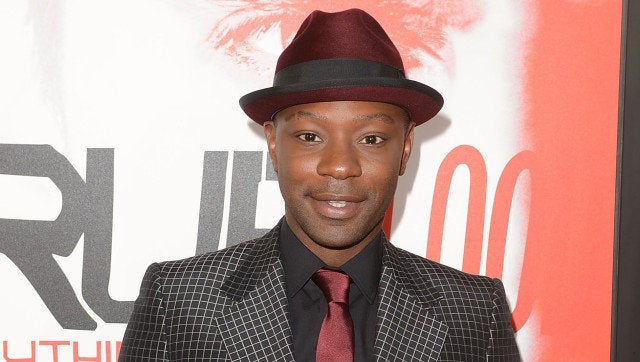 Saturday is traditionally the busiest day of Fan Expo at The Metro Toronto Convention Centre, as the fire marshal often caps attendance to prevent capacity issues and fire code violations. The possibility didn't scare us -- we brought you all of the day's highlights despite the ever-present wall of bodies wandering the convention floor.
Life And Language Of Lafayette First up was Nelsan Ellis (Lafayette Reynolds on "True Blood") and he had big news. He almost let it slip that zombies would make an appearance on the show this season when someone asked about "The Walking Dead."
"First of all, I might get in trouble. Are you recording this?" he asked, pointing to me. "All supernatural creatures are welcome on 'True Blood' and zombies may be on there at some point. It's just a matter of if they can deal with the vampires or not because vampires are at the top of the food chain."
If you went by the book series, you'd know Lafayette was not supposed to last the first season, but then creator Alan Ball pulled him aside:
"Before the show had aired, Alan Ball had decided that he was going to keep Lafayette, but he didn't tell me until before the last episode and it was in such a cavalier way too. He said, 'Nelsan,' and I was like, 'Yes sir,' and he was like, 'You know you're not dying, right?' and I was like, 'I didn't, but thanks for telling me.'"
Thus began the journey of a character so popular that fans insist he call them "hooker" or "bitch" in public, just as Lafayette would. Such interplay gets a little awkward when his five-year-old son asks what an AIDS burger is (another memorable reference from the show). It seems all the credit for Lafayette's popularity should go to Ellis' mother, because that's where the character gets his effeminate mannerisms.
"Ball wanted a masculine and feminine character. He wanted a tough character. I was just going in trying to act real gay and it didn't come off as real," said Ellis. "My mother was a tomboy, so she was feminine sometimes and she was real manly sometimes. I mimic my mother all the time and I'd been watching for 30 years of my life, so I was like, 'What would my mother do to be more authentic?' So, I just took on my mother's persona, which is the sass, the hair thing and even some of the more masculinity of Lafayette comes from my mother. All the parts of Lafayette are also me. We may not be interested in the same things, but the humanity of Lafayette is Nelsan Ellis."
The Chemistry Of Spike And Drusilla "True Blood" wasn't the only vampire show represented at the convention. In fact, one of the most popular couples of the genre reunited on the Fan Expo stage -- James Marsters and Juliet Landau (a.k.a. Spike and Drusilla from "Buffy the Vampire Slayer"). The pair's chemistry was palpable throughout the series, so much so that Marsters' girlfriend, at the time, actually got a little jealous.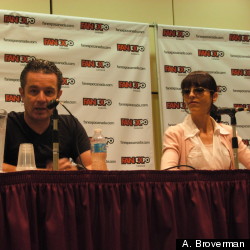 "The thing was, we both came from the stage and we both cared a lot about what we do, and I think we kind of hooked in almost instinctively at the auditions and we just rolled on," says Marsters of their chemistry.
"To the point where -- my girlfriend at the time -- do you remember Liz?"
"She was greatly jealous of you."
"You told me that later, but she used to come over all the time."
"There was that time we came over to your house to watch one of the episodes and I think either you leaned over to me or I leaned over to you, just to say that a moment worked, and she's kind of noticing that and told me later that she had a crush on David Boreanaz to get me back," he continued. "So all the stuff early on with David, I actually hated him. That whole time he was really nice to me, but I was set up by my ex-girlfriend."
On Death And Rebirth -- "The Walking Dead" The last panel of the day celebrated the newest television monsters in vogue -- the zombies of "The Walking Dead." Specifically, Norman Reedus (Daryl Dixon) and Jon Bernthal, who played Rick Grimes' partner turned sociopath, Shane Walsh.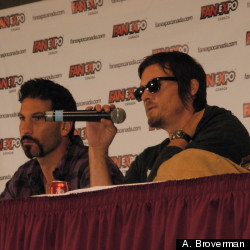 Bernthal campaigned hard for the role of Shane, turning down two confirmed jobs, just to audition. Then, the casting director handed him the graphic novel where he learned of his quick and untimely demise.
"They're like, 'It's based on this comic, check it out. I sit down and I'm like, 'Holy guacamole! That motherf--ker is dead, like dead fast. I was really happy and excited that they let me last as long as they did. You take a magazine, or in this case a comic book, into the bathroom when you do your thing. I think it only lasted one trip to the bathroom and he was gone, like so much for this source material."
But he loved being on the show and he loves the people who work on it, so even though he's filming Martin Scorcese's new movie, "The Wolf of Wall Street," based on the book of the same name, and following "The Walking Dead"'s original showrunner Frank Darabont to his new show "L.A. Noir," he would love to come back if he could.
"I'm really grateful that they didn't let Shane just be that one-dimensional crazy-ass from the comic and they let it be grounded in the fact that he was trying to do the right thing all the time. That's all I wanted for this character, I wanted him to be real. I didn't want him to be a villain and I hope that resonated. I hope he ends up being a figure that tortures Rick and The Grimes Family for many years to come."
Norman Reedus's character Daryl has gone through his own transformation, one that may be set back by the return of his racist and abusive brother Merle in season 3. Reedus hinted how Daryl may respond to his brother being back among the living.
"Imagine growing up with a big brother like Merle where you're constantly put down all the time and put in your place. I think that now that world is gone for him, he's being appreciated for the first time by other people, and I think it's making him want to fight to keep these people alive and be part of this new family. He always wants to be with his big brother, but it's kind of like taking your drunk uncle to a Christmas party."
PHOTO GALLERY
Comic-Con Costume Photos
Calling all HuffPost superfans!
Sign up for membership to become a founding member and help shape HuffPost's next chapter
BEFORE YOU GO