FANCY FARM, Ky. -- Let's cut to the chase. The news from Fancy Farm, the big Kentucky political picnic, is that Matt Bevin -- the tea party-ish primary challenger to five-term incumbent Sen. Mitch McConnell – does not, at first glance, seem to be a kook, a crank or a lightweight.
In fact, in his first major appearance on a political stage, the wealthy Louisville businessman -- a native of New Hampshire who moved to Kentucky in the late 1990s -- was poised, focused, and more than a little savvy about what he's up against when he faces McConnell in the GOP Senate primary next spring.
That means McConnell is now caught in a dangerous crossfire, facing strong challenges from Democratic Kentucky Secretary of State Alison Lundergan Grimes on one side, and now, plausibly, from Bevin on the other. The former accuses him of doing too little governing; the latter accuses him of doing too much.
At Fancy Farm, Grimes called McConnell "Senator No," the embodiment of corrupt gridlock of the capital.
"If doctors told Sen. McConnell he had a kidney stone, he'd refuse to pass it," Grimes said, while McConnell sat close by on stage with a fake smile affixed to his face.
She and other Democrats charged that his 28 years in the Senate achieved few tangible results, aside from making him one of the nation's most powerful Republicans.
Grimes' personal attack was expected. Her campaign is about portraying McConnell as the man who stayed too long and got nothing done. And she wants to show that she is tough enough to withstand, and even thrive in, the kind of mudslinging, accusatory campaigns for which McConnell is famous in Kentucky.
Grimes unveiled a new campaign poster with a picture of her smiling with the caption, "I DON'T SCARE EASY."
But no one knew what to expect of Bevin, who turned out to be equally feisty and personal and tinged with anger.
"The people of Kentucky have had enough," said Bevin. "They have had enough of bailouts for Wall Street banks. They've had enough of you raising your own pay at a time when people in Kentucky are losing their jobs."
Bevin challenged McConnell to sign a letter vowing to "defund" Obamacare in spending, budget and debt-ceiling bills. "Be a man, stand up and put your money where your mouth is," Bevin said.
"I'm not going to run to the left of Mitch McConnell; I'm not going to run to the right of Mitch McConnell," he said. "I am going to run right over the top of Mitch McConnell."
"I was pretty impressed with him," said Buddy Petty, 70, a retired military officer who runs an agricultural services business in the area.
"He seems to have his head on square."
All of this is not only bad news for McConnell, but potentially for a Congress already regarded as the symbol of corruption and futility, and for a United States in need of a little bipartisan good sense on a host of issues.
If Bevin is credible on his feet -- as he was at Fancy Farm -- he will pull McConnell even further to the right. As GOP Senate leader, McConnell will become even more resistant to any deal on the budget, taxes, or the debt ceiling.
That makes McConnell's relationship with Kentucky's junior GOP senator, Rand Paul, all the more crucial. Paul, who beat McConnell's handpicked Senate candidate in the 2010 GOP primary, has wanly endorsed McConnell for 2014.
But Paul didn't bother to come to the premiere political event of the year in Kentucky to say so. The Democrats in the crowd gleefully noted his absence.
McConnell may well need Paul to fend off Bevin. If Bevin gains any traction with conservatives nationally, that could be hard for Paul -- who wants to run for president in 2016 -- to do without alienating his own base.
Bevin had only a smattering of supporters on hand at the famous Western Kentucky event, and by the time he got to speak, most Republicans in the crowd had already left on buses provided by -- and scheduled to depart early by -- Team Mitch.
But the Democrats stayed around to listen to Bevin, their temporary ally.
The event itself is a test of sloganeering, lung power and sheer will for the candidates and office-holders. A thousand people gather in an open shed behind the St. Jerome Catholic Church, a rural parish in the far western Purchase region of Kentucky. In a crowd split right down the middle -- Democrats on the left as they faced the stage, Republicans on the right -- partisans wave placards, and cheer and boo through the short speeches. The atmosphere is a mix of political convention, cattle auction and the food fight from "Animal House."
However much money they spend on advertising -- and it could be $20 million in this Senate campaign, if not more -- the candidates need to show that they can take the heat, if not make their case, at Fancy Farm.
As for McConnell, he spoke first and left early, befitting a man with years in the Senate and millions in campaign cash in the bank -- but also a disapproval rating well north of 50 percent.
He portrayed himself as a man under assault by the "liberals" led by President Barack Obama, who is unpopular in Kentucky. "All the liberals are coming down here to push me around," he said.
"Every liberal in America is out to beat us next year," said McConnell, who wore a blue work shirt for the occasion. "Obamacare is a disaster for America and I fought it every step of the way. I have stood up to their war on coal."
If reelected again, he said, "Kentucky will have a voice instead of San Francisco and Martha's Vineyard."
"It's important to keep Kentucky's voice strong. Do you want an Obama 'yes' man or a Kentuckian?" he asked.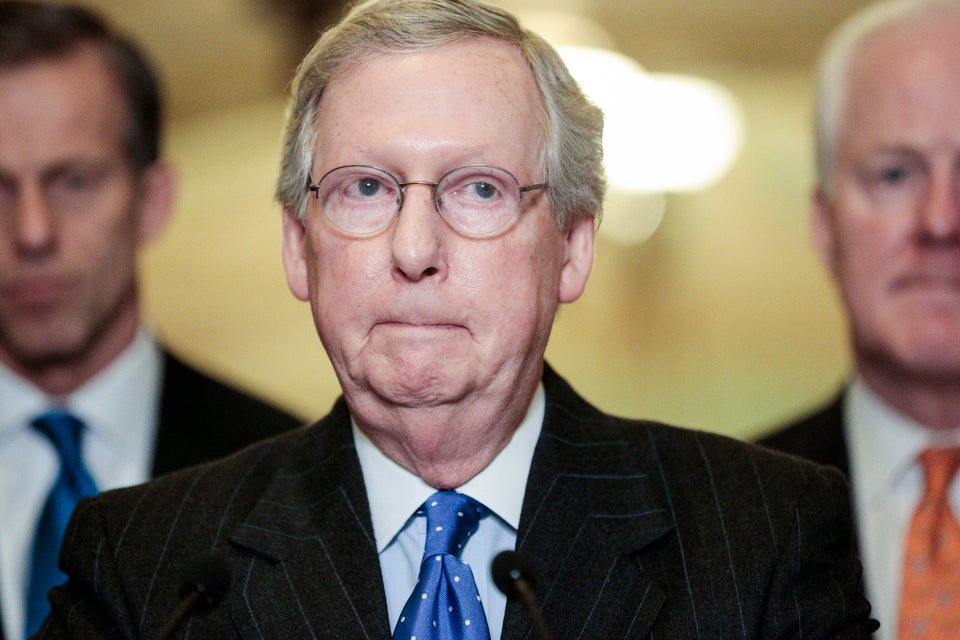 Say Cheese! Mitch McConnell Smiles