FANCY FARM, Ky. -- On Saturday, Kentucky Secretary of State Alison Lundergan Grimes (D) was giving a speech and was interrupted by a heckler supporting her opponent, Senate Minority Leader Mitch McConnell (R-Ky.).
"WE WANT MITCH!" the heckler yelled.
Despite the presence of local police and state troopers lining the shed in this rural town in the far-west corner of Kentucky, no attempt was made to escort the gentleman off the premises. Indeed, half the audience quickly joined him with a round of hearty boos and jeers.
Welcome to the Fancy Farm picnic, an annual political rite of passage in the Bluegrass State, where the Commonwealth's most powerful lawmakers and their opponents convene on the same stage to rally supporters and endure the consternation of their detractors.
Per tradition, the shed where the speeches take place is divided evenly between Democrats and Republicans. What results is like nothing else in American politics –- think Prime Minister's Questions, but with a lot more people in overalls.
Grimes paid no mind to the heckler, and defiantly spewed forth a torrent of zingers, pointing her thumb back at McConnell, who sat only 15 feet away. The lines, most of which painted McConnell as aloof and out touch, drew deafening cheers from the Democratic half of the audience.
"What a huge crowd for Sen. McConnell's retirement party!"
"If Mitch McConnell doesn't know where your town is, it just makes it harder for him to ship our jobs overseas!"
"If Mitch McConnell were a TV show, he'd be 'Mad Men': treating women unfairly, stuck in 1968 and ending this season!"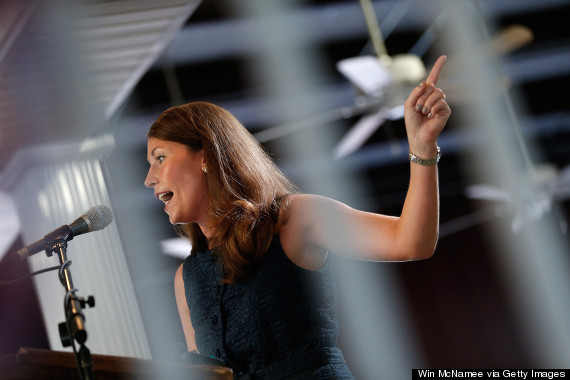 Grimes hurls zingers at McConnell at the Fancy Farm picnic on Aug. 2. (Win McNamee/Getty Images)
This year, with McConnell facing his toughest re-election in decades and his colleague, Sen. Rand Paul (R-Ky.), believed to be mulling a 2016 presidential bid, the event has drawn wider attention from the national, and even international, press.
McConnell, for his part, landed a number of blows, highlighting the 35-year-old Grimes' limited experience with statewide governance and tying her to President Barack Obama, who is deeply unpopular in the state. At 72, McConnell is more than twice Grimes' age, and his barbs were delivered with slightly less verve.
"Obama wouldn't even go down to the border to see the immigration crisis for himself. He said he doesn't like photo ops. Since when? He's taken more selfies than Flat Stanley."
"[W]ith so much turmoil around the world, we can't afford a leader who thinks the West Bank is a Hollywood fundraiser."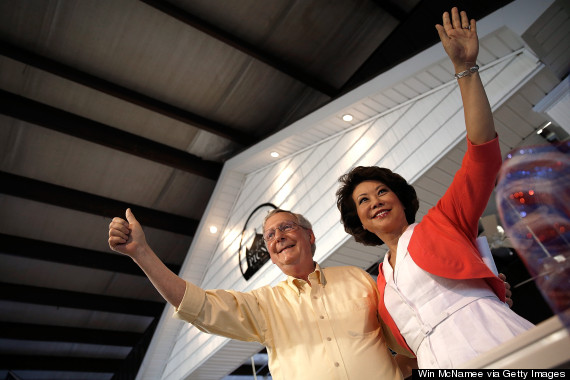 McConnell and his wife, Elain Chao, wave to supporters. (Win McNamee/Getty Images)
Ninety-nine times out of a hundred, state fairs make for easy politicking -- lawmakers smiling at comically oversized vegetables, delivering stump speeches atop bales of hay, flashing thumbs ups while pretending to enjoy fried butter. Such images have a special place in the pantheon of clichéd political photo ops. Perish the thought of a summer passing without a sweat-drenched middle-aged candidate for office trying to look composed beside a 300-pound hog.
And Fancy Farm has more than its fair share of Americana. Attendees are treated to a smorgasbord of wholesomeness: elderly folks playing bingo, children plopping down quarters for ring-toss games, conservatively dressed gentlemen handing out condensed New Testaments -- and that most peculiar of American of traditions, the consumption of piping hot barbecue on a sweltering 90-degree day.
But in the political shed and its environs, things are much, much stranger than the usual fair.
Hours before the first speech, the main shed was already packed, split evenly down the middle between blue-shirted supporters of Democratic candidates and their red-shirted Republican counterparts. As a band played rockabilly, country and bluegrass, competing chants of "WE WANT MITCH" and "AL-I-SON" drowned out the music.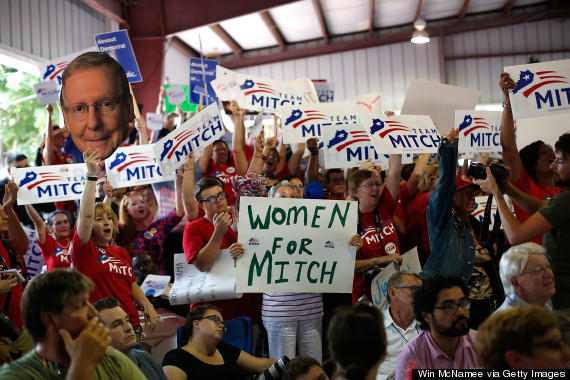 McConnell supporters cheer. (Win McNamee/Getty Images)
Near the stage, an elderly man dressed in colonial garb holding a megaphone yelled at a teenager in a Mitch McConnell shirt and Harry Reid mask, "There he is, it's stingy Harry Reid! There he is!" Outside, a Grimes supporter hoisted a sign from which dangled four cans on strings. "GOP REPUBLICANS HOT AIR WIND CHIMES," it read.
There were a few moments of respectful silence, like when Kentucky Court of Appeals Judge Christopher Shea Nickell belted out "My Old Kentucky Home" during the opening ceremonies. But it was the raucous and sometimes peculiar theatrics that defined this year's Fancy Farm.
Before Gov. Steve Beshear (D) commenced his speech, he ambled over to McConnell and snapped a selfie with the Senate Minority Leader ("I'm sorry, I just came to get one last photo of the senator before Kentucky voters retire him!"). Rep. Ed Whitfield (R-Ky.) was promptly cut off after his speech ran on too long, his words overwhelmed by the song "Time Is On My Side" blasting from the speaker system.
And after a rambling speech blasting McConnell's fundraising in California, longshot Democratic House candidate Charles Hatchett tried to highlight Grimes' Bluegrass authenticity by asking if she, in a supposed contrast to McConnell, had ever been to Hollywood or California.
Audible snickers emanated from the press pen while Grimes sat frozen, an uncomfortable smile stapled onto her face. The secretary had, in fact, attended fundraisers in California.
When it was his turn to speak, Paul highlighted Grimes' West Coast events with a poem:
"There once was a woman from Kentucky,
Who'd thought in politics she'd be lucky,
So she flew to L.A. for a Hollywood bash,
She came home in a flash with a bucket of cash."
All the while, chants of "RETIRE MITCH" and "OBAMA NEEDS ALISON" abounded from the crowd, and individual attendees yelled taunts and challenges to the speakers' statements.
All this came despite an exhortation from the emcee, state Supreme Court Justice Bill Cunningham, that "When you approve of something that someone says, cheer. When you don't like something that someone says, boo, and then shut up."

Outside the shed, the fair continued unabated. A robust game of bingo was underway in the neighboring shed; fair-goers lined up to order pork and mutton by the pound; and older attendees sought refuge from the heat beneath the numerous trees dotting the grounds. A hundred feet away, a young woman was perched atop a dunk tank as fair-goers took turns pelting balls at a target near her seat.
It was unclear whether she was having a harder time than the politicians. But at least she was keeping cool.
Before You Go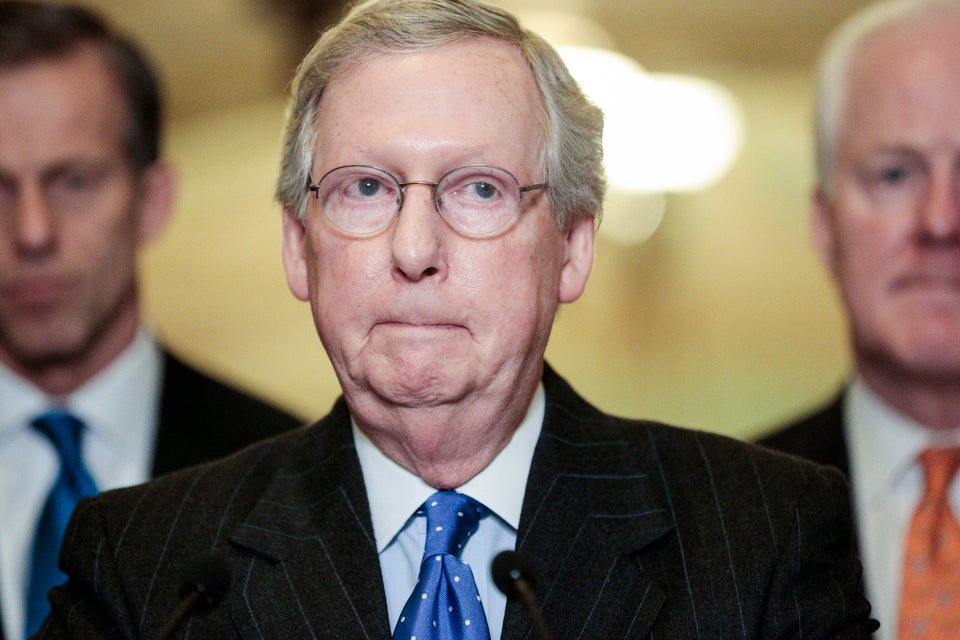 Say Cheese! Mitch McConnell Smiles
Popular in the Community