There's a thaw underway that's not just melting ice; it's slowly melting away the fear of being too upscale and too pricey that has gripped quick-service restaurants for the past year. From Burger King's $1 BBQ Rib and McDonald's Dollar Menu & More to Sonic's $1 hot dogs, Checkers' $2 Buffalo Chicken Strips and Jack in the Box's 2 for $3 breakfast sandwiches, the menu discussion has all about low prices.
But there are signs that it's once again OK to go a little posh in pricing and style. For example, a TV spot that began airing this week for Red Robin Gourmet Burgers has spokeswoman Melanie Paxson dressed in white gloves and pearls (below) to discuss the chain's newly expanded Finest line of premium-price burgers.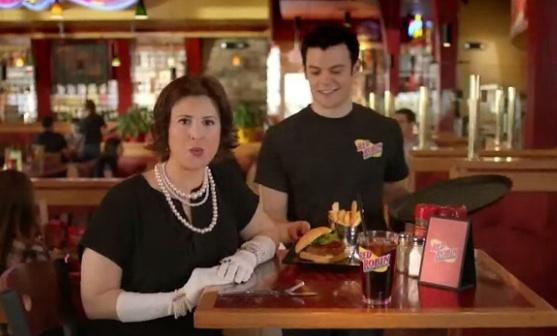 "Dust off the bow tie and steam the dinner dress... It's time to get a little bit fancy with our new schnitzel range!" So wrote McDonald's on its Australia Facebook page last week to announce its new "M Selections" line of premium-price chicken schnitzel sandwiches. Advertising crows that the sandwiches are "A little bit fancy" (below).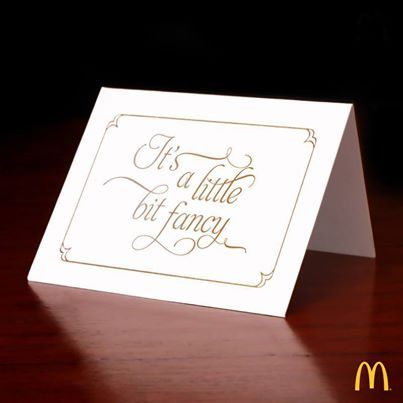 Nearby in New Zealand, Burger King is promoting a Peppercorn Beef Burger with steakhouse-style peppercorn sauce.
In the U.S., McDonald's has introduced its new Bacon Clubhouse burger with a similar appeal to "fancy" food: "Casual attire. Formal flavor," says one ad (below). In some markets, McDonald's has added Petite Pastries to the McCafé menu and in others it is testing the "build your own burger" option like more expensive concepts.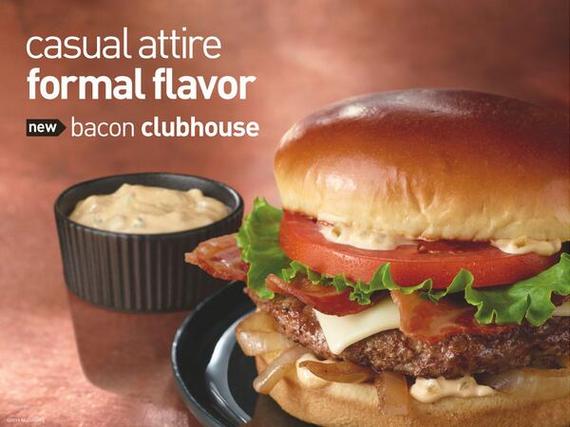 In fact, Johnny Rockets this week jumped into the "Build Your Own Burger" arena for the first time with custom burgers starting at $5.49.
Dunkin' Donuts has adapted that most upmarket brunch item for its new Eggs Benedict Breakfast Sandwich. Starbucks just introduced upscale breakfast sandwiches it says were inspired by La Boulange, the Euro-style bakery it acquired. These include Slow-Roasted Ham & Swiss on a croissant and Vegetable & Fontiago with spinach, sun-dried tomatoes and caramelized onion on a multigrain ciabatta bun.
Good Times Burgers & Custard this week added a very posh Fresh Cracked Egg and Bacon Cheeseburger with Meyer Ranch All Natural Angus Beef. In announcing it, Good Times Director of Marketing Nicholas Corbishley said it was "inspired by burger recipes with fried eggs seen in the upscale casual theme segment."
Already positioned upmarket from QSRs, The Counter chain this week announced a new menu that includes such upscale items as a starter of deviled eggs with Cheddar, bacon and parsley, and a Kale salad with green cabbage, jicama, celery and feta in lemon vinaigrette. Two of the new signature burgers are a Southeast Asian Ahi tuna burger (below) and an Un-Brie-lievable turkey burger with Brie cheese, greens, tomato, cranberries and apricot sauce. Ahi tuna, quinoa and Hawaiian buns are new permanent additions to the concept's build-your-own options.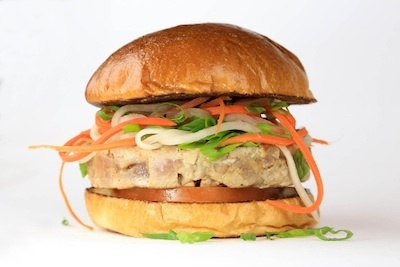 Fast-casual concept Smashburger has brought back beef and chicken burgers topped with spinach, cucumber and goat cheese.
Wendy's has been a bit of an outlier on the dollar-menu trend and introduced two new premium salads this week (Asian Cashew Chicken and BBQ Ranch Chicken). While many of its competitors have duked it out in the price basement, Wendy's has stayed upstairs, promoting a series of pricey burgers such as the current Ciabatta Bacon Cheeseburger. And the strategy has worked: Wendy's comp sales were up 3.1% for Q4 and 1.9% for fiscal 2013. Fancy that.